Planning your trip and wondering what the best time to visit Paris is? Here's a complete guide for you!
Paris is the City of Lights and has a unique charm every season, whether the sun is shining or raining.
The weather, prices, and crowds can affect your vacation at any time of the year, so it's essential to consider the best time to visit Paris carefully.
This post will assess the best time to travel to Paris by activity, the pros and cons of visiting Paris during the high, shoulder, and low seasons, and discuss the best months to visit Paris.
If Paris is next on your bucket list, and you need advice on when to visit this city, keep reading!
Best Time To Travel To Paris
There is no question that there are many things to do in Paris. Still, depending on your interests, some months might be better than others when it comes to the best time to go to Paris.
That's why we will break down the best time to visit Paris by activity first. We hope it is helpful!
Best time for Disneyland: for obvious reasons, you'll want to avoid visiting Disneyland during school vacations, national holidays, and weekends. So the best times to visit Disneyland Paris are mid-January through mid-March and mid-September through mid-October.
Best time for Versailles: Versailles is one of the most accessible day trips from Paris, so you shouldn't miss this gorgeous place! To avoid waiting in the queue, buy your skip-the-line ticket in advance or the Paris Pass, which grants the same ticket. (Paris Pass review here.) Regarding the best time to visit Versailles, if you love gardening, summer will be the best time to visit Versailles' gardens, but do expect crowds. However, spring brings relatively good weather with fewer crowds. Also, it's very easy to go from Paris to Versailles, after all, Versailles is a lovely town near Paris.
Best time for museums: December through February is the best time to visit Paris to check out the city's museums, as queues are much shorter, and you can escape the rain and cold while enjoying art from around the world. If you're a museum lover, don't miss the Museum Pass, which can save you a lot of money depending on your itinerary. We wrote a Paris Museum Pass review here.
Best time for shopping: Paris has two annual sales, and their dates are fixed by law. Les Soldes takes place from early January through mid-February and from June through early July. These are four weeks with significant discounts in all of those Parisian shops you have been dreaming of.
Best time for terraces: if you want to do some people-watching while sipping coffee in Paris, know that the weather starts getting better in May when Parisians flock to terraces and cafes around town, especially on warm days. Rooftop bars and restaurants are at full power, and places like Montparnasse Tower bar and other Parisian rooftops are trendy, too. The hype goes on until early September, when the summer comes to an end.
Best time for flowers: Spring is the best time to visit Paris to go flower hunting. But varying weather patterns from year to year means that it's pretty much impossible to predict the exact time when the flowers are in full bloom, so keep an eye on weather forecasts. Still, magnolia usually blooms somewhere around March and mid-April, cherry blossoms around mid-April, and wisteria around late April.
Best time for fall foliage: to snap beautiful photos of the Parisian streets, parks, and gardens covered in burnt umber, gold, and ruby leaves, head to the City of Love during fall. Generally, the leaves begin changing color towards the end of September and are best seen in October, right up until the beginning of November. Still, we suggest you regularly check up on social media to know how the seasons are progressing.
Best time to avoid crowds: the best time to visit Paris to avoid the crowds is from November through March, avoiding the Christmas-NYE week. Prices are low but so are the temperatures so many tourists avoid the city during this period.
Best Season To Travel To Paris
The tourist periods in Paris can be split into three seasons: the high season, the shoulder season, and the low season. The weather, prices, and crowds will differ each season and ultimately affect your Paris experience.
High Season In Paris – The best time to visit Paris for warm weather
Paris's peak or high season is from June to mid-September (July is the busiest) because of the warm weather, and schools are on summer break. Fair warning, Paris is not known for its air conditioning, so be prepared for the heat.
During high season, you can expect large crowds around big tourist attractions such as the Louvre and Eiffel Tower, and finding a dinner spot without a reservation may be more challenging.
You should take note of the hotel rates, which will inevitably increase over the summer months.
Due to the Christmas holidays, December is also during the high season, so accommodation will be more expensive. Still, the crowds are not as large as during summer (although significantly more than during the low season).
However, this is the rainiest month in Paris, so if this is something you want to avoid, you should instead plan your trip for earlier in the year. Make sure to pack a warm coat, as it can get quite chilly!
Shoulder Season In Paris – The best time to visit Paris for a crowds-weather balance
The shoulder season in Paris is from April to May and mid-September to early December.
You will likely experience some rain in April and May, but it will be slightly warmer than later in the year. The smaller crowds allow you to wander around the streets and popular attractions without weaving through the masses of tourists.
Paris quietens down after Labor Day and Fashion Week from mid-September to early December, and the weather gets colder. That's not to say the sun won't be shining!
Hotel prices may not necessarily decrease over this period, but one thing to look forward to is smaller crowds, making restaurant reservations easier. You are also more likely to find flights at reasonable prices.
These months are for you during the shoulder season if you don't mind wrapping yourself up when you head outside!
Low Season In Paris – The best time to visit Paris for lower prices + fewer tourists
The low or off-peak season in Paris is from January to March, when prices are low, but so is the temperature (between 30- and 40 degrees Fahrenheit).
If you are willing to brave the cold, you can save costs on flights and accommodation over this period as it is the cheapest time to travel to Paris.
To avoid rain in Paris, you should visit the city during February as it is the second least rainy month. One downfall is that accommodation will be pricier and harder to find during the last week of February because of Paris Fashion Week.
To fit in in Paris during this time of the year, you will need a heavy but fashionable coat.
Another bonus is that the tourist attractions won't be as crowded and the lines to get into museums will be shorter. You can leisurely admire the art in the Louvre without other tourists breathing down the back of your neck.
It will also be easier to make reservations at restaurants during the low season, even the famous ones.
There is a trade-off between fewer crowds and potentially lower prices against colder and wetter weather during the low season. So, if you are willing to bear the cold weather, this is the best season to visit Paris.
Best Month To Visit Paris
So, which month of the year is the best time to visit Paris? Aspects such as the most significant annual festivals and parades, attractions and activities, and weather are essential.
Every month has pros and cons, so we will weigh them up and help you decide which month is the best to visit Paris.
Visiting Paris in the Winter
The year starts off with chilly weather in the City of Light. While Paris in the winter might seem less appealing, the city still holds a lot of charm and events.
January
There is still a festive and fun spirit in the air in Paris in January. There is a Parisian New Year's Eve party in the street by the elegant Champs-Élysées with a large firework display above the Arc de Triomphe.
The weather in Paris in January has an average of 14 days of rainfall and an average temperature of 40 degrees Fahrenheit. Pretty chilly!
For shoppers, January is when all the big winter sales take place. Whether you prefer tiny boutiques or large retailers, this winter month is the best time to visit Paris to do your shopping.
There is an annual festival in January called Traversée de Paris. You will be able to hear the engines of over 700 vintage cars, motorcycles, buses, and tractors in the city's streets.
The cars make their way past various places of worship, such as the Notre Dame, Sacré-Coeur basilica, and the Great Mosque of Paris.
Owners of cars older than 30 can participate, but spaces fill up very quickly! The first vehicle leaves around 7:15 am, and the last departure is at 9 am. If you don't have your car, you can pay 10 euros to sit on an old bus and follow the procession.
We can think of a better way to start the year than in Paris, just after the holiday season!
February
February is the month of love. Why would you not want to go to one of the most romantic cities in the world with your significant other for Valentine's Day?
The smaller crowds and shorter queues at the main tourist attractions are a bonus.
Here are some romantic things to do in Paris for Valentine's Day:
The weather in Paris in February has about 13 days of rain expected this month, and the average temperature is 41 degrees Fahrenheit. Make sure you bring your thick coats and an umbrella if you plan on visiting Paris in February.
In February, the annual Carnaval de Paris takes place, and thousands of people in colorful costumes venture down the streets. There's nothing better than seeing the bursts of color on a grey winter's day.
Visiting Paris in the Spring
The trees without leaves give place to a green landscape dotted with pink and lilac—it's spring in Paris! The shoulder season approaches, and the weather gets warmer. What's not to love?
March
When the cherry trees begin to blossom, you know spring has arrived – and this usually happens in March.
You will see the beautiful pink flowers if you head to the Champs de Mars or Jardins du Trocadéro close to the Eiffel Tower.
The weather in Paris in March is pretty rainy, with 14 days of rainfall and an average temperature of 46 degrees Fahrenheit. It's even snowed in March in Paris – can you believe it?
The vibrant Carnaval des Femmes (also known as La Fete des Laundresses) occurs in March in the middle of Lent, 21 days after Mardi Gras. This festival first took place in the 18th century and encouraged women to dress as queens and men to dress as women.
April
April is the beginning of spring when you will see the trees shooting their first leaves, and all the tulips and daffodils will bloom. If you are allergic to pollen, don't forget your antihistamines!
The only downfall is that the weather in Paris in April is unpredictable, and it usually rains frequently (about 14 days).
April is quite chilly, with temperatures reaching a minimum of 44 degrees Fahrenheit. Although, on a crispy but sunny day, temperatures can reach a high of 59 degrees Fahrenheit.
Because of the Easter holidays, April is a lively month in Paris. This holiday is celebrated with immense enthusiasm – there are many different markets and cultural events, especially surrounding the Notre-Dame cathedral.
Possibly one of the most beautiful places of worship is Notre Dame. Over Easter, it holds a Catholic service with prayers and Gregorian chants on Easter Sunday.
Attending one of these services will be a memorable experience whether you can speak French or not.
Every year in April (on one Sunday), the International Marathon of Paris occurs. Over 55000 runners run through the city's most famous landmarks, where thousands of cheering spectators cover the streets.
May
The weather in Paris in May is a mix of warm, sunny days and cool, rainy days (about 12). Temperatures usually range between low 50 and high 66 degrees Fahrenheit – the average of about 58.
During May, the trees and flowers are flourishing and brightening the surroundings of the Jardin des Champs-Élysées, Buttes-Chaumont, and Parc Monceau. On a warm day, the café terraces will be bustling with people.
There is an annual museum night on a Saturday in May called Nuit des Musées. Hundreds of museums have free entrance this night and stay open until 1 am. There's something magical about visiting a museum so late at night!
From mid-May until the beginning of June, the French Open Tennis Championship takes place on the Roland Garros clay courts. This annual event is popular, so make sure you do it in advance if you want to book a seat.
Tickets to the main matches can be pricey, so if you want to save some money, buy a general day ticket to the smaller outdoor courts, and you can watch the next Rafael Nadal!
Other festivals include Villette Sonique, Saint-Germain-des-Prés Jazz Festival, and the Paris Wine Fair.
Visiting Paris in the Summer
Festivals, lots of music, and crowded parks. Summer in Paris is lively and full of things to do. You may find many attractions and hidden gems despite the crowds and warmth. You just need to wander off the beaten path.
June
The weather in Paris in June is delightful as the weather is warmer, and the sun only sets around 10 pm. The temperature's average is 64 degrees Fahrenheit, and there are only 11 expected days of rainfall.
Now that it's a bit warmer, the sidewalk cafes and parks are humming as everyone is outdoors to enjoy the sun and celebrate the start of summer.
More tourists visit Paris in June than earlier in the year, but that shouldn't put you off. Museums have extended opening hours during summer to accommodate the extra visitors.
For those that missed the sales at the end of winter, don't worry. The summer season sales begin in June!
In June, an annual festival is the Fête de la Musique, which started in 1982! The music ranges from opera to rock, and artists perform in big venues, street corners, and church halls in Paris.
In Bois de Vincennes, international and local pop, rock, and rap artists perform at the We Love Green open-air music festival. This eco-friendly festival has been around since 2011 and is partly powered by solar panels.
Other festivals worth checking out are the Download Festival, Paris Dance Festival, Marches des Fiertés and the Paris Jazz Festival.
July
Spirits are high at the beginning of July as everyone is waiting in anticipation for their summer vacation to begin—it's peak tourist season.
The weather in Paris in July has average temperatures of around 67 degrees Fahrenheit, and 11 days of rainfall are expected.
The most important festival in Paris is in July – Bastille Day. On the 14th of July, the whole of France celebrates the Bastille's storming and the French Revolution's start.
There is a gigantic military parade down the Champs-Elysées, fireworks above the Eiffel Tower, and free concerts.
Another favorite among locals is the Féte des Tuileries, a traditional carnival with over 60 attractions hosted by the Tuileries Gardens. This is perfect for families with children, as there are many child-friendly rides and games.
There's no better way to spend a summer afternoon than wandering around the gardens eating cotton candy and donuts, and riding a bumper car.
The Tour de France begins in July – another great event to participate in or watch from the sidelines.
Oh, and to cool down, nothing better than enjoying Paris Plages, the artificial beaches along the Seine.
August
August is for you, a summer lover who can handle the heat!
The weather in Paris in August is not for the faint of heart—August is the hottest month in Paris, with an average temperature of 68 degrees Fahrenheit. Days like these are perfect for lounging about in the park.
Still, the heat + crowds make it the worst time to visit Paris for many people.
If you can't or don't want to change your plans, here are a few relaxing picnic spots we recommend:
Champs de Mars
Places des Vosges
Parc Monceau
Parc des Buttes-Chaumont
Jardin des Tuileries
Jardin du Luxembourg
Remember, many shops and restaurants close over this vacation as many Parisians leave with their families shortly after Bastille Day. The city can feel empty and deserted, and the classic Paris ambiance is missing—but it is still tourist season.
This can be an upside to some, as some tourists and locals relish the quiet atmosphere. Attractions will be less busy, and the lines to enter museums will be shorter.
The roads in August are far less busy, making it the best time to cycle around the city. This month has only ten days of rainfall (the lowest of the year) – another good reason to cycle.
Annual festivals in August include Classique au Vert, Rock en Seine, and Silhouette.
Visiting Paris in the Fall
Fall in Paris sees lower fares, shorter queues, and fewer tourists as the temperatures drop and the school vacation end.
September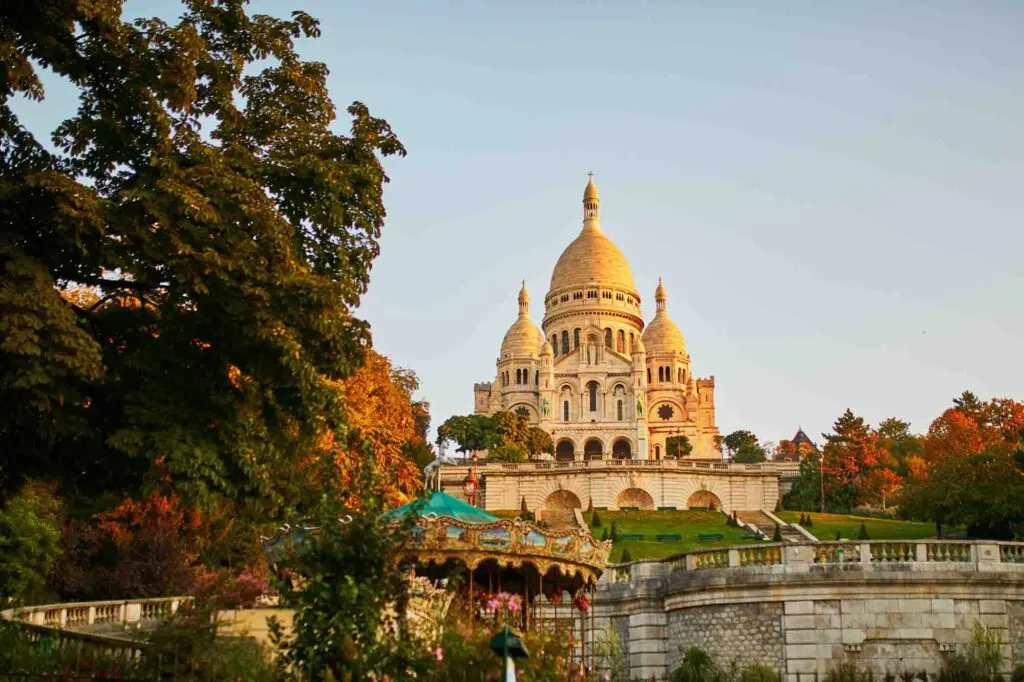 Tourists are usually scarce in September, and Parisians head back into the city after a much-needed summer break.
This is the beginning of fall and the perfect time to visit Paris because it's not peak season, but temperatures are still good.
In addition, the crowds are smaller, prices are generally lower (except during Paris Fashion Week at the end of September), and the foliage begins to turn orange and red.
The weather in Paris in September welcomes cooler temperatures, and the average is 61 degrees Fahrenheit. Another plus is that only 11 days of rainfall are expected.
One of the annual music festivals in September is Jazz à La Villette. Festival d'Automne is another annual festival that begins in September but continues until December.
Other festivals and events include the Techno Parade, Journée Sans Voiture, and Journées Européennes du Patrimoine.
October
The weather in Paris in October sees the temperatures average 54 degrees Fahrenheit, so having a drink on a restaurant's terrace until late evening is no longer as inviting (although many places offer heaters and blankets if you want to sit outside).
There are 13 days of expected rainfall during October, so remember to bring warm clothes and an umbrella if you plan to visit Paris during this month.
If you are a chocolate lover, you must go to the annual show with workshops and performances dedicated to chocolate – Le Salon du Chocolat. Of course, there will be great chocolate tastings, making it worth the visit.
The city has many Halloween celebrations at the end of October, including Disneyland!
Annual events such as Fête des Vendanges de Montmartre (for wine enthusiasts), Nuit Blanche, and Foire Internationale d'Art Contemporain are worth exploring.
November
Although November can be a popular time to visit Paris during the off-season, there are often cheap flights or deals on Eurostar.
The weather in Paris in November has average temperatures of around 46 degrees Fahrenheit, a clear sign that the winter season is fast approaching. And, unfortunately, 15 days of rain are expected during November.
This month, opera and ballet are more popular as many Parisians like to take refuge from the cold. Many bars and restaurants have cozy indoor or undercover seating – perfect for a chilly evening.
November begins with the Pitchfork Music Festival, a 3-day Indie music festival in Parc de la Villette. Later in the month, you can celebrate Armistice Day – essentially the end of World War I.
Beaujolais Nouveau Day is celebrated with fireworks, music, and free tastings to commemorate the new wine harvest.
Celebrating Christmas in Paris
While winter also begins this month, December is better known for another reason: it's Christmas in Paris! The holiday season officially begins, and it comes with a bunch of special events and Christmas markets.
December
December is a magical and joyful month in Paris because this European city is covered in twinkling fairy lights, and you can find Christmas decorations in every shop and restaurant. The Christmas spirit is like no other!
The weather in Paris in December is cold and rainy, with an average temperature of 41 degrees Fahrenheit.
Still, there are many things to do that make it worth the cold; you can spend your afternoon at an outdoor ice-skating rink, browsing through Christmas markets, or taking a walk around the entire city to admire the lights.
The average rainfall for December is 15 days, so make sure you bring your raincoat or umbrella.
New Year's Eve is a great annual event to experience in Paris. People gather at the Champs-Elysées (you need to get there around 9 pm to get a good spot), where a sound and light show commences around 11 pm.
Other events in December include the Christmas Eve Mass, Salon du Cheval de Paris, and Le Festival du Merveilleux.
Final Thoughts On The Best Time To Go To Paris
We hope you enjoyed this guide on the best time to travel to Paris. Our main point is that there's no bad time to visit Paris. Paris is beautiful throughout the year, but your travel experience will differ depending on the season.
Yes, you may experience the cold and rainy season, but crowds will be smaller, and prices can be lower. However, if you go during summer, the lines will be longer, and reservations are harder to get.
Spring and summer are perfect for walks and picnics in the park, and autumn and winter are great for a coffee or hot chocolate at a cozy café. You see, every season has its charm. Pick one and embrace it!
Did you like reading about the best time to go to Paris? Then share this article on your social media!
Don't Forget About Travel Insurance!
Before you leave for France, make sure you have a valid travel insurance policy because accidents happen on the road. We have been paying for Safety Wing travel insurance for a little over a year now, and we happily recommend them to our family and friends.
If you get sick, injured, or have your stuff stolen, you'll be happy to have the ability to pay for your medical bills or replace what was stolen.
Because, for just a couple of dollars a day (depending on how long your policy is for), you're going to get lots of things covered. Be smart and get travel insurance.