Here are some of the most famous French actresses of all time.
Whether you love or hate them, you don't need to like French films to know who the most famous French actresses are, generally because you'll find them in some Hollywood productions too.
Below you will discover a list of the most renowned French actresses; learn a bit about their story, their most famous film or series appearances, and the academy awards they won.
In addition, this presentation will help you learn more about your favorite actresses from France, and if you haven't seen their most famous roles yet, it's an excellent excuse for a French actress-inspired movie marathon.
18 Brilliant French Actresses
Here are 18 of the best and most famous French actresses.
1. Marion Cotillard
First on the list of the most famous French actresses is Marion Cotillard, who seemed to have a destiny for the silver screen from the start.
Coming from a family of actors, Marion Cotillard started young, with her first role being in one of her father's plays. Her mother was also a drama teacher and a playwright, and her father was a director.
However, she would continue to become a famous French actress, with roles in the renowned movie Inception as well as in Midnight in Paris (both movies set in Paris), The Dark Knight Rises, and La Vie en Rose, where she portrayed French singer Édith Piaf.
In addition to famous movie roles, she also received a Golden Globe Award for best actress in a motion picture – musical or comedy and a 2008 academy award for actress in a leading role, which made her one of the most famous French people in recent years.
In solidarity with the Iranian women and in protest over Mahsa Amini's death in 2022, Cotillard and a few other French actresses cut their hair to the Persian rendition of the Italian protest song "Bella ciao."
She has also starred in many commercials for French fashion brands, such as Dior.
Cotillard is married to Guillaume Canet, one of the best French actors.
2. Audrey Tautou
Born to a teacher and dental surgeon in 1976, you may not have thought that Audrey Tautou would one day have her name on a list of famous French movie actresses, but you would be mistaken.
After her debut film role in 1999, she went on to play one of her most famous roles to date in the 2001 French language hit Amélie.
Audrey Tautou also played recognizable roles in Hunting & Gathering and The Da Vinci Code.
She also won a 2007 Jupiter award for the best international actress, which she got for her part in The Da Vinci Code.
3. Eva Green
Eva Green was born in 1980 to parents with some acting experience, a father with a movie appearance, and an actress mother.
After leaving her French school for an American school in France and then studying for three years at Saint Paul Drama School in Paris, she made her debut in the film industry by acting in The Dreamers, a 2003 film.
After her role in Bernardo Bertolucci's The Dreamers, Eva Gaëlle Green played in Ridley Scott's Kingdom of Heaven and starred as a "Bond girl" in the 2006 Casino Royale, which gained her a lot of fame.
Following Casino Royale, she played roles in 300: Rise of an Empire, Dark Shadows, and Miss Peregrine's Home for Peculiar Children.
Eva Green holds the 2007 BAFTA Rising Star Award and the 2007 Best Female Newcomer Empire UK award for her role in Casino Royale.
4. Isabelle Adjani
After being born in a Paris suburb in 1955, Isabelle Adjani started amateur acting on stage at the early age of 12, and it paid off since, at only 14, she had her first movie role.
As a famous actress from France, Isabelle Adjani was honored to be nominated for a 1975 Oscar for best actress, making her one of the youngest actresses to get a nomination for that award based on a leading role.
She also played in Camille Claudel (1988), La Reine Margot (1994), and Skirt Day (2009).
Some of Isabelle's most famous roles are from The Story of Adèle H., The Driver, and Possession, with newer releases such as the 2022 Peter von Kant film.
This French actress is also the record holder for the most César Awards for Best Actress.
5. Mélanie Laurent
Mélanie Laurent was brought into this world in Paris, France, in 1983 by a ballet teacher and voice actor for the French version of the Simpsons.
After catching the eye of Gérard Depardieu, who gave her a small role in her debut film, she slowly started taking more roles in notable films and tv series from her home country.
Luckily, this French actress got involved with American film productions that gave us outstanding performances in movies like Now You See Me, Inglorious Basterds, and Oxygen.
In addition, she also holds two César Awards, one for Most Promising Actress in the 2007 film "Je vais bien, ne t'en fais pas," and the best documentary film for 2016's Demain.
6. Léa Seydoux
Born in 1985, this actress from France made it big after a 2008 César Award nomination not long after her firm film role.
After the nomination, she played in movies as well-known as Inglorious Basterds, Midnight in Paris, and Mission Impossible – Ghost Protocol.
Alongside some others, she received the Palme d'Or award for their part in 2013's Blue is the Warmest Color by Abdellatif Kechiche.
Léa Seydoux also had a role in two James Bond movies as Madeleine and has a 2016 Teen Choice Award as Choice Movie Actress for Spectre, one of the before mentioned Bond films.
7. Isabelle Huppert
Born in 1953, this French actress has had quite a life, including a career in theatre.
After winning a prize for her work in Un caprice, she studied at the Conservatoire d'Art Dramatique and made her first film appearance in 1971.
Though she played many roles in films from the 1970s, 1980s, and 1990s, she also has many more in more recent movies.
Isabelle Huppert makes this list of famous French Actresses for some of her notable recent roles in movies like Elle, Greta, and Things to Come.
She holds the Golden Globe Award for "Best Performance by an Actress in a Motion Picture – Drama" for her role in Elle.
8. Carole Bouquet
Carole Bouquet is more than just an actress from France; she also became a fashion model for Chanel in the 1980s and 1990s.
Born in 1957, Carole Bouquet left theatre school for her first movie role in That Object Of Desire, which propelled her to fame and glory.
Carole is most well-known for her role as a "Bond girl" in the 1981 James Bond film, titled 'For Your Eyes Only'.
Though Carole remained an actress primarily focusing on her home country of France, she has a César award for Best Actress in the 1989 film "Trop belle pour toi," as well as a Stockholm Film Festival award for Best Actress in the 2005 film Nordeste.
9. Brigitte Bardot
Born in 1934, Brigitte Bardot was first encouraged to take up singing and dancing, and at the age of 15, she started modeling, including an appearance in the Elle French magazine.
Brigitte Bardot's first film appearance was in 1952, and she didn't wait long to start acting in American films, the first being 1953's Act of Love.
Today Bridgitte Bardot is most well-known for her roles in the 1963 film Contempt, the 1956 film Abd God Created Woman and the 1962 film Warrior's Rest.
In addition to more recent movie appearances, this French actress also has a 1961 David di Donatello Award for the best foreign actress, based on her work in La verité from the previous year.
10. Catherine Deneuve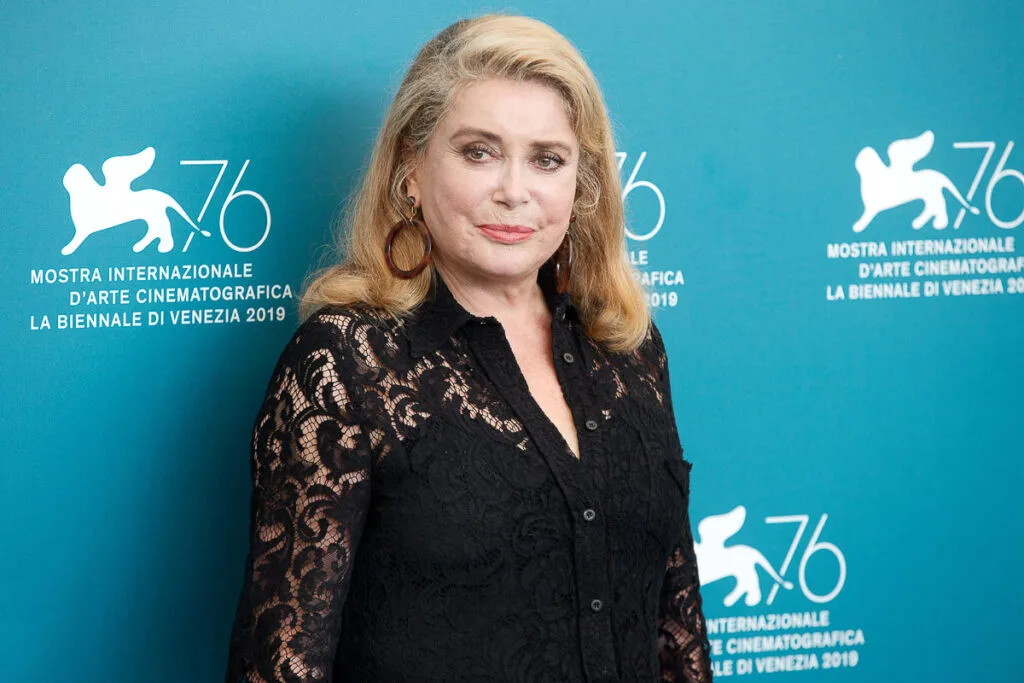 In 1943, Catherine Deneuve was born to two actors, and she didn't wait long to make her first appearance in a film.
At 14, she played her first movie part and has had many minor film roles since.
However, in 1963 she got a more significant role in a film, and in the following year played a role she is well known for in the film The Umbrellas of Cherbourg.
In addition to her role in The Umbrellas, Catherine has famous roles in Belle de Jour and the 2002 film Eight Women.
Catherine also holds two César awards for her 1980 role in Le dernier metro and her 1992 work in Indochine.
11. Sophie Marceau
Born in 1966, Sophie Marceau should have been an unlikely person to make the list of famous French Actresses, being born relatively far away from the spotlight and having no training before her first role.
However, we can all be glad she took the opportunity to see the director Claude Pinoteau who gave her her first movie role at age 14.
After making a name for herself in France, it's her role in the well-known movie Braveheart that got her into the eyes of America, and not too long after, she would play a villain in the Bond movie The World Is Not Enough.
Sophie was a 1983 César award winner for her role in La Boum 2 and won a Monte-Carlo Comedy Film Festival award for the best actress for her work in the 2008 film LOL.
12. Juliette Binoche
Three-time Golden Globes Nominee Juliette Binoche was born in 1964 and had her first movie role in 1983 in La Binoche.
However, this actress from France made her first international rounds in 1988 due to the film The Unbearable Lightness of Being and has continued to make an excellent name for herself.
In 1997 Juliette won an Oscar for the supporting role in The English Patient and had famous roles in the 2017 movie Ghost in the Shell, the 2014 film Clouds of Sils Maria, and an Oscar Nominee worthy role in Chocolat from 2000.
In 2022, Binoche cut her locks of hair in protest over the death of Mahsa Amini, an Iranian woman who died in the custody of Iran's morality police (who enforce their strict dress code).
13. Adèle Exarchopoulos
Though it may seem young, Adèle Exarchopoulos' parents enrolled her in acting lessons at age nine to help her overcome her shyness, and we are very grateful they did.
Born in 1993 and with her first minor role in 2007s Boxes, Adèle reached international acclaim due to her role in Blue is the Warmest Color in 2013.
With roles in the TV series La Flamme and well-known movie roles in Orpheline, Down by Love, and Racer and the Jailbird, it's no surprise Adèle already won an award at age 19.
She also has a 2013 Palme d'Or for her role in La vie d'Adèle and a 2014 César for the same role, along with other awards.
14. Emmanuelle Béart
Born in 1963, Emmanuelle grew up on a farm due to her father being protective, but in 1976 she knew she wanted to be in movies like other French actresses.
After going to Canada to learn English and enrolling in drama classes, she had her first TV appearance in 1984 in the series Raison perdue.
From then, Emmanuelle became famous for her roles in Mission: Impossible in 1996 and 8 Women in 2002.
Emmanuelle won a César award for Best supporting actress for her role in the 1986 film Manon des sources and holds a Silver Berlin Bear Award along with seven other women from 8 Women.
15. Bérénice Bejo
Though not born in France, Bérénice Bejo is on the list of famous French actresses since her family relocated to France when she was only three years old.
After being involved with mostly French television, Bérénice made her first appearance in an American film in the 2001 movie a Knight's Tale and has been in many more since.
Famous for her roles in the 2011 hit movie The Artist and the 2013 film Le Passé, this brilliant actress was nominated for an Oscar for her part in The Artist and won the best actress César for the same role.
16. Clémence Poésy
Born in 1982, Clémence Poésy is best known to all fans of the Harry Potter movies but was first known for her roles on French television.
After school, Clémence started training at the Conservatoire National Supérieur d'Art Dramatique and received her first television role in 1997.
After her first English role in the 2004 movie Gunpowder, Treason & Plot, she had more prominent roles like those from the Harry Potter movies and Tenet.
Clémence won the Golden FIPA for her role in Gunpowder, Treason & Plot and has numerous awards for her 2019 film Le coup des larmes.
17. Jeanne Moreau
Known for her roles in 1958's The Lovers, 1962's Jules and Jim, and 1990's Nikita, Jeanne Moreau is another actress from France we admire.
Destined for a life as a botanist and born in 1928, we can be somewhat thankful that Jeanne developed an allergy to pollen, which allowed her to switch careers to acting.
Though her father disapproved, Jeanne became a part of the National Conservatory of Dramatic Art and had her first role in 1949.
Moreau was an essential part of the French film industry, and won the best actress César award for her role in 1991's La vieille qui marchait dans la mer.
Jeanne also has two honorary César awards.
18. Emma Mackey
Emma Mackey, one of the youngest and most well-known recent actresses from France, was born in 1996 in France.
After moving to the UK to study English language and literature, she directed and played in some stage productions, which prompted her to move to London after her studies to pursue a career in acting.
Though Emma is most known for her role in the hit TV series "Sex Education," she also has other brilliant roles in the movies Death on the Nile and Emily.
Though she is still young and up-and-coming, she already holds the best performance award for her role in 2022's Emily, which she got at the Dinard British Film Festival.
More French Actresses Worth Knowing
Anna Mouglalis – known for Coco Chanel & Igor Stravinsky (2009)
Élodie Yung – known for Daredevil (2016) and The Defenders (2017)
Jane Birkin – known for Death on the Nile (1978) and Evil Under the Sun (1982)
Lesli Caron – known for Lili (1953), The L-Shaped Room (1962), and Chocolat (2000).
Final Words on Famous French Actresses
These French women are a part of the incredibly talented team of actresses from France.
The French have long been famous for loving all kinds of art, and performance arts are definitely high on their list. Do you know other French actresses that were not mentioned here? Drop their names below!
Did you enjoy learning more about these French actresses? Then share this article on your social media!
18 Brilliant French Actresses
Marion Cotillard
Audrey Tautou
Eva Green
Isabelle Adjani
Mélanie Laurent
Léa Seydoux
Isabelle Huppert
Carole Bouquet
Brigitte Bardot
Catherine Deneuve
Sophie Marceau
Juliette Binoche
Adèle Exarchopoulos
Emmanuelle Béart
Bérénice Bejo
Clémence Poésy
Jeanne Moreau
Emma Mackey
Don't Forget About Travel Insurance!
Before you leave for France, make sure you have a valid travel insurance policy because accidents happen on the road. We have been paying for Safety Wing travel insurance for a little over a year now, and we happily recommend them to our family and friends.
If you get sick, injured, or have your stuff stolen, you'll be happy to have the ability to pay for your medical bills or replace what was stolen.
Because, for just a couple of dollars a day (depending on how long your policy is for), you're going to get lots of things covered. Be smart and get travel insurance.