Unquestionably, there are many famous French people, renowned artists, inventors, and scholars.
In addition, France's historic legends have inspired various forms of media, including literature, film, and art.
Today we will dive into the tales of the most famous French people and their greatest victories and tragedies.
All the individuals in this list have immensely influenced French culture, forming it into the prestigious sight we see today.
After reading this, you will become the next generation of historic wielders, carrying their memory into a new era.
You can retell these enchanting stories and inspire those around you to achieve greatness like the most famous people in French history.
How We Structured This Guide On The Most Famous French People
We divided this article into categories, like people in fashion, literature, performing arts, etc., so you can easily browse it.
Still, we are well aware it is far from complete, so if you think of a French celebrity you believe should be on this list, please drop their names below. Further out, take your time and enjoy it!
Famous French People in Fashion
1. Coco Chanel
Gabrielle Bonheur "Coco" Chane, born on August 19, 1883, was a renowned French designer and the founder of the high-end fashion brand Chanel.
She revolutionized woman's fashion with her sporty, casual design, quickly replacing the cinched waist look that had been dominant for many years.
She later began exploring jewelry, handbags, and fragrance design. Her most well-known scent is Chanel No.5, which remains her signature fragrance, and the little black dress.
Since the roaring 1920s, Chanel's fashion empire has tailored numerous world-changing designs under her iconic interlocked-CC monogram.
2. Louis Vuitton
Louis Vuitton's designs became popular amongst the elite during the reign of Napoleon III.
Napoleon commissioned Louis to create special luggage for his wife to pack and transport her "fashions."
Vuitton jumped at the opportunity and soon became well-known among the elite of France, designing and creating fashionable, durable, and luxurious suitcases.
French designer Louis Vuitton (1821-1892) founded his namesake label in 1854, producing high-quality leather and classic pieces.
What started as a box-making and packing store soon became home to a new concept designed by Vuitton.
An entirely new trunk made from a lighter canvas proved to be more durable and withstood water and odors better than leather.
The key selling point in the innovative design was a rectangular shape instead of the dome shape used up to that point.
3. Constance Jablonski
The French model Constance Jablonski was born on April 17, 1991, in Lille, France. Her birthnames are Constance Marie Jeanine Jablonski.
Jablonski's career kicked off in 2006 after entering the French Elite Model Look Contest 2006.
Jablonski is best known for being an international model and has appeared in Victoria's Secret Fashion shows from 2010 to 2015.
In 2010 she became one of the faces of Estée Lauder 2010. In addition, she appeared on the catwalk for many notable designers, both Ready to Wear and Haute Couture.
The famous French female model has been featured on the covers and the pages of international fashion magazines such as Vanity Fair, Marie Claire, Allure, Vogue, and Rush.
Models.com ranked Constance at #11 on the Top Female Model list in 2015.
Famous French People in Arts
4. Claude Monet
Oscar-Claude Monet was one of the most famous French painters of his time.
This prominent artist was the founder of impressionist painting, which many consider a crucial precursor to modernism, especially in his approach to painting nature as his brilliant mind perceived it. He passed on December 5, 1925.
Interestingly, Claude Monet received his first drawing lessons from Jacques-François Ochard, a previous art student of Jacques-Louis David.
Monet was exceptionally skilled in Plein air or outdoor landscape painting.
His skill led him to coin the phrase Impressionism which derived from one of his most well-known paintings titled Impression, Soleil levant (Impression, Sunrise).
His other famous paintings include The Woman in the Green Dress and Le Déjeuner sur l'herbe.
It isn't surprising French artists are very well-known, after all, their culture is steeped in arts, and they are incredibly talented artists.
Other painters worth mentioning are Paul Gauguin, Paul Cézanne, Georges Braque, and Henri Matisse.
Famous French People in Performing Arts
5. Jean Reno
The well-known Jean Reno is a famous French actor who has appeared in French and English films.
He began his career at 17 by studying acting at a drama school and started with small acting roles before collaborating with director Luc Besson which was the beginning of Reno's success story.
Reno's acting career began in French films, with two of his greatest performances in Les Visiteurs (1993) and L'Enquète Corse (2004), for which he received great recognition.
However, he also starred in highly successful American films such as French Kiss (1995), Jet Lag (2002) alongside Juliette Binoche, Mission: Impossible (1996), and Godzilla (1998). A role that many know and love is Ponton in the Pink Panther.
For his roles in The Big Blue, Les Visiteurs, and Léon: The Professional, he received a César Award nomination for Best Actor for each of these films.
6. Brigitte Bardot
Bardot is one of the most famous French actresses and hands down one of the most famous French people of all time.
Born in 1934, Brigitte Bardot was first encouraged to take up singing and dancing, and at the age of 15, she started modeling, including an appearance in the Elle French magazine.
Brigitte Bardot's first film appearance was in 1952, and she didn't wait long to start acting in American films, the first being 1953's Act of Love.
Today Bridgitte Bardot is most well-known for her roles in the 1963 film Contempt, the 1956 film Abd God Created Woman and the 1962 film Warrior's Rest.
7. Catherine Deneuve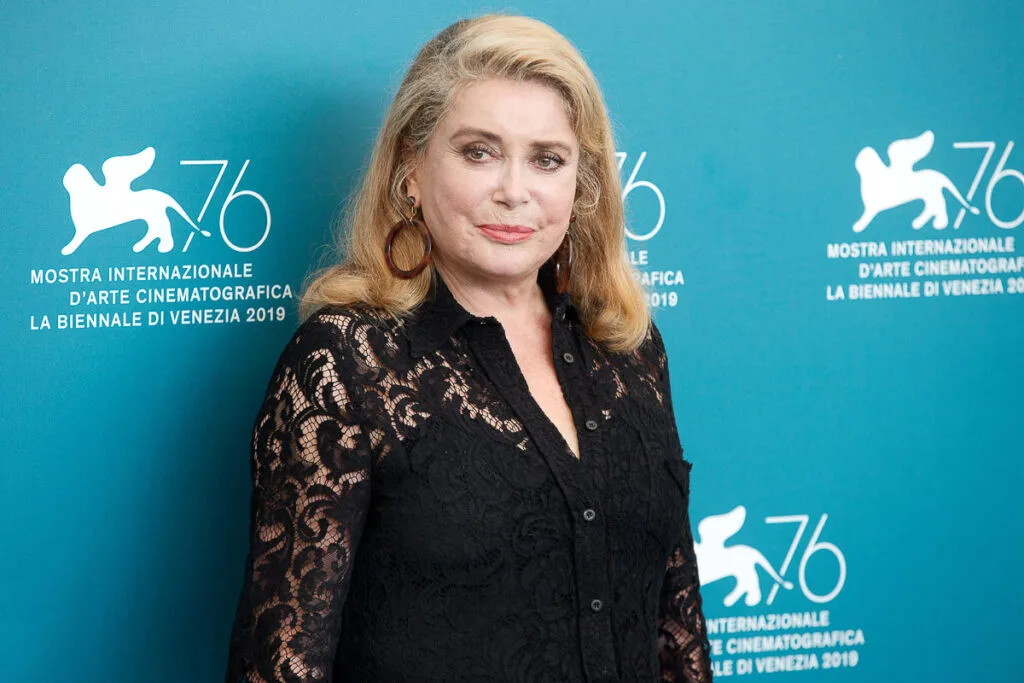 In 1943, Catherine Deneuve was born to two actors, and she didn't wait long to make her first appearance in a film.
At 14, this french actress played her first movie part and has had many minor film roles since.
However, in 1963 she got a more significant role in a film, and in the following year played a role she is well known for in the film The Umbrellas of Cherbourg.
In addition to her role in The Umbrellas, Catherine has famous roles in Belle de Jour and the 2002 film Eight Women.
Famous French People in Literature
8. Simone de Beauvoir
Simone de Beauvoir was an existentialist philosopher, writer, and feminist activist.
Even though she didn't hold the right credentials to be labeled a philosopher, her tremendous influence on feminist existentialism and feminist theory cannot be denied.
Some of her best-published works include The Second Sex (1949), She Came to Stay (1943), and The Mandarins (1954).
However, her memoirs are the most persistent and even influence the feminist activists of today. Her first volume, Mémoires d'une jeune fille rangée (1958), is the most recognized.
Throughout her writing career, she received numerous rewards, including Prix Goncourt (1954), the Jerusalem Prize (1975), and the Austrian State Prize for European Literature (1978).
9. Antoine de Saint-Exupéry
Antoine de Saint-Exupéry, born June 29, 1900, is a man with an interesting combination of expertise, writing, and aviation, while also dabbling in poetry and journalism.
He was granted the most prestigious French literary awards and the United States National Book Award.
He is mostly recognized for his novel The Little Prince (Le Petit Prince). Still, his aviator experience inspired his writings Wind, Sand and Stars, and Night Flight.
Since its initial release, The Little Prince has been translated into around 300 languages, allowing its story to influence readers worldwide.
10. Jules Verne
Jules Verne was a novelist, poet, and playwright that impacted the world with his captivating tales.
His most famous works include (1872) Around the World in Eighty Days, (1870) Twenty Thousand Leagues Under the Seas, and the 1864 Journey to the Center of the Earth.
He's also released several plays, short stories, poetry, and songs that have received high recognition.
His name has been placed in high standings amongst other greats such as Agatha Christie and William Shakespeare.
In addition, he has been the second-most translated author since 1979, which explains his inherited title, the "father of science fiction."
11. Alexandre Dumas
Alexandre Dumas is one of the most famous French novelists. He began his writing career by publishing plays and writing for several news reporting companies.
His published works, together with his countless articles, equaled 100,000 pages. He later moved forward to larger projects from which his most iconic classics emerged.
Translated into many languages and transformed into over 200 films, his historic stories filled the heart of every reader with thrilling adventure.
Alexandre's most notable releases include The Three Musketeers, Twenty Years After, The Count of Monte Cristo, and The Vicomte of Bragelonne: Ten Years Later.
12. Albert Camus
Albert Camus is a French philosopher, author, dramatist, and journalist. Throughout his life, he also accumulated experience in politics and the military.
He is truly a representation of determination, fighting for his ideals to be heard every step of the way. He was also considered the founder of the philosophy titled absurdism.
He is the second youngest recipient in history to receive the Nobel Prize in Literature (1957) at 44.
His most adored published works are The Stranger, The Plague, The Fall, The Myth of Sisyphus, and The Rebel.
With his great contribution to literature, his name is permanently listed amongst the most famous French people in history.
13. Victor Hugo
Victor Hugo is a remarkable writer that pulled the strings on people's hearts with his romantic tales.
Over his 60-year-long writing career, he explored a variety of genres and styles. His most renowned works include the novels The Hunchback of Notre Dame (1831) and Les Misérables (1862).
He released several poetry collections, such as Les Contemplations (The Contemplations) and La Légende des siècles (The Legend of the Ages).
He also completed scripts for theatre, including his play Cromwell and the drama Hernani.
His contributions to literature undoubtedly have inspired the creative community to create works of literary brilliance for years to come.
Certain creations that he inspired include the opera Rigoletto and the popular musicals Les Misérables and Notre-Dame de Paris. Regardless, he earned his spot among numerous other famous French people.
Hugo was also a politician and a known enemy of the rule of Napoleon III.
Famous French People in Politics
14. Napoleon Bonaparte
One of the most famous people from France, Napoleon Bonaparte (born August 15, 1769), was a charismatic political leader and military commander that drove people's courage and captured their hearts.
He was a French military general and statesman that played a significant part in the French Revolution (1789 – 1799).
Napoleon was issued the position of the first consul; however, he later disbanded the Consulate and reinstated himself as the Emperor of France.
He memorably changed the country during his reign by reforming the French education system, negotiating the Concordat of 1801, and developing a civil code (the Napoleonic Code).
He is also notorious for the Napoleonic Wars (1801 – 1815), which modernized the French military. His military feats were defeated in 1812.
After struggling to regain his throne, he was exiled to the secluded island of St. Helena, where he stayed until his death (May 5, 1821).
Another misconception about Napoleon is that he was abnormally short. Yet, he stood at 5 feet 4 inches which was the average male height of a French man during the 19th century.
His list of achievements explains him being one of the most famous French people ever.
15. Charles de Gaulle
Charles André Joseph Marie de Gaulle was initially a French army officer, leading Free France against Germany during World War II.
He later entered the world of politics when he became the leader of the (1944 – 1946) Provisional Government of the French Republic. However, his political influence didn't end there.
In 1958, he was appointed President of the Council of Ministers, in other words, Prime Minister.
Later that same year, he was voted President of France, and he kept that position till his resignation in 1969.
Other things he achieved in his lifetime include rewriting the Constitution of France and establishing the Fifth Republic after approval by referendum.
16. Marie Antoinette
Marie Antoinette became the queen of France (1774 – 1793) when her husband ascended the throne as King Louis XVI.
Her lavish spending sprees moved the people to reject her reign, which stirred the pot leading to the French Revolution.
The most iconic saying amongst famous French people, "Let them eat cake," displays an obliviousness to the poor conditions of her subjects during that period.
However, Marie Antoinette's life completely changed when the revolution overthrew the monarchy.
The royal members were placed under house arrest (Tuileries Palace, 1789). However, she further tarnished her reputation with her involvement in the attempted flight to Varennes (1791) and the War of the First Coalition.
Marie Antoinette was finally met with her awaiting trial. Like her husband, Louis XVI, she was tried with high treason and executed by guillotine at the Place de la Révolution (October 16, 1793), today known as Place de la Concorde, one of the prettiest places to visit in Paris.
17. Louis XIV
Louis XIV, other names the Sun King or Louis the Great, reigned as the King of France from May 14, 1643, till 1715, which is the longest reign of a monarch in recorded international and French history.
However, his glorious titles didn't conceal his aristocratic nature, and he formed a system of absolute monarchy that endured until the French Revolution.
He was also a man of strategy and achieved military dominance throughout the wars he participated in.
These wars include the Nine Years' War, the notorious War of the Spanish Succession, and the documented Franco-Dutch War.
He died in 1715, leaving his successor, Louis XV, a powerful kingdom recovering from a large debt accumulated after the War of the Spanish Succession.
Famous French People in Science
18. Marie Curie
Marie Salomea Skłodowska–Curie, a Polish and naturalized-French physicist, is an incredible individual within the world of science.
She specializes in physics and chemistry and is renowned for her research on radioactivity.
Some of her discoveries and inventions include the treatment of neoplasms, using radioactive isotopes, and developing mobile radiography units during World War I.
She was a woman of many firsts, such as the first lady to receive a Nobel Prize and the first person and only lady to win the Nobel Prize twice.
She was also the only individual to win a Nobel Prize in two scientific fields.
She and her husband, Pierre Curie, received her first Nobel Prize together, making them the first married couple to receive this prestigious award.
Finally, she was the first female professor accepted into the University of Paris.
19. Louis Pasteur
Louis Pasteur, born on December 27, 1822, is a remarkable man that saved millions of lives through his microbiology research.
As a result, countless people recognized his outstanding achievements in this field, and he received the label "father of bacteriology," which listed him amongst other famous French people of great scientific prowess.
He is famous for his discoveries of the principles of microbial fermentation, vaccination, and pasteurization (named after him).
Some of his other findings include the vaccines for rabies and anthrax. He set the foundations of hygiene and public health, helping France become prosperous during tragic plagues.
Famous French People in Sports
20. Zinedine Zidane
Zinedine Yazid Zidane, a famous football manager, also had a football career as a midfielder. His most recent role in football was coaching Real Madrid, a Spanish football club.
He has constantly been commended for his skill and practice, and his achievements prove this fact.
As a player, he achieved great successes, and to name only a few, winning the 1998 Ballon d'Or and being named FIFA World Player of the Year in 1998, 2000, and 2003.
He has expressed many times the desire to coach young French talents like Kylian Mbappé and Paul Pogba.
21. Thierry Henry
Thierry Daniel Henry is a professional football coach and player. He began his career in 1994 when he joined Monaco before signing with defending Serie A champions Juventus.
Henry kept climbing up the ranks till Thierry got a signing with the Premier League club, Arsenal. He also represented his country France during world cups and tournaments.
Thierry is one of the greatest strikers and best players in the Premier League.
His top achievements include winning FIFA World Player of the Year (2004), being named FWA Footballer of the Year three times, being runner-up for the Ballon d'Or (2003), and co-earned PFA Team of the Year six consecutive times.
Famous French People in Music
22. Edith Piaf
Edith Piaf is a French singer proclaimed one of the most beloved performers of the 20th century.
She specializes in chanson réaliste and beautiful torch ballads about love, loss, and sorrow, correlating to the trials of her own life.
Since her passing in 1963, her inspiring story has been retold through several biographies and films, including 2007's La Vie en rose.
Her mother abandoned her after birth, but her father carried Edith to his mother's brothel.
Her first public debut as a singer at 14 was when she attended one of her father's acrobat performances.
In 1935, Edith was approached by a cabaret owner offering her first nightclub job. Her famous name originated from this man, who called her "la môme Piaf," meaning little sparrow in Parisian slang.
That same year, Piaf made her theatrical debut and delivered awing performances in the largest music halls in Paris, making her one of the most famous celebrities in France.
23. Claude Debussy
Claude Debussy is a French composer that sought to revolutionize music with his unique style, consisting of Russian and Far Eastern music. This combination formulated a new style of harmony and orchestral coloring.
However, with most revolutionary ideas, the other musicians surrounding him, including his professors, didn't easily welcome his new inspiration.
His brilliant mind was recognized even from a young age. He was accepted into France's leading music college at 10 years old.
His composing career continued for 30 years. During that time, he submitted works such as Prélude à l'après-midi dun faune (1894), Nocturnes (1897–1899), and Images (1905–1912).
His contributions to the world of music place him on the list of famous French people.
More Famous People from France
24. Joan of Arc
Jeanne d'Arc (Joan of Arc) is a glorious heroine and an inspiration to all women worldwide.
Being only a peasant girl, she guided the French army to a glorious victory at Orléans in 1429. Her drastic courage was fueled by her belief in being under the guidance of divinity.
She was a Catholic with the utmost devotion. She surmised that her conquests were guided by the voices of St. Michael, St. Margaret of Antioch, and St. Catherine of Alexandria.
With the combined wisdom of these individuals, she expelled the English from the Valois kingdom of France, supporting the dauphin Charles (later Charles VII).
Unfortunately, she was captured during a siege by the English and their French collaborators and convicted as a heretic.
She was sentenced to burn to death on May 30, 1431, meaning she died at the young age of 19.
25. Gustave Eiffel
Gustave Eiffel was a French civil engineer credited with many successful projects, many of them still standing today.
Some of his greatest creations include the Garabit Viaduct, a French railway network, and the beloved Eiffel Tower, which was named after him.
He also contributed to constructing the Statue of Liberty in New York.
The Eiffel Tower is his most memorable achievement. Gustave Eiffel stated that the tower was to be a symbol for various historical events such as the art of modern engineering, the century of Industry and Science they lived in, and the Revolution of 1789.
Through his engineering career, he created functional works of art, portraying his gratitude towards the men and women of France who fought for the society he lived in.
However, his discovery did not end after his retirement.
He moved forward to research in meteorology and aerodynamics. It is no surprise that Eiffel's name rests beside other famous French people throughout time.
Did you enjoy learning about the most famous French people of all time? Then share this article with your friends!
Famous People from France
Constance Jablonski
Coco Chanel
Louis Vuitton
Claude Monet
Jean Reno
Brigitte Bardot
Catherine Deneuve
Simone de Beauvoir
Antoine de Saint-Exupéry
Jules Verne
Alexandre Dumas
Albert Camus
Victor Hugo
Napoleon Bonaparte
Charles de Gaulle
Marie Antoinette
Louis XIV
Marie Curie
Louis Pasteur
Zinedine Zidane
Thierry Henry
Edith Piaf
Claude Debussy
Joan of Arc
Gustave Eiffel
Don't Forget About Travel Insurance!
Before you leave for France, make sure you have a valid travel insurance policy because accidents happen on the road. We have been paying for Safety Wing travel insurance for a little over a year now, and we happily recommend them to our family and friends.
If you get sick, injured, or have your stuff stolen, you'll be happy to have the ability to pay for your medical bills or replace what was stolen.
Because, for just a couple of dollars a day (depending on how long your policy is for), you're going to get lots of things covered. Be smart and get travel insurance.