Looking for the most famous French paintings? Here's a handy list for you with some information about them, including where you can see these French artworks.
Many famous paintings are of French origin, and these works of art have impressed generations of art lovers with their beauty and innovation.
It's no surprise that France is well-known for its artists and paintings.
We'll look at some of the most famous images of France, from Impressionistic paintings of flowers and landscapes to detailed life-like studies of historical events.
Whether you need a refresher on French paintings or are just learning about them, you'll soon easily recognize these masters of the art world.
Discover the fascinating history behind some of the world's most significant French artwork and where to see them.
19 Most Famous French Paintings Of All Time
Here are the most famous French artworks. What else would you add to this list? Comment below!
1. Liberty Leading the People
Artist: Eugene Delacroix
Where to See: Louvre Museum, Paris
Painted in oil by one of the most famous French painters, Eugene Delacroix, after he viewed the July Revolution in 1830, this is one of Delacroix's most well-known artworks.
The king, Charles X, had set down ordinances that had greatly upset the French. The violent uprising ended with the king abdicating.
The painting depicts a woman wearing a soft, conical Phrygian hat, bearing the tricolor flag as she leads the revolutionaries.
They step over the barricades and the fallen bodies of men as they brandish their weapons. The woman represents Liberty, and the army is a mix of citizens.
After the July Revolution of 1830, the tricolor flag would go on to become the new French flag
2. Water Lilies
Artist: Claude Monet
Where to See: Musee de l'Orangerie, Paris; Museum of Modern Art, New York City; National Gallery of Art, Washington DC; Museum of Fine Arts, Boston; Art Institute of Chicago.
The Water Lilies are a series of paintings by Claude Monet, one of the most famous French people, that are famous examples of Impressionist art, an artistic movement led by the painter.
These French paintings were produced in the last thirty years of Claude Monet's life, and the blurry, dream-like nature of the works was influenced by cataracts from which this French artist suffered.
The paintings were created in his home in Giverny and are depictions of his flower garden, which has been preserved and can still be visited today.
There are around 250 paintings in the Water Lilies series.
While many are in private collections, examples can be viewed in museums and galleries worldwide, including in the USA, Australia, Russia, Africa, and Britain.
3. The Coronation of Napoleon
Artist: Jacques-Louis David
Where to See: Louvre Museum, Paris
This colossal oil painting depicts the coronation of Napoleon.
Napoleon commissioned it in 1804, and his official painter, Jacques-Louis Davis, began working on it at the end of 1805.
Together with his assistant, it was completed in January 1808 and is today one of the most famous paintings in the Louvre.
The painting uses neo-classical techniques to show the grandiosity inside Notre Dame Cathedral.
Several significant historical figures are included, but the image draws all eyes to Naopleoon at its center as he holds the crown aloft.
Josephine de Beauharnais is kneeling before Napoleon, waiting to receive the crown from her husband.
This French painting is remarkable in its size; it is 33 feet long and 20 feet tall!
4. Death of Marat
Artist: Jacques-Louis David
Where to See: The Royal Museum of Fine Arts, Belgium
Another remarkable and famous oil painting by Jacques-Louis David, the Death of Marat, was painted in 1793. It is one of the most well-known French Revolution paintings.
It depicts the murdered revolutionary leader and journalist Jean-Paul Marat lying in his bath.
Marat was a leader of a radical faction during the revolution and a friend of Jacques-Louis David.
Charlotte Corday, a more moderate revolutionary, murdered him in his bathtub with a 6-inch kitchen knife. She was later executed by guillotine for his assassination.
5. The Horse Fair
Artist: Rosa Bonheur
Where to See: Metropolitan Museum of Art, New York
This French artwork is one of artist Rosa Bonheur's most famous pieces.
It is an oil painting showing the horse market on the Boulevard de l'Opital, where horse dealers sell their horses.
Bonheur was well-known for her French paintings of animals, and she made many sketches of the Percherons and draft horses which inspired this piece.
There are several versions of the artwork, though the prime painting dates from 1852.
The work is noted for the naturalistic way it depicted horses, the sense of movement in the piece, and its large scale
Bonheur was one of the greatest French painters of the 19th century.
6. Two Women Chatting by the Sea
Artist: Camille Pissarro
Where to See: National Gallery of Art, Washington DC
Another famous example of French art is this oil painting by Camille Pissarro, dating from 1856.
The view is of the shoreline of St. Thomas, where two women stand in conversation. The beach is nearly deserted, and the soft golden background envelops the women.
The woman in white holds a large basket on her head, providing shade for the woman in the blue dress.
Pissarro was a Danish-French Impressionist born in St. Thomas (US Virgin Islands). His work focused on ordinary people rather than famous figures and was hailed as revolutionary.
He inspired and nurtured the careers and works of many Impressionist painters and the Neo-Impressionists such as Cezanne and van Gogh.
7. The Card Players Series
Artist: Paul Cézanne
Where to See: Musée d'Orsay, Paris
Noted Post-Impressionist painter Paul Cézanne created a series of well-known French paintings depicting card players.
There are five paintings, three of which are similar in composition and show two players. The others have a grouping of three and five figures.
These oil paintings were considered part of Paul Cézanne's 1890s period before he began the works of his later years. The series depicts Provencal peasants playing cards while smoking their pipes.
French paintings of card-playing peasants at the time would show drinking, gambling, and fighting.
In contrast, Paul Cézanne depicts a more quiet, contemplative moment and uses local farm hands as models.
8. The Absinthe Drinker
Artist: Edouard Manet
Where to See: Ny Carlsberg Glyptotek, Copenhagen
Painted chiefly in 1859, this full-length portrait was of a rag-picker named Collardet, who was well-known as an alcoholic and often found around the Louvre.
Manet painted him in somber colors, wearing an aristocratic tophat and brown cloak.
An empty bottle of absinthe lies at his feet, and a half-full glass sits on the ledge alongside him.
When this French artwork was first submitted to the Paris Salon, it was rejected, possibly because of its subject matter, as absinthe drinking was considered morally degenerate.
It was Manet's first major painting, and he would go on to rework it later in life.
9. The Raft of the Medusa
Artist: Theodore Gericault
Where to See: Louvre Museum, Paris
This is another one of the remarkable life-size French paintings and measures just over 16 feet by 23 feet.
This vivid and dynamic oil painting was painted from 1818 to 1819 and depicts a gruesome scene.
After the French naval frigate, Meduse was wrecked, survivors set adrift on a raft. Of the roughly 147 original survivors, only 15 made it to be rescued.
The remaining survivors had to eat their dead compatriots to stay alive. Gericault's painting depicts these few starved and dehydrated sailors.
Gericault uses his friends as models for the piece, painted when he retreated into a monastic-like life in his studio.
10. Portrait of Madeleine
Artist: Marie-Guillemine Benoist
Where to See: Louvre Museum, Paris
This oil painting by French artist Marie-Guillemine Benoist was painted in 1800 and shows an upper-body portrait of a young Black woman wearing a white Greek-style dress and white head scarf.
She sits on a chair draped with a deep blue cloth, and the background is a soft pale gold.
This striking painting has a neo-classical feel, and reflects the French aesthetic of the period.
Although we do not know the sitter's identity, it is likely that Madeleine was born into slavery and brought to France by Benoist's brother-in-law. We can't be sure of her exact status.
11. La Danse
Artist: Henri Matisse
Where to See: State Hermitage Museum, Saint Petersburg
Henri Matisse's La Dance must be one of the most iconic modern French paintings—the dancing figures in their striking colors are easily recognized.
Painted circa 1910, this was a commission for the Russian art collector and businessman Sergei Shchukin.
La Dance is a large, decorative oil panel painting where the subject matter is five red figures dancing across a landscape of green and blue.
The fires and landscape are simplified but dynamic in movement, and the artwork represents a milestone in the development of modern painting.
12. Bal du Moulin de la Galette
Artist: Pierre-Auguste Renoir
Where to See: Musée d'Orsay, Paris
A significant artwork and considered a masterpiece of Impressionistic painting, the Bal du moulin de la Galette was painted in 1876.
It showed working-class Parisians gathered in their best clothes on a Sunday afternoon. The sun-dappled painting depicts the subjects dancing, drinking, and eating.
Pierre-Auguste Renoir was a unique French painter who created many fine examples of French paintings that celebrated beauty and sensuality.
He was one of the leading artists of the Impressionists, and his works often depict nude women, though he also painted portraits and landscapes.
13. Olympia
Artist: Edouard Manet
Where to See: Musée d'Orsay, Paris
This painting of a nude reclining woman is one of Manet's most recognized French paintings. It was painted in oil on canvas in 1873.
Olympia lies on a white bed, shawl, and pillows and wears only a black ribbon about her neck and a flower in her hair.
The figure stares directly at the viewer, while at her feet, a maidservant offers a basket of flowers.
The direct and confrontational look that the woman gives caused much shock when it was exhibited in 1865, but eventually, the French government bought the painting.
Several details in the painting identified the subject as a prostitute, which only added to the outrage caused by the artwork.
The sitter was, in fact, another famous artist and model, Victorine Meurent, and the maidservant, another artist's model known as Laure.
14. A Sunday Afternoon on the Island of La Grande Jatte
Artist: Georges Seurat
Where to See: The Art Institute of Chicago
Seurat's most famous work is the instantly recognizable piece, A Sunday Afternoon on the Island of La Grande Jatte. It is an excellent example of the Pointillist technique.
This oil painting shows Parisians out for an afternoon on the banks of the River Seine.
The painting uses contrasting light and shadow to evoke the play of darkness across the figures.
Some characters appear to be doing odd activities, such as a woman in the foreground with a monkey on a leash.
It utilizes tiny dots of colored paint to draw the viewer's eye into creating the image.
Instead of blending the colors on a palate and painting them exactly, color theory in Pointillism uses the eye and mind of the person viewing the painting to visually 'mix' the colors.
15. The Ballet Class
Artist: Edgar Degas
Where to See: Musée d'Orsay, Paris
Painted by French painter Edgar Degas sometime between 1871 and 184, this artwork of dancers in a ballet class is a prime example of the Impressionistic style in French paintings.
It shows the ballet master Jules Perrot, a friend of Degas, looking over his students in their rehearsal class at the Paris Opera.
The art collector and French operatic baritone Jean-Baptiste Faure originally commissioned this oil painting.
The Paris opera burned down a year before Degas completed the picture of the class, making this both a historical record as well as one of the famous paintings of France.
16. Bottle and Fishes
Artist: Georges Braques
Where to See: Tate Modern, London
Georges Braque was a noted French painter and sculptor, and his work played a part in the formation of Fauvism and Cubism.
Bottle and Fishes was part of his series of works in Analytic Cubism, where he worked alongside the artist Pablo Picasso.
French paintings during the Cubist period were concerned with deconstructing how we view objects.
Although the subject matter is a bottle and fish on a plate, the forms are reduced to lines on a plane, giving the artwork an abstract feel.
17. Portrait of Louis XIV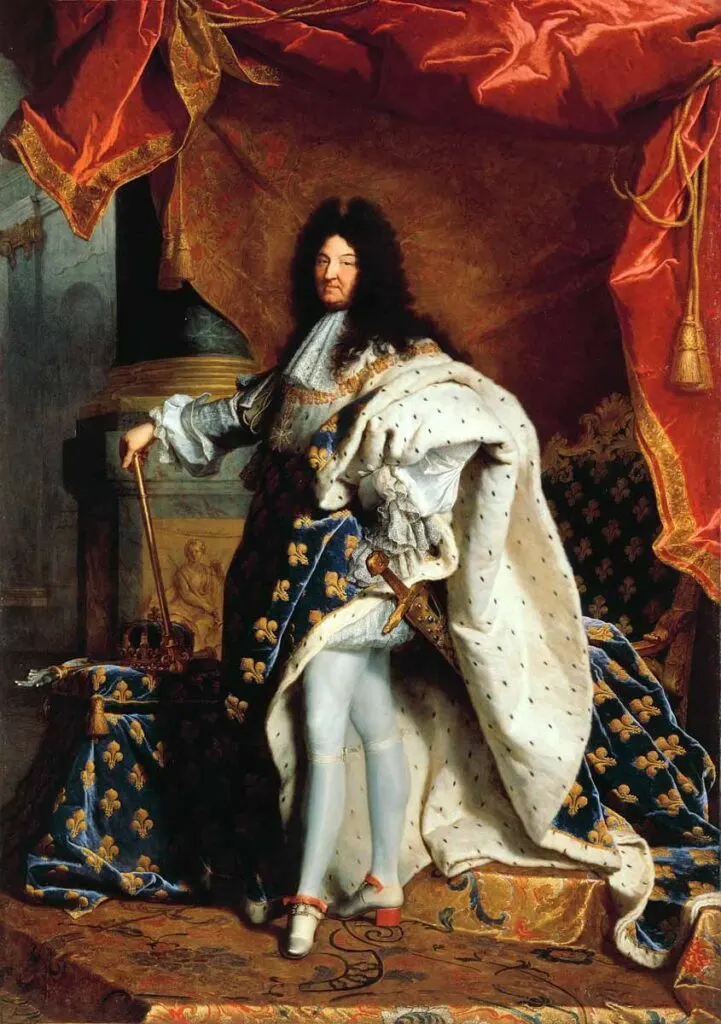 Artist: Hyacinthe Rigaud
Where to See: Louvre Museum, Paris
Painted in the eighteenth century after it was commissioned by the king, Hyacinthe Rigaud's painting depicts King Louis XIV of France in his opulent coronation robes.
This baroque oil painting has since become the most well-known portrait of the Sun King.
However, it was only commissioned because the king's grandson had wanted such a portrait.
18. Tahitian Women on the Beach
Artist: Paul Gaugin
Where to See: Musée d'Orsay, Paris
This oil painting by Paul Gaugin reflects the French Post-Impressionist's experimental way of using color and his deep fascination with French Polynesia.
The 1891 painting shows the daily life of two women on a Tahitian beach, wearing brightly colored wraps as they recline on the bright yellow sand.
One woman faces the viewer but looks away, while the other has her back turned.
19. Moulin Rouge: La Goulue
Artist: Henri de Toulouse-Lautrec
Where to See: Indianapolis Musem of Art
This instantly-recognizable 1891 lithograph is the work of French artist Henri de Toulouse-Lautrec. It was designed as a poster and likely had around 3,000 copies printed.
These posters would have been pasted up on walls, but a few have survived and are now in museum collections.
The poster depicts a cancan dancer and is a promotion for the Moulin Rouge, a famous French club and Montmartre landmark.
The French poster design is inspired by Japanese artwork and reflects the burgeoning design trend of the era.
Did you enjoy learning about these French paintings? Then share this article on your social media!
19 Most Famous French Paintings Of All Time
Liberty Leading the People
Water Lilies
The Coronation of Napoleon
Death of Marat
The Horse Fair
Two Women Chatting by the Sea
The Card Players Series
The Absinthe Drinker
The Raft of the Medusa
Portrait of Madeleine
La Danse
Bal du Moulin de la Galette
Olympia
A Sunday Afternoon on the Island of La Grande Jatte
The Ballet Class
Bottle and Fishes
Portrait of Louis XIV
Tahitian Women on the Beach
Moulin Rouge: La Goulue
Don't Forget About Travel Insurance!
Before you leave for France, make sure you have a valid travel insurance policy because accidents happen on the road. We have been paying for Safety Wing travel insurance for a little over a year now, and we happily recommend them to our family and friends.
If you get sick, injured, or have your stuff stolen, you'll be happy to have the ability to pay for your medical bills or replace what was stolen.
Because, for just a couple of dollars a day (depending on how long your policy is for), you're going to get lots of things covered. Be smart and get travel insurance.