Ever wondered what is Paris known for? Here's the answer!
Known as the most romantic city in the world, Paris is also one of the most visited cities in the world, and for a good reason too… no, make that reasons.
In this post, we set out to answer the question, "what is Paris known for?"
With a wealth of history and culture evident in its architecture, its countless museums, and iconic monuments, it was not difficult to list the things that make Paris such an incredible and desirable city to visit.
In our view, these are the real charms that have made Paris so famous. See if you agree with us.
18 Things Paris Is Famous For
1. The Eiffel Tower is one of the obvious things associated with Paris
Of all of the things associated with Paris, nothing defines this city quite like the Eiffel Tower. Virtually all Paris souvenirs feature its image.
The Eiffel Tower is a colossal structure that was designed by Gustave Eiffel and was supposed to be a temporary structure for a fair in 1889, angering many critics who demanded that this "grotesque factory chimney" be removed immediately.
Thankfully, the need for wireless telegraphy aerials saved it from certain demolition, and today it is the symbol of Paris.
No matter how many pictures you have seen, it's only when you stand beneath its feet and gaze into its bowels that you begin to get a sense of the scale of this inspirational monument.
And when you ascend 984 feet to the top in the lift, the splendor of Paris is gently revealed…a sight you'll never forget.
Climbing to the top of the Eiffel Tower is hands down a bucket list item.
Still, you can also take in the view of the Eiffel Tower from a restaurant or your hotel. Your choice.
2. Paris is known for the Mona Lisa painting
Without a doubt, the most famous and most viewed painting in the world!
No other artwork has ever evoked such robust debate and mystery quite like the Mona Lisa.
She has inspired operas and films made in her name and one of the world's most recognizable songs, despite her diminutive size of 30 x 21 inches.
Today Mona Lisa is the most famous painting in the Louvre Museum, and said to be insured for around a billion dollars!
Painted between 1503 and 1506 by Italian artist Leonardo Da Vinci, it was bequeathed to his apprentice but bought by King Francis I and has remained the property of France ever since.
It spent time at Versailles under Louis XIV before moving to the Louvre, after adorning Napoleon's bedroom. If only we could get her to talk, imagine what she'd tell us!
This enigmatic lady has been stolen, vandalized, had a rock, a cake, and a teacup thrown at her, and cut out of her frame with a razor blade.
Not surprisingly, she is now well protected behind bullet-proof glass.
3. Paris is famous for its art museums
The museums in Paris are among the best in the world, and I cannot think of any other city that has more cultural institutions than the French capital. There are hundreds.
From the most priceless and rarest artworks found in the world's largest museum, the Louvre, built in the 12th century, to a labyrinth of dark sewers beneath the city, Paris has museums you cannot imagine.
History, art, archeology, culture, science, maritime, music, film, fashion, cars, war, architecture, food, medicine…everything!
Not be missed are the Louvre and Musée d'Orsay, with miles of passages displaying some of the world's most renowned artworks, including French paintings, and of course, many French painters.
Also, the Museum of Modern Art at the Pompidou Centre is not to be missed, which in itself is a work of art.
The Petit Palais, an ornate building showcasing fine arts, and the Military Museum, situated across the river at Les Invalides, containing thousands of military artifacts from ancient times to WW2, including the tomb of Napoleon, one of the most famous people in France, are also must-sees in the city.
4. What is Paris known for? Food!
Well, whether you're into elegant Michelin-Star cuisine, where even a simple onion soup is elevated to the most sophisticated-sounding soupe à l'oignon.
Even a humble jambon beurre (baguette sandwich filled with ham) is elevated. French food is one of the major pleasures of Parisians and is engrained into the city's soul.
For refined dining, you'll be spoilt for choice, with the luxurious Guy Savoy, Alain Ducasse au Plaza Athénée and L'Ambroisie, being among the top of many such institutions providing gastronomic excellence.
But you don't need to break the bank to enjoy delicious food in Paris, with hundreds of small quaint restaurants, bistros, and street vendors providing cheap but mouth-watering foods to suit all palates.
And let's not forget that Paris is also famous for its pastries having some of the finest pastry chefs and bakers in the world.
5. Paris is famous for being the City of Love
No other city evokes love and romance quite like Paris, earning the title of The City of Love. What other city has a Museum of Romantic Life, a Love-Lock Bridge, a Wall of Love, and a Temple of Love?
Yeah, there are a lot of romantic restaurants and things to do in Paris.
The picturesque Pont des Arts Bridge between the Louvre and the Institut de France, was once used by couples declaring their eternal love by attaching a lock with their names engraved on it and throwing the key in the Seine.
In 2015, this Parisian bridge was at risk of collapsing under the weight of the padlocks, and they were all removed, and the practice stopped.
The true romanticism of Paris lies in plain sight virtually everywhere. Charming cobblestone streets lined with cafes serving coffee and croissants, delectable food, and wine while surrounded by elegant architecture and listening to the most poetic language…need anything more?
6. Paris is famous for being the City of Light
If you thought Paris was called the City of Light because of its lights, you'd be half-right.
Initially, it was regarded as the City of Enlightenment, but only when it became one of the first European cities to have street lights in the 1860s it entrenched itself as the City of Light.
But today, when the sun goes down and hundreds of thousands of light bulbs switch on, illuminating the streets, bridges, statues, churches, fountains, and monuments, it's no surprise that Paris will forever be the City of Light.
And when the Eiffel Tower turns on its magic golden lights and throws its beams across the night sky, and reflects on the waters of the Seine, the whole city radiates elegance and style.
7. Paris is known for its stunning architecture
Considered one of the most beautiful cities in the world, Paris is a treasure trove for architectural buffs.
While there are fine examples of Renaissance, Gothic, French Baroque, and even ultra-modern and some ridiculously weird architecture throughout the city, the distinct Haussmann architecture is what Paris is known for.
This 19th century-style features wide boulevards lined with elegant stone buildings and apartment blocks with ornate facades and wrought iron designs, while flower-filled balconies hang above the cobblestone streets and avenues.
All these often-conflicting architectural styles somehow "blend in harmony," giving Paris its own unique appeal; the glass Louvre Pyramid is a perfect example.
The best way to experience the city's architectural gems is to book a guided tour specifically focused on architecture and urbanism.
8. Paris is known for its famous neighborhoods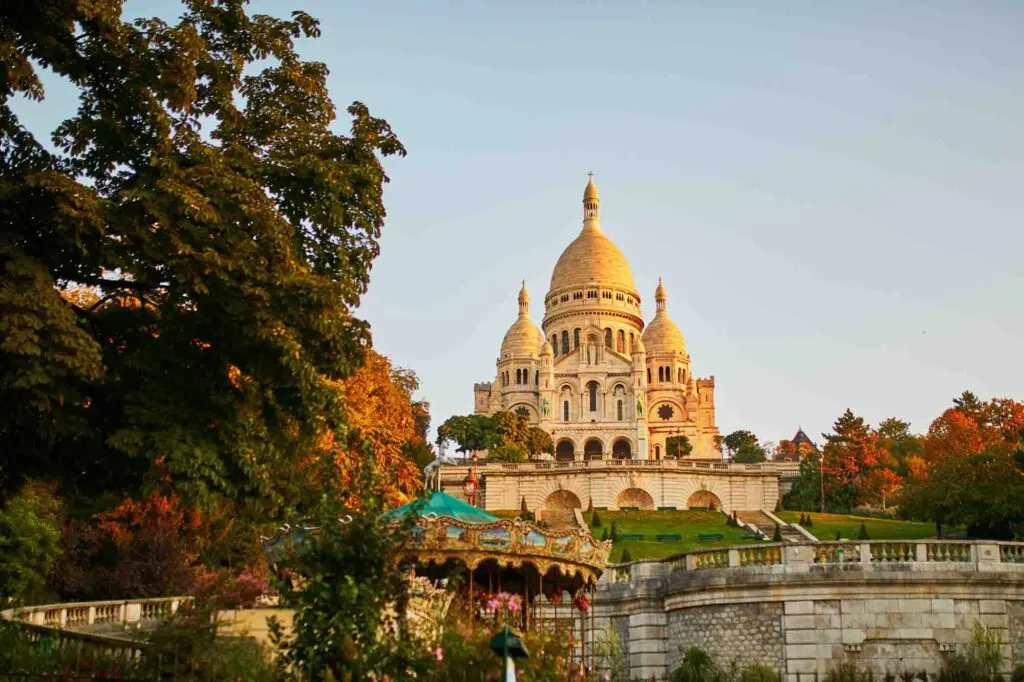 There are so many neighborhoods, each with its own unique character that makes Paris such a stunning and fascinating place to live and visit. To name them all is impossible. Here is just a handful.
The historical and scholastic Latin Quarter is a wonderful place to stroll amongst beautiful museums, charming cafes, and bookstores, including the iconic Shakespeare & Co.
The picturesque Saint Germain-des-Près alongside offers an artistic vibe filled with exquisite museums, gorgeous Parisian churches, posh shops, fancy restaurants, and of course, the stunning Jardin du Luxembourg Gardens in the 6th arrondissement.
The artsy and bohemian Montmartre Hill holds some famous landmarks, like the Sacre Coeur and the world-famous Moulin Rouge theatre, and was once the home of Picasso and Vincent van Gogh.
Les Marais is known for its sophistication through its opulent mansions, museums, lively bars, restaurants, and trendy fashion boutiques, it's so easy to spend a full day here without becoming bored.
And then, of course, we have The Islands. Ile de la Cité, where Paris began when a Celtic tribe, the Parisii, settled here around 300 BC before being overrun by Julius Caesar.
It's also the home to two of Paris' most treasured monuments, the Notre Dame Cathedral, a beautiful example of Gothic architecture built in the 14th century, and the exquisite Sainte-Chapelle, built in the 13th century.
The smaller island, Ile St-Louis, is perhaps the most romantic part of Paris.
9. Paris is associated with the French Revolution
Despite being labeled the City of Love, Paris cannot escape being synonymous with one of the most violent events in recent history; the French Revolution.
Tired of being taxed into poverty while their monarchy bathed in opulence, Parisians finally stormed the Bastille to arm themselves, triggering off an era known as the Reign of Terror.
Today, the Place de la Concorde (place of harmony) in the city center of Paris is the site where over 2,000 aristocrats, including King Louis XVI and Queen Marie-Antoinette, were executed by guillotine.
Apart from a few stones next to a children's park, there are no traces of the Bastille.
The French Revolution is one of the things associated with Paris that also had huge consequences for the rest of Europe, bringing an end to many monarchies and installing the democratic systems we have today.
10. Paris is famous for having the Arc de Triomphe
Standing 164 feet tall, this gigantic structure is one of the world's most famous and recognizable monuments.
Situated in the heart of Paris on Charles de Gaulle Square, with 12 avenues radiating outwards, the Arc de Triomphe was commissioned in 1806 to commemorate Napoleon's triumph at Austerlitz but was only completed in the 19th century.
Adorned with intricate carvings representing important moments in French history and Roman mythology figures, it also bears the names of 158 famous battles fought by French armies.
Beneath the arch lies the eternal flame of the Unknown Soldier, which is stoked by war veterans every evening at 6.30.
During WW2 under German occupation, two elderly French WW1 veterans in full military uniform marched to the tomb and took the salute in plain sight of German guards, who, surprisingly, stood alongside and joined them in salute. Another reminder of the futility of war.
Its interior houses a museum with historical exhibitions, and if you take the 280 steps to the top, you'll be rewarded with panoramic views of the city spread all around. There is no place better to view the famous Champs-Élysées.
11. Paris is known for having the gracious Champs-Élysées Avenue
What once was a swamp, the Champs-Élysées is today the world's most beautiful avenue and the most expensive strip of real estate.
Running less than one and a half miles from the Arc de Triomphe to the Place de Concorde, this glitzy avenue is lined with prestigious boutiques offering all the world's luxury brands, likes of Louis Vuitton, Gucci and Cartier, swanky arcades, and fashionable cafes and restaurants buzzing with people, while non-stop traffic whizzes by.
Among the many grand buildings, you can find a surplus of nightclubs, theatres, the Renault museum, and countless shops you can find virtually everything.
There is even a fighter jet along the pavement, for goodness' sake!
At night, when Paris switches on her dazzling lights, Champs-Élysées changes its mood, becoming truly magical.
12. What is Paris famous for? Shopping!
Whether you're looking for glitzy jewelry, haute couture fashion items, original art, antique furniture, or some cheap second-hand bargain, Paris is an open universe for shoppers.
For high-end shopping, there are palatial stores and malls in the Fashion Capital, such as Centre Commercial Évry 2 and Galeries Lafayette on the Champs-Ėlysėes, Galeries Lafayette and Printemps in the elegant Boulevard Haussmann, where even if you buy nothing, you'll be mesmerized by the dazzling displays and décor.
Some of the French fashion brands you can find there are Chanel, Hèrmes, and Yves Saint Laurent—all brands created by French designers.
There are, of course, countless other sophisticated stores hidden everywhere within the city's sidewalks.
For an unforgettable shopping experience of the widest choice of inexpensive goods, most of which you'll not find anywhere else, head to the St Quen Flea-Market in northern Paris.
Spanning over 15 acres, it houses 16 different markets with 2000 stalls, each one totally unique. It's the biggest flea market in the world.
13. Paris is famous for its café culture
Keeping with European tradition, café culture is certainly what Paris is known for.
Whether in the bustling Champs-Ėlysėes or in some quiet cobblestone alleyway, there will be tons of cafés with tables and chairs spilling onto the pavements to stop for a refuel and enjoy your regular fix watching Paris life passing by.
Café culture is engrained into Parisians' souls. For centuries cafés have been used as meeting places for business, romance, and socializing.
The fact that cafés also serve some of the best food and pastries certainly helps to keep this culture alive. Long may that last!
14. Paris is associated with cabaret
There will never be a shortage of cabaret venues and shows in Paris…ever.
Cabaret is another indulgence that Paris is famous for, with countless venues strewn across every corner of the city. Paris is the birthplace of cabaret.
Best known is the historic Moulin Rouge in Montmartre, throwing spectacular shows each night with a cocktail of song, dance, and entertainment of every kind.
Over the years, their stages have been graced by iconic performers like Edith Piaf, Charles Aznavour, and Yves Montand, and it is also the home of the raunchy, high-kicking Cancan.
The Paradise Latin Theatre is another landmark, and so are the Crazy Horse and the Lido, all being world-renown for their extravagant and glamorous cabaret shows.
15. Paris is known for its churches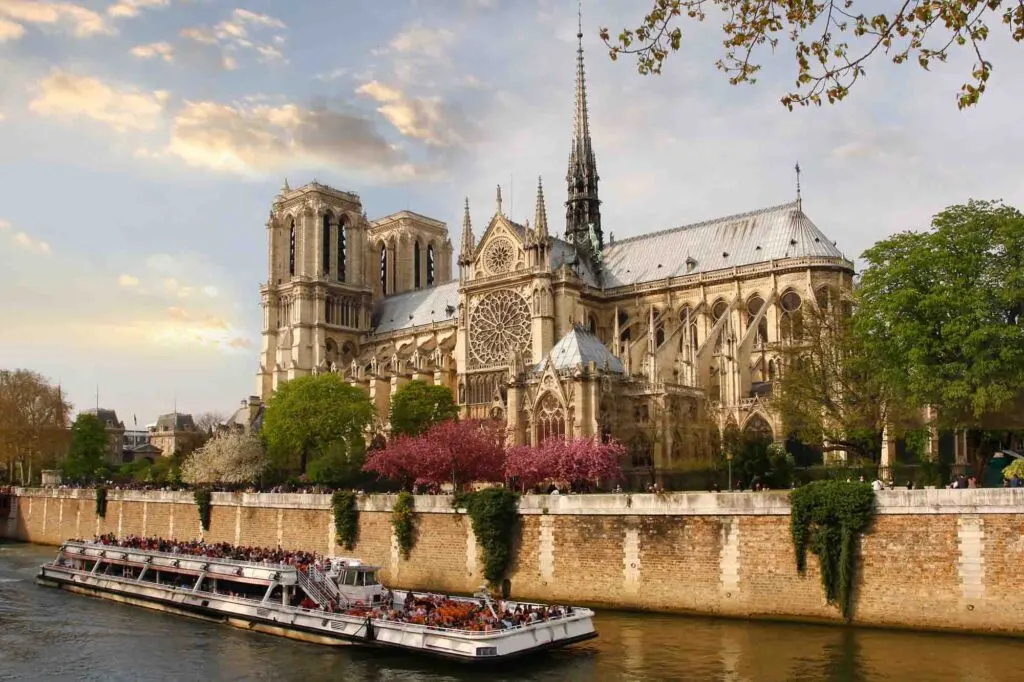 Spanning from Roman times to the French Revolution, Paris has magnificent churches to impress the staunchest of atheists.
Despite having over 200 churches, Paris has only one true cathedral; Notre Dame Cathedral.
Immortalized by Victor Hugo's hunchback, this cathedral in the 4th arrondissement reaches the soul of Paris, its fire in 2019, bringing millions of people across the globe to tears.
Other magnificent churches include the 900-year-old St-Dennis Basilica, the Sacre Coeur, Saint Chapelle, and the Saint-Eustache, among many others.
All these places of worship are ornately designed and decorated with stunning stain-glass windows and statues holding numerous priceless relics.
16. The Seine River is one of the things associated with Paris
As if Paris needed any extra features to make it more beautiful, the gorgeous Seine ambles its way through the city, providing a wonderful avenue for visitors and locals to cruise on, passing below historical bridges while admiring the city's grand buildings.
An evening stroll along its banks or a river cruise becomes truly unforgettable when the city and the Eiffel Tower's flickering lights are switched on.
The Seine is hands down one of the most famous rivers in Europe, let alone the world.
17. What is Paris famous for? Disneyland Paris!
Not forgetting the children, Paris is also famous for its Disneyland, matching all Disneylands across the world. It's hard to believe that Americans actually bring their kids here.
1700 acres of sheer fun and entertainment for people of all ages. The children get to meet Mickey, Donald, and the gang and go on hundreds of themed rides.
If you're not afraid of dying, you can hit The Space Mountain, where you get catapulted skywards at G-Force speeds and spun around until you won't know if it's Monday or December.
Disneyland Paris is the complete entertainment package, also hosting the Walt Disney Studios Park, seven hotels, shopping, dining, and a golf course.
18. Paris is associated with Versailles
Completing our list of things Paris is known for is the scandalously-opulent Palace of Versailles.
Other than saying that it makes all other palaces around the world seem like pauper's huts, it is impossible to describe its magnificence.
Built by the extravagant Louis XIV in the 17th century, this Baroque-style palace complex spreads over 2,000 acres of manicured gardens filled with monuments, statues, and fountains.
Consisting of over 2,000 rooms and halls of unimaginable proportions and decorated with indescribable splendor, one needs several days to really take in its beauty.
We are lost for words, and so will you when you first see it. It's very easy to go from Paris to Versailles, after all, Versailles is a lovely town near Paris.
What Is Paris Known For? 18 Things Paris Is Famous For
The Eiffel Tower is one of the obvious things associated with Paris
Paris is known for the Mona Lisa painting
Paris is famous for its art museums
What is Paris known for? Food!
Paris is famous for being the City of Love
Paris is famous for being the City of Light
Paris is known for its architecture
Paris is known for its famous neighborhoods
Paris is associated with the French Revolution
Paris is famous for having the Arc de Triomphe
Paris is known for having the gracious Champs-Élysées
What is Paris famous for? Shopping!
Paris is famous for its café culture
Paris is associated with cabaret
Paris is known for its churches
The Seine River is one of the things associated with Paris
What is Paris famous for? Disneyland Paris!
Paris is associated with Versailles
Don't Forget About Travel Insurance!
Before you leave for France, make sure you have a valid travel insurance policy because accidents happen on the road. We have been paying for Safety Wing travel insurance for a little over a year now, and we happily recommend them to our family and friends.
If you get sick, injured, or have your stuff stolen, you'll be happy to have the ability to pay for your medical bills or replace what was stolen.
Because, for just a couple of dollars a day (depending on how long your policy is for), you're going to get lots of things covered. Be smart and get travel insurance.