When looking for love quotes, you might very well find yourself stumbling upon quotes about Paris.
After all, Paris is a city that oozes with romance at every street corner. For that reason, it's no surprise that lots of artists have found inspiration in the City of Lights.
It's an awe-inspiring city!
As a result, the number of memorable quotes about Paris floating around the web is genuinely remarkable.
Many of these Paris quotes ring true with our experience in the city, and it is impossible not to feel inspired while walking through its streets.
It feels like poetry in motion. It's a love affair waiting to happen.
Quotes about Paris
That's one of the reasons we decided to put together this list of the most inspiring quotes about Paris.
Possibly, no other European city has captured so much poetic imagination like Paris.
Here we have a list of inspiring quotes about Paris for your viewing pleasure.
But if all you want is a good laugh, you will love our Paris puns and France puns then!
Famous quotes about Paris
"Breathe Paris in. It nourishes the soul." —Victor Hugo
"A walk about Paris will provide lessons in history, beauty, and in the point of life." —Thomas Jefferson
"If you are lucky enough to have lived in Paris as a young man, then wherever you go for the rest of your life, it stays with you, for Paris is a moveable feast." —Ernest Hemingway
"An artist has no home in Europe except in Paris." —Friedrich Nietzsche
"It took me some years to clear my head of what Paris wanted me to admire about it, and to notice what I preferred instead.

Not power-ridden monuments, but individual buildings which tell a quieter story: the artist's studio, or the Belle Epoque house built by a forgotten financier for a just-remembered courtesan." —Julian Barnes
Short Paris quotes
"Paris is not a city; it's a world." —King Francis I
"Paris is always a good idea." —Audrey Hepburn (Cliché, yes. Still, it is a lovely Paris Instagram caption!)
"Secrets travel fast in Paris." —Napoleon Bonaparte
"When good Americans die, they go to Paris." —Oscar Wilde
Read next: 9 Interesting Nicknames for Paris
"She wanted to pass, but she also wanted to live in Paris." —Gustave Flaubert
"To study in Paris is to be born in Paris!" —Victor Hugo
"America is my country and Paris is my hometown." —Gertrude Stein
"To know Paris is to know a great deal." —Henry Miller
"We'll always have Paris." —Howard Koch, Casablanca
Quotes about the Eiffel Tower in Paris
"I should go to Paris and jump off of the Eiffel Tower. If I took the Concorde, I could be in the other world three hours earlier." —Woody Allen
"I like the Eiffel Tower because it looks like steel and lace." —Natalie Lloyd
"I ought to be jealous of the tower. She is more famous than I am." —Gustave Eiffel
Funny quotes about Paris
"Paris is the only city in the world that starving still considered art." —Carlos Ruiz Zafon
"In Paris, they simply stared when I spoke to them in French; I never did succeed in making those idiots understand their own language." —Mark Twain
"It is perfectly possible to be enamored of Paris while remaining totally indifferent or even hostile to the French." —James Baldwin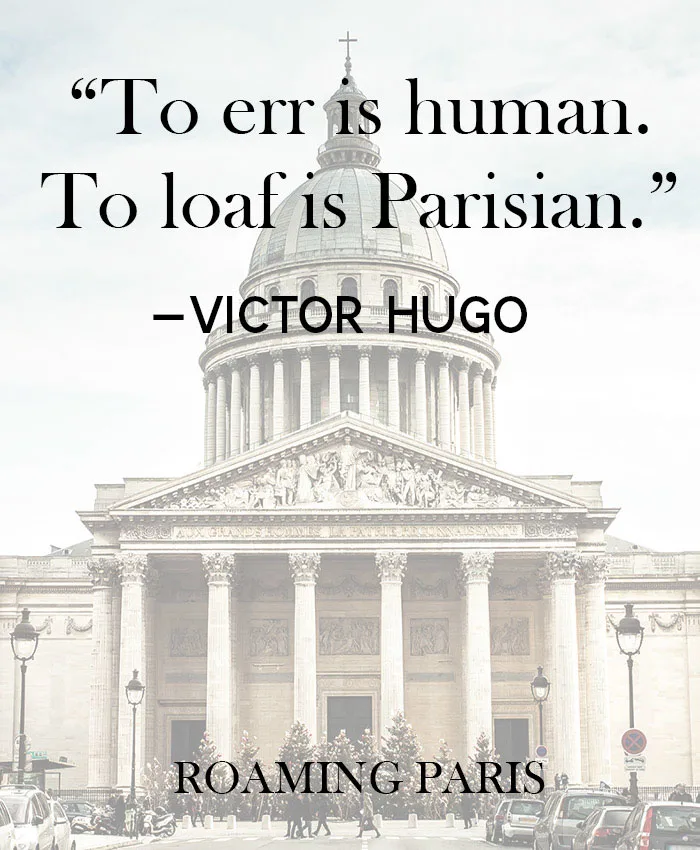 "To err is human. To loaf is Parisian." —Victor Hugo
"Just add three letters to Paris, and you have paradise." —Jules Renard
"In Paris, everybody wants to be an actor; nobody is content to be a spectator." —Jean Cocteau
Quotes about Paris and other cities
"Cities have gender: London is a man, Paris is a woman, and New York City a well-adjusted transsexual." —Angela Carter
"London is a riddle. Paris is an explanation." —Gilbert Keith Chesterton
"London is satisfied, Paris is resigned, but New York is always hopeful. Always it believes that something good is about to come off, and it must hurry to meet it." —Dorothy Parker
"Oh, London is a man's town, there's power in the air; and Paris is a woman's town, with flowers in her hair." —Henry Van Dyke
Love for Paris quotes
"I'm not a complicated girl; she laughed, I just want to run away with you, rob a bank, fall in love, and eat ice creams in Paris." —Michael Faudet
"The last time I saw Paris, her heart was warm and gay, I heard the laughter of her heart in every street café." —Oscar Hammerstein II
"The chief danger about Paris is that it is such a strong stimulant." —T.S. Eliot
"The shopping, the food, the views! Paris is a city that entrances us all—and I'm no exception." —Michael Kors
"You know, I sometimes think, how is anyone ever going to come up with a book, a painting, or a symphony, or a sculpture that can compete with a great city. You can't.

Because you look around and every street, every boulevard, is its own special art form and when you think that in the cold, violent, meaningless universe that Paris exists, these lights.

I mean come on, there's nothing happening on Jupiter or Neptune, but from way out in space you can see these lights, the cafés, people drinking and singing.

For all we know, Paris is the hottest spot in the universe." – Owen Wilson, Midnight in Paris
Paris quotes about love
"Paris holds the key to your heart." —Anastasia
"It's true, you never forget your first love, and for me, that will always be Paris." —Caitriona Balfe
"Paris, I believe, is a man in his twenties in love with an older woman." —John Berger
"Paris is the city in which one loves to live. Sometimes I think this is because it is the only city in the world where you can step out of a railway station—the Gare D'Orsay—and see, simultaneously, the chief enchantments:

the Seine with its bridges and bookstalls, the Louvre, Notre Dame, the Tuileries Gardens, the Place de la Concorde, the beginning of the Champs Elysees—nearly everything except the Luxembourg Gardens and the Palais Royal.

But what other city offers as much as you leave a train?" —Margaret Anderson
Favorite Paris quotes
"I had forgotten how gently time passes in Paris. As lively as the city is, there's a stillness to it, a peace that lures you in. In Paris, with a glass of wine in your hand, you can just be." —Kristin Hannah
"That Paris exists, and anyone could choose to live anywhere else in the world will always be a mystery to me." —Marion Cotillard
(This quote is from the movie Midnight in Paris, and it resonates so much with us!)
"He who contemplates the depths of Paris is seized with vertigo. Nothing is more fantastic. Nothing is more tragic. Nothing is more sublime." —Victor Hugo
"…the whole of Paris is a vast university of Art, Literature and Music…it is worth anyone's while to dally here for years. Paris is a seminar, a post-graduate course in Everything." —James Thurber
"Though I often looked for one, I finally had to admit that there could be no cure for Paris." —Paula McLain
(We are living proof that the more you experience Paris, the more you fall in love with it.)
"Whoever does not visit Paris regularly will never really be elegant." —Honoré de Balzac
Inspiring Paris quotes
"Paris is the most beautiful city in the world. It brings tears to your eyes." —Lee Radziwill
"I had forgotten how gently time passes in Paris. As lively as the city is, there's a stillness to it, a peace that lures you in. In Paris, with a glass of wine in your hand, you can just be." —Kristin Hannah
"There are only two places in the world where we can live happy—at home and in Paris." —Ernest Hemingway
"A final reminder. Whenever you are in Paris at twilight in the early summer, return to the Seine and watch the evening sky close slowly on the last strand of daylight fading quietly, like a sigh." —Kate Simon
"People wonder why so many writers come to live in Paris. I've been living ten years in Paris, and the answer seems simple to me: because it's the best place to pick ideas.

Just like Italy, Spain.. or Iran are the best places to pick saffron.

If you want to pick opium poppies, you go to Burma or South-East Asia. And if you want to pick novel ideas, you go to Paris." —Roman Payne
"There is but one Paris, and however hard living may be here, and if it became worse and harder even—the French air clears up the brain and does good-a world of good." —Vincent Van Gogh
"When spring comes to Paris, the humblest mortal alive must feel that he dwells in paradise." —Henry Miller
Here is the most extended Paris quote from one of the greatest movies of all-time, Interview with the Vampire.
"Paris was a universe whole and entire unto herself, hollowed and fashioned by history; so she seemed in this age of Napoleon III with her towering buildings, her massive cathedrals, her grand boulevards, and ancient winding medieval streets–as vast and indestructible as nature itself.
All was embraced by her, by her volatile and enchanted populace thronging the galleries, the theaters, the cafes, giving birth over and over to genius and sanctity, philosophy and war, frivolity and the most beautiful art; so it seemed that if all the world outside her were to sink into darkness, what was fine, what was beautiful, what was essential might there still come to its most delicate flower.
Even the majestic trees that graced and sheltered her streets were attuned to her–and the waters of the Seine, contained and beautiful as they wound through her heart; so that the earth on that spot, so shaped by blood and consciousness, had ceased to be the earth and had become Paris." —Anne Rice, Interview with the Vampire
Paris is a well-versed city in the art of love and inspiration. The city instills feelings, memories, and nostalgia, sometimes even from moments that never happened.
We wonder, does Paris have the same effect on you? There's only one way to find out!
Let the city inspire you, and one day you will write your own quotes about Paris!
Did you like these quotes about Paris? Then save them to your Pinterest board!
Don't Forget About Travel Insurance!
Before you leave for France, make sure you have a valid travel insurance policy because accidents happen on the road. We have been paying for Safety Wing travel insurance for a little over a year now, and we happily recommend them to our family and friends.
If you get sick, injured, or have your stuff stolen, you'll be happy to have the ability to pay for your medical bills or replace what was stolen.
Because, for just a couple of dollars a day (depending on how long your policy is for), you're going to get lots of things covered. Be smart and get travel insurance.