Paris in the spring is the perfect time to discover what the world's most romantic city has to offer!
Here's is one thing about Paris in the spring: you'll be charmed. If there's one thing you should remember from this article, it's that.
Spring has to be one of the best seasons, if not the best one to visit Paris.
The streets are waking up, filling up with happy people because the winter is FINALLY over!
The terraces are back, the garden parties are back. Everything just comes back to life!! Can you feel the excitement?
We know that is pretty obvious, but just in case…we are SUPER EXCITED to show you the wonders of Paris during Spring! Let's goooooo!
Why You Must Visit Paris in the Spring
Have you seen something as romantic, luminous, and welcoming as Paris during spring? We bet not! The adjectives galore are long, and we could go on saying the city is vibrant, colorful, and charming during springtime, but we will stop here.
Spending springtime in Paris will leave you nostalgic and desiring more. More light, more flowers, more brightness! More and more of the City of Light.
Pssst: If you're still not sure when to go, here's a handy guide on the best time to go to Paris by month and season.
Where to Stay in Paris in the Spring
It can be overwhelming to look for accommodation in Paris since there are so many options.
For that reason, we decided to give you the perfect location to stay based on this month's features, but we also wrote a detailed review of the best places to stay in Paris.
In the Marais quarter, you'll find the Hotel Le Compostelle. This pleasant hotel is near the Hôtel de Ville, Paris' city hall.
The town hall is a beautiful 19th-century neo-Renaissance-style building that makes an impressive backdrop to the spring flowers in the garden.
The building is surrounded by delicate white blossoming trees and pink magnolias. Perfect for romantic shots of the area.
Already know the month you're visiting the city? Then check out our monthly guides for:
Paris Weather in the Spring
Spring is FASHION TIME. Bring your cutest outfits, little jackets, and dresses!
The weather is still cool, but the spring sun will warm you up. Still, springtime in Paris can be pretty rainy.
If we had to describe the weather in Paris, we would say simply: It's not too hot, not too cold.
Go for a layering of small pieces rather than oversized jackets. The temps to expect on the warmest days? Around 68°F.
Minimum temperature: 49°F
Maximum temperature: 68°F
Average day temperature: 54°F
Average rainfall: 1.3 inches
Average sunshine hours: Roughly five hours
Wind chill: The average hourly wind speed decreases during the spring months. So the later in the season you visit Paris, the less wind you'll encounter.
Read next: 2 Days in Paris
What to Wear in Paris in April
Layer up! Packing layers is still essential if you visit Paris in the spring as the city experiences a little of everything throughout the season–rain, sun, and wind.
Clothing: While packing for Paris in the spring, be sure to bring a dress you can wear with warm tights or a thick skirt. That way, if the temperature is high enough for you, find a café where you can take off your tights and feel the warm sun on your skin. Still, you will want to put them back after sunset as it gets chilly. Also, you will want to bring along a comfy cardigan to wear inside Parisian cafés and museums. For outdoors, bring a waterproof jacket with you to wear on top of your cardigan.
Shoes: Bring comfy sneakers for sightseeing during the day should—this is a must on any Paris packing list. But also be sure to bring a pair of faux leather boots for the night.
Accessories: You will want to bring a light scarf with you as it's very handy with the temperature changes. Also, unless it is unusually cold for the time of the year, you will not need a beanie and gloves.
Lastly, you will want to bring a reliable anti-theft purse because Paris is full of pickpockets.
What to Do in Paris in the Spring
So the question now is not, "should you visit Paris in the spring?" but "what can you do during spring in Paris?".
And let us tell you, you're gonna have a wonderful time during your spring trip to Paris. The city has a lot of activities you'll be thrilled to partake in.
1. Hunt Out Cherry Blossoms, Magnolia, and Wisteria
Experience this colorful season by hunting blossoms and flowers through the streets of Paris.
From late March to early April, cherry blossoms bloom beautifully and are a sight not to be missed. One of the places to see them is in Parc Monceau.
As for the magnolias, these pink flowers bloom from any point of March through to the end of April.
Wisterias start appearing toward the end of April, peaking around the beginning of May. Still, you might see some in early April, though. Don't forget your camera!
2. Cruise the Seine River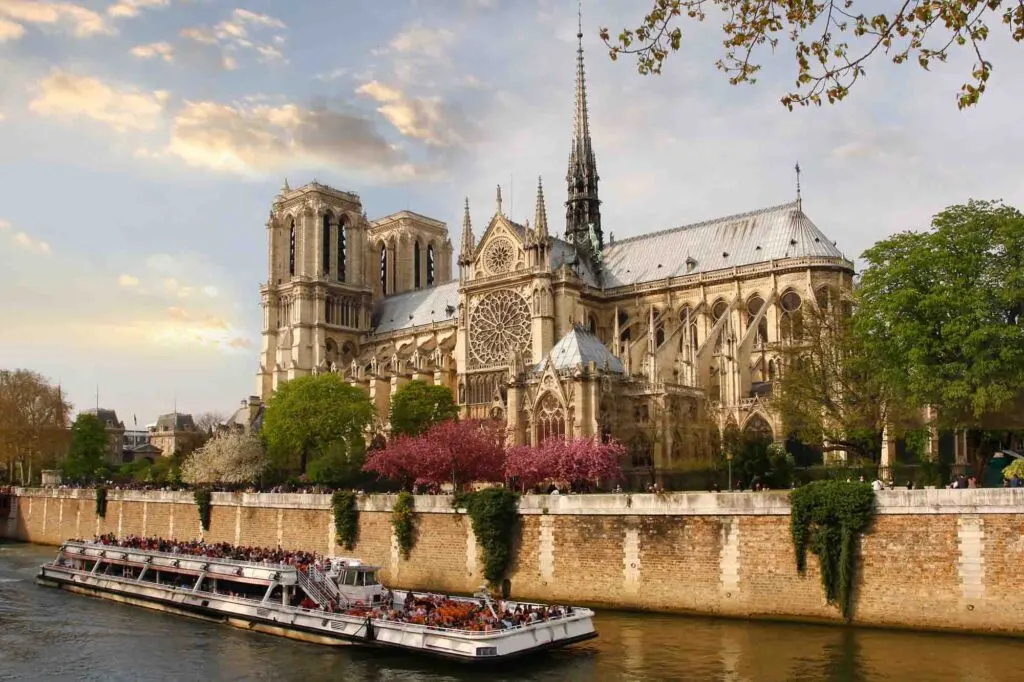 This is the next-level Paris vacation, okay? Picture that:
Breezy wind is caressing your face in the spring sun of Paris. You are sailing down the Seine on a beautiful boat, discovering the history of France, and spotting Parisian monuments while being lulled by the gentle sound of the water.
The sun is reflecting on the waves. You sit down for an intimate dinner on the boat with the love of your life or dear relative. The picture is perfect, right?
All that's missing is….YOU to turn this beautiful movie into a lovely experience! A Seine River cruise is hands-down one of the best things to do in Paris in the spring.
Click here to book your Seine River cruise
3. Drink Your Coffee on Café Terraces
Oh, Paris cafés. What more can we say? Oh yes, let's start at the beginning: how to order a coffee, repeat after us: "Un café s'il vous plaît." Don't worry about your accent, French people will love it!
Contrary to smaller cities in France, the waiters in Paris are used to serving a very diverse and international clientèle.
Anyway, having a coffee on a terrace is a whole experience. The noise of the streets and the Parisians will fill your ears and make it impossible to forget that you're in Paris!
From the shouts to the very vivid feeling that you're on the front rows of a fashion show… Nothing comes close to this!
4. Picnic by the River Banks or in a Parisian Park
The Seine River crosses Paris and offers many spots to picnic by the water.
You will be able to buy delicious snacks at the groceries store and spend a convivial moment in the heart of Paris.
If you're lucky and you like music, you might even be able to listen to some live music coming from a group of friends near you. And if it's sunny and hot enough, you can take a nap on the deck chairs available on the quays.
The quays are mostly pedestrian, so you won't have to worry about the danger of a car. Be aware of bicycles and electric scooters, though.
Swimming is absolutely forbidden, but the view, as you'll see, is impressive and very soothing. Be sure to plan your picnic at the end of the season for warmer temps.
5. Go on a Bike Tour
Is there anything more enjoyable than visiting Paris? Yes, visiting Paris by bike!
You will see more of the city in less time: the Eiffel Tower, the Avenue des Champs-Élysées, the Arc de Triomphe, and the Seine.
Besides, the best time to book this tour is in the spring, as it is not as hot as in the summer. This way, you can enjoy your tour instead of fainting from the heat. Another advantage? Fewer tourists, so fewer crowds and more fun!
This activity is parent-friendly, and kids from 0 months to 3 years do not pay.
Click here to book your bike tour in Paris
6. Stroll Around the Parks and Gardens
Who doesn't love free and beautiful things? Well, Paris parks and gardens are both free and beautiful—that's such a great budget-friendly activity!
From the early hours of the morning to the late ones of the night, you'll always find it to be an enjoyable moment outdoors.
If you're planning to travel with kids, this stroll can be turned into a hunt or a game. Be creative!
7. Enjoy the Spring Festivals
Music and arts, in general, are huge parts of French history. There is a multitude of festivals you could attend in Paris during springtime.
The Cercle Festival and the Color Run Paris are incredible, and you won't regret attending. Still, there is something for every taste and every color! Festivals are very often in the open air.
8. Avoid the Cold by Visiting the Museums
As we said at the beginning of the article, French springs are often rainy, so it is necessary to plan some indoor activities.
Don't let the weather get in the way of your trip. What better way to spend a rainy day than at a museum? Paris is full of museums with international appeal.
You are bound to find exhibitions, collections, and artists that you will enjoy. For parents, it's also a fun way to share the history and artworks of significant artists.
Oh and, a little tip, usually there are whole sections of museums dedicated to children. Let the guides satisfy the curiosity of your little ones. You deserve a break.
9. Dream in Disneyland
DISNEYLAND!!! That's what you'll hear from your loved ones if you plan to visit the park during your stay in Paris.
No matter how old you are, Disneyland Paris is always a good idea, regardless of the season.
A trip to this legendary theme park will provide a full day of fun and magical memories. Let the Disney princes and princesses amaze you!
There's no age limit to live a waking dream, so what are you waiting for? Book your passes today and enjoy the first warm sun rays in Disneyland Paris!
The park is located in Marne-la-Vallée, a small town next to Paris that is easily accessible by metro from the center of the French capital. Thanks to Disney Park, its attractions, and its enchanting shows, you can go back to your childhood.
Click here to book your passes!
10. Take Cooking Classes
You can't visit Paris and not take a cooking class. You simply can't.
The best chefs and bakers in the country will reveal their secrets for making the greatest classics of French cuisine.
By joining cooking classes in Paris, you can learn more about French food, impress guess back at home, and taste delicious dishes and treats, like baguettes, soufflé au comté, pot au feu, tartare, macarons, and more.
Book your classes now to taste these delights.
11. Shop in the Flea Market
Paris is the fashion capital of the world. The biggest luxury brands you can think of are in Paris.
Still, Paris is also home to fabulous flea markets. Our favorites are Porte de Clignancourt in the 18th district and Place Louis Lépine in the 4th arrondissement. Still, there are many others in the city.
These are open-air markets, where second-hand articles are sold. There are always great finds to be made at the flea market.
Sometimes, you won't even notice the time passing. But on the other hand, you will be shocked to see the little treasures you will find.
12. Visit the Versailles Palace
Kings, queens, arts, the Hall of Mirrors, the history,…. Do we need to add more?
The Versailles is not only a perfect day trip from Paris, but it also is such an enjoyable place to visit in the spring.
The splendor of Versailles springs up in this season as the flowers are blooming, and the fountains are working again.
Besides, it is an enjoyable walk in the gardens if it's a sunny day. You will love it! Be sure to book your skip-the-line tickets with a guided tour to get the most out of your trip!
Holidays in Paris in the Spring
Here's a short calendar for spring holidays you need to consider when planning your Paris vacation as businesses might be closed.
Good Friday: 15 April
Easter Monday: 18 April
May Day: 1 May
Victory in Europe Day: 8 May
Ascension Day: 26 May
Good to know: Spring Break in Paris 24 Apr-8 May
Did you enjoy reading about Paris in the spring? Then share this article on your social media!
Don't Forget About Travel Insurance!
Before you leave for France, make sure you have a valid travel insurance policy because accidents happen on the road. We have been paying for Safety Wing travel insurance for a little over a year now, and we happily recommend them to our family and friends.
If you get sick, injured, or have your stuff stolen, you'll be happy to have the ability to pay for your medical bills or replace what was stolen.
Because, for just a couple of dollars a day (depending on how long your policy is for), you're going to get lots of things covered. Be smart and get travel insurance.