Make your trip special by having some delicious food with your significant other in one of these romantic restaurants in Paris.
The City of Love brims with fine dining spots that provide a delectable feast and romantic setting for more than just one's culinary senses.
Besides, Paris boasts limitless sophistication and grandeur, filled with charming cobblestone streets, iconic landmarks, a romantic ambiance, and magnifique cuisine.
French cuisine has claimed its spot as one of the best cuisines worldwide, and these are the perfect restaurants to try it.
Besides, this dining in one of these chich restaurants is not only a romantic experience but also one of the most romantic things to do in Paris. No one can argue that.
This article will walk you through Parisian restaurants that marry romance and haute-cuisine.
16 Most Romantic Restaurants in Paris
Here are the best romantic restaurants to visit on a Paris date night.
1. Les Ombres
$$$$ | website | 27 Quai Jacques Chirac, 75007 Paris
Les Ombres – a Parisian oasis in the sky – is a contemporary rooftop restaurant with a magical view. It is perched on the panoramic terrace of the Musée du Quai Branly garden.
Plan to sit back and enjoy a dazzling evening filled with Haute French cuisine, an Alain Ducasse menu, and a view of the Eiffel Tower dressed in thousand lights.
Les Ombres is wall-to-wall glass and is one of the best restaurants with Eiffel Tower views.
During the evening, the ceiling transforms into a luminous starry sky – earning itself a spot on the list of the most romantic restaurants in Paris.
The restaurant has a contemporary approach to French cuisine, inspired by Naturality and Mediterranean flavors.
Our top favorites are the field beetroot smoked with juniper berries and pigeon on the embers with Jerusalem artichokes and a buttermilk salmis sauce.
Read next: Best Hotels with Eiffel Tower Views
2. LiLi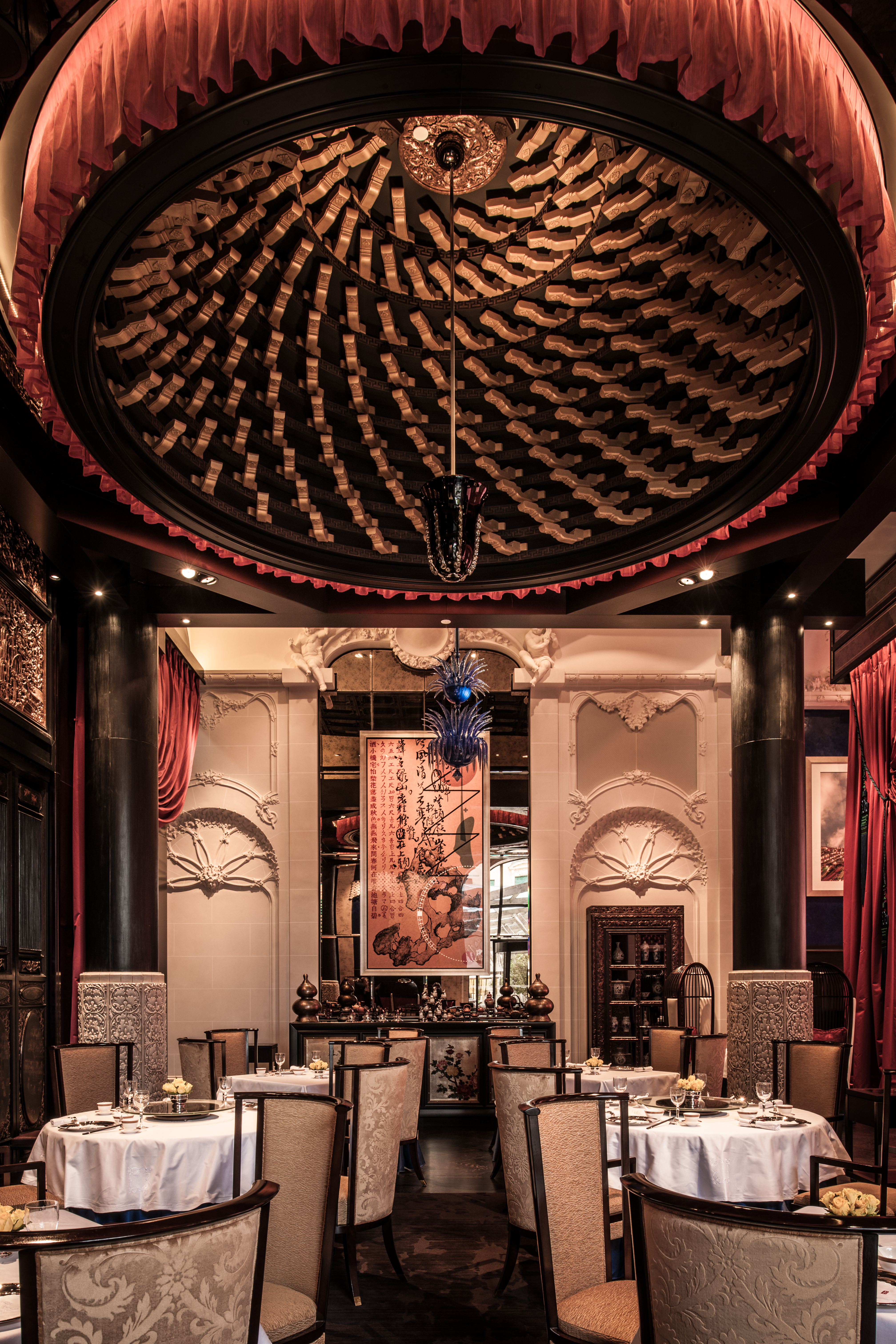 $$$$ | website | 19 Avenue Kléber, 75116 Paris
After several rounds of French cafes and restaurants, LiLi is the perfect option for a culinary twist.
LiLi is a Chinese-cuisine restaurant situated in Peninsula Paris, a 5-star hotel with jaw-dropping views of the Eiffel Tower. It is set out as one of the best spots for a romantic dinner in Paris.
LiLi welcomes you with extravagant theatrical décor, impressive artwork, and a captivating ambiance that reminds guests of the glamour of Beijing's oldest Opera.
It will surely be a unique fine-dining journey that you'll never forget.
The restaurant's Chinese chefs unveil a long, gastronomic menu with a range of the country's specialties, but with a French Savoir-faire.
The mixologist team also has a list of polished signature cocktail creations that complement the dishes.
3. La Bauhinia
$$$$ | website | Shangri-La Paris, 8 Av. d'Iéna, 75116 Paris
La Bauhinia is inspired by the orchid-like Bauhinia flower.
Treat yourself to one of the most romantic restaurants in Paris, located at the Shangri-La Hotel (a wonderful luxury hotel), offering a gastronomic experience and a gorgeous view of the Eiffel Tower.
This gastronomic restaurant also has an impressive glass "dome" that bathes the restaurant in sunlight from morning to late afternoon.
La Bauhinia is a unique fusion of French and Southeast Asian cuisine. Executive Chef Quentin Testart has prepared a light seasonal menu inspired by France's regions.
And the talented Pastry Chef Maxence Barbot does not disappoint with his creative boutique pastries.
Enjoy a unique Gourmet Lunch made with the finest produce and a subtle Asian touch.
On weekends, consider stopping by for a decadent afternoon tea filled with luxurious, fresh pastries or a pleasurable Sunday Brunch.
4. Mystery Cuisine
Mystery cuisine
$$$$ | website | 37 Rue de Montpensier, 75001 Paris
With only enough space for 14 diners, Mystery Cuisine creates a romantic and intimate experience for couples – it will have you captured from the moment you walk in.
The restaurant is located on a back street near the Louvre.
Mystery Cuisine offers French – and Vietnamese-inspired menus paired meticulously paired with seven selections of the finest wine.
Master sommeliers have compiled a selection of gold standards wine to pair with each dish.
The restaurant liberates guests from the burden of selecting a dish off a complex menu by offering two selections: The "Gastronomic Menu" or the "Journey to the Land of a Thousand and One Flavors."
5. Le Cabanon de la Butte
$$ | website | 6 Rue Lamarck, 75018 Paris
Le Cabanon de la Butte is a lovely little restaurant in the heart of Montmartre on a little side street close to the Sacré Coeur.
The restaurant is famous for its warm and welcoming atmosphere and the gorgeous view of Paris rooftops.
You can expect to be served authentic French haute cuisine dishes made from the freshest seasonal products.
Top recommendations include the duck breast with morello cherries and parsley potatoes or the roasted sea bass. End your romantic meal with vodka and lemon sorbet or hot apple tart.
We recommend spending the morning at the Sacré-Coeur – one of the most iconic Parisian monuments – before going to Le Cabanon de la Butte for lunch.
Then, at the top of the monument, soak up one of the most beautiful panoramic views of the capital city of France.
6. Le Jules Verne
$$$$ | website | Eiffel Tower, 2nd floor, Avenue Gustave Eiffel, 75007 Paris
Can you get a more romantic dinner than in the heart of Paris?
Le Jules Verne is a Michelin-starred restaurant located atop the Eiffel tower's unobstructed and 337 feet high second floor.
Here, haute cuisine and wine meet the panoramic view of the City of Lights – Le Jules is truly one of the most romantic restaurants in Paris.
Although guests can enjoy the bright natural ambiance during the daytime, we recommend reserving an evening spot.
As Paris and the Eiffel Tower light up, the magical and sensual aura takes over, creating an intimate setting perfect for a romantic Paris date night.
This upscale, exclusive gourmet experience is currently run by three-star Micheline chef Frédéric Anton.
His 5 and 7-course meal consists of extraordinary dishes like Creamy Burrata Crab, Langoustine Ravioli, Cod with Bouillabaisse, and Warm Souffle.
7. La Grande Cascade
$$$$ | website | Carr de Longchamp, 75016 Paris
Dating back to the 19th century, La Grande Cascade is a Parisian restaurant situated in the heart of the Bois de Boulogne.
The building has grand high ceilings, inimitable "retro-modern" styled décor, and generously-spaced tables.
La Grande Cascade is suited for a versatile group, ranging from business lunches to lingering romantic dinners.
In the summertime, lovebirds can slip away into the magnificent terrace to enjoy a leisurely lunch in the open air.
A second covered courtyard features an escape into the natural landscape for a refreshing aperitif and degustation with a fine selection of carefully-selected wine lists.
Chef Frédéric Robert creates finely executed French dishes with an inimitable flair, like Brittany crab, foie gras puff pastry and black truffle, crisp veal sweetbread, and Crêpes Suzette. So take a seat in the timeless restaurant for a moving experience.
8. Qui Plume la Lune
$$$$ | website | 50 Rue Amelot, 75011 Paris
Qui Plume La Lune, or "Who Plucks the Moon," is picturesque and one of the best date night restaurants in Paris.
The restaurant is like two restaurants in one. The Mineral Room features a cozy dining room area with bare stone walls, natural materials, and velvet seating.
And the Plant Room features deep purple walls and a unique plant universe.
Qui Plume la Lune has an inventive cuisine and its dinner menu that showcases Japanese-inspired French gastronomy.
The restaurant is determined only to use the very best products to ensure you are presented with culinary delicacies plate after plate.
9. Le Murat
$$$ | website | 1 Bd Murat, 75016 Paris
Le Murat is a refined French restaurant located chic Porte d'Auteuil district.
Its lively atmosphere, elegant décor, and near-perfect meals make Le Murat the epitome of continuous Joie de Vivre!
Le Murat's specialty is unadorned French cuisine made with the freshest local products.
The restaurant's meals are generously portioned and accompanied by exquisite drinks, including the finest wine, champagne, and cocktails.
Previous guests compliment Le Murat's fast, charming, and friendly staff. The exceptional personalized service makes the experience completely satisfying.
10. Le Chalet des Îles
$$$ | website | Bois de Boulogne, Embarcadère du Chalet des Îles, Porte de la Muette Ceinture du lac inférieur du, 75016 Paris
Le Chalet des Îles is a charming Parisian restaurant situated on the Bois de Boulogne lake in the 16th arrondissement.
The interior is timeless, creating a light and romantic atmosphere.
On the outside, Le Chalet des Îles offers several modern-rustic terraces that allow guests to take advantage of the countryside away from the vibrations of the city.
The restaurant is a lovely, calm spot for a couple to enjoy lunch while sitting under an umbrella while gazing at the picturesque view of the trees and lake.
We recommend combining your experience with a morning at the nearby Musée Marmottan Monet.
Our top recommendations include the organic sea bass with ceviche, lime, and chili and the snacked octopus seasoned with harissa, dark chocolate, and profiterole.
11. Le Cristal Room
$$$ | website | 11 Pl. des États-Unis, 75116 Paris
Hailing as one of the best romantic restaurants in Paris, Le Cristal Room sits in the heart of the sumptuous lounges of the Maison Baccarat's first floor in the 16th arrondissement.
It is adorned with a colorful new design of jewel-toned velvet chairs and signature Baccarat chandeliers and tableware.
Le Cristal Room's menu revisits French classics with delicious dishes like a beef fillet with dauphin potatoes and roasted duck with sweet potatoes. For dessert, try the Mirabella plum souffle.
After sipping a signature cocktail at the Le Cristal Room, stop by the Baccarat museum to appreciate Baccarat's legendary past and the artisans of crystal.
12. Waly Fay
$$ | website | 6 Rue Godefroy Cavaignac, 75011 Paris
Located in the 11th District, Waly Fay is one of the most original yet welcoming date-night restaurants in Paris. Allow Waly Fay to take you on a gastronomic voyage to West Africa.
The restaurant has industrial-chic décor, an open kitchen, and cool background music.
They set a candlelight scene for you to sit down and enjoy an unforgettable cultural experience of tropical Senegalese flavors.
The staff is amiable and happy to help with recommendations if you need advice regarding expertise in African cuisine.
13. Villa Dondelli
$$ | website | 1 Rue Monsigny, 75002 Paris
Villa Dondelli is the epitome of fine Italian dining in Paris. The upscale restaurant is nestled between the Paris Opera House and Bourse.
Villa Dondelli flaunts an unmistakable Italian charm. And despite being situated in one the liveliest Parisian settings, it manages to provide a spacious yet intimate setting.
It is the perfect spot for making memories with your special someone.
Villa Dondelli exhibits a passion for Italian cuisine, offering a wide collection of Italian gastronomic delights accompanied by a selection of the best wines.
They make the best pizza in Paris, topped with the freshest organic produce – it is a must-try!
14. New Jawad Richelieu
$$ | website | 95 Rue de Richelieu, 75002 Paris
New Jawad Richelieu is a romantic Indian restaurant only a few steps from the Mercure Paris Opéra.
New Jawad set an inviting atmosphere filled with elegant and vibrant décor in warm shades of red.
It is the perfect spot for you and your loved one to take a break from French cuisine and enjoy an international lunch or dinner in Paris.
The menu brims with the tastiest Indian and Pakistani cuisine made with the freshest ingredients.
New Jawad also includes a delicious selection of vegetarian dishes, ensuring something for everyone. New Jawad also tailors dishes to your preference, even if it isn't available on the menu.
15. Girafe
$$$$ | website | 1 place du Trocadero et du 11 Novembre, 75016 Paris
Girafe is situated in the heart of Paris near the Place Du Trocadéro. The romantic restaurant is any hopeless romantic's dream come true!
It boasts high ceilings, velvet furniture, white tablecloths, lush indoor plants, and a marble bar with iconic 1930s beige décor.
The terrace is perfect for summer days, providing an oh-so-romantic view of the Eiffel Tower.
Who knows, with the right timing, you can catch the Iron Lady's twinkling lights turn on while bending down on one knee to ask the big question.
Girafe's gastronomy centers around seafood. The dishes are a mixture of simplicity and opulence, from classic fish and chips (with an upscale twist, of course) to oysters, ceviche, langoustines, and sea bass.
Order the sole meunière, bathed in beurre blanc for a quintessentially French experience.
16. L'Arpège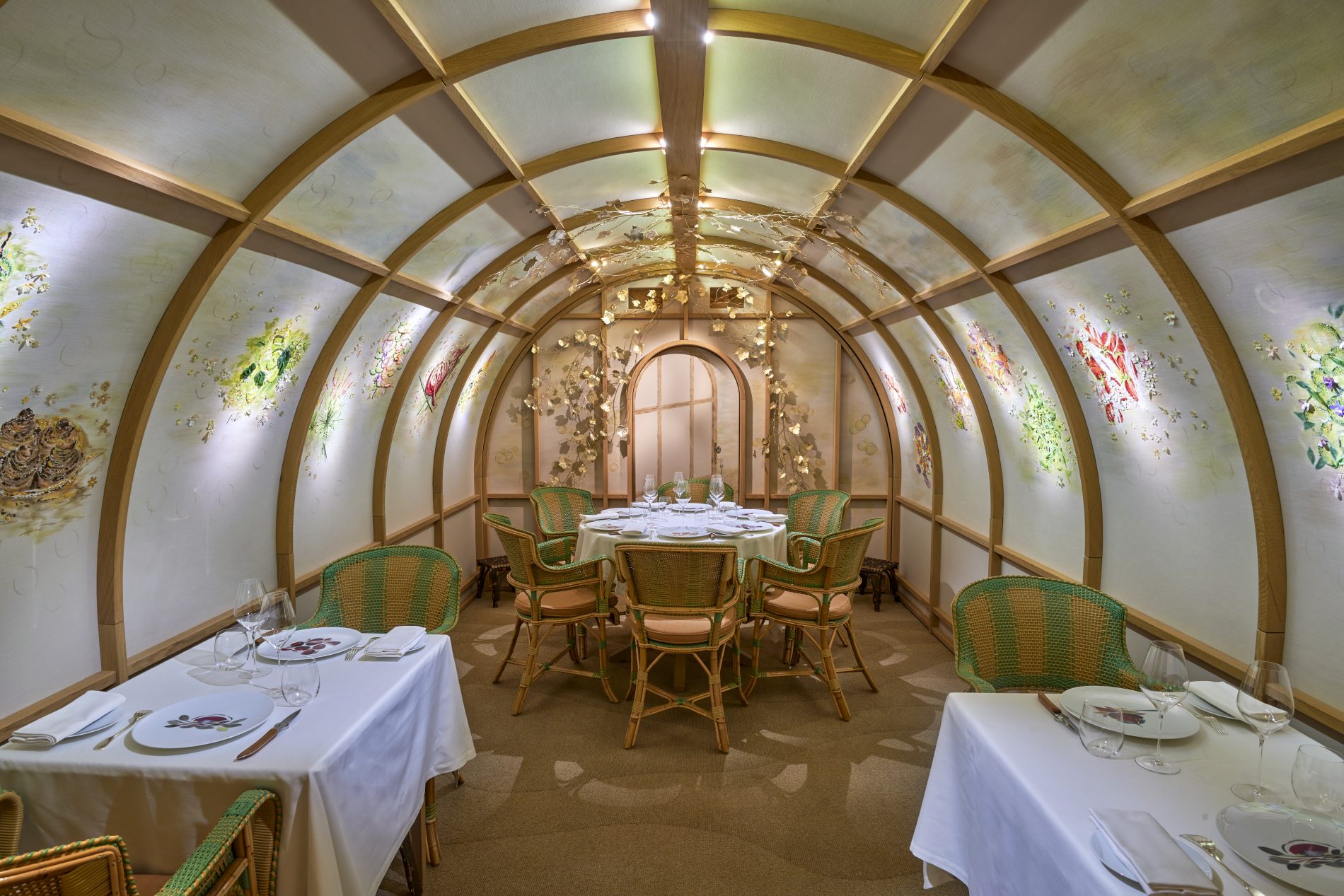 Bernhard Winkelmann/Arpège
$$$$ | website | 84 Rue de Varenne, 75007 Paris
L'Arpège is a simplistic yet sophisticated restaurant that focuses on presenting true art on the plate rather than on table décor. It is one of the most highly praised and romantic restaurants in Paris.
The highly praised 3-starred Michelin restaurant is owned by French chef Alain Passard, a true visionary and icon of French haute cuisine.
After rediscovering the magic of the humble vegetable, Passard experienced a deep creative rift and decided to feature vegetables at the center stage of his culinary creations.
He masters the art of elevating humble vegetables to grand cru.
The menus are guided by the seasons, and each dish is a true expression of itself and the vegetables used.
You can quench your thirst with a refreshing tomato gazpacho and mint cucumber salad or warm up in winter with a creamy celeriac gratin.
Final Words in Romantic Restaurants in Paris
With an extensive wine list, seasonal tasting menus, traditional cuisine (sometimes with a twist), and magnificent setting, these restaurants are sure to provide you with a lifetime experience.
Pack your prettiest outfit and prepare to be delighted at these romantic restaurants in Paris.
Like this article about the most romantic restaurants in Paris? Then share it with your friends on social media!
Don't Forget About Travel Insurance!
Before you leave for France, make sure you have a valid travel insurance policy because accidents happen on the road. We have been paying for Safety Wing travel insurance for a little over a year now, and we happily recommend them to our family and friends.
If you get sick, injured, or have your stuff stolen, you'll be happy to have the ability to pay for your medical bills or replace what was stolen.
Because, for just a couple of dollars a day (depending on how long your policy is for), you're going to get lots of things covered. Be smart and get travel insurance.