There are lots of romantic things to do in Paris.
As the City of Love, Paris is famous for its iconic attractions and for being the most romantic city to visit in Europe, let alone in the world.
So whether you're honeymooning or just crossing Paris off your bucket list, there's no better place to experience love than in Paris.
The city is breathtaking, and our list of romantic things to do in Paris will make you fall in love with it and your boo again and again. Besides, you both will create memories that will last a lifetime.
Visiting Paris is something that most people dream about. So many attractions, historical monuments, and experiences make this city one of the most visited in the world. Let's learn more about the romantic activities in Paris!
21 Most Romantic Things to Do in Paris for Couples
Here are our favorite things to do in Paris as a couple. Feel free to drop your suggestions below.
1. Indulge In A Dinner Cruise
No visit to Paris is complete without indulging in a dinner cruise. Romantic dinner cruises are one of the top romantic things to do in Paris when escaping to Paris for a romantic getaway.
Dinner cruises on the Seine are plentiful; many offer breathtaking views of the city of Paris and three and four-course dining experiences. Many dinner cruises offer live music, too.
Also, some dinner cruises offer traditional French cuisine with seasonal menus. You can also expect to receive champagne and a comprehensive wine selection to accompany your meal.
Some of the most romantic and memorable dinner cruises are
2. Take In Beautiful City Views At Parc Des Buttes-Chaumont
If you're looking at what to do in Paris as a couple, taking in the city views at Parc des Buttes-Chaumont, 19th arrondissement, is one of the best ways to spend a lazy afternoon.
The Parc de Buttes-Chaumont is one of the most romantic and beautiful parks in Paris. Its charming landscape offers everything you'd expect from a Parisian park.
Whether taking a morning or afternoon stroll through this green area, you'll be captivated by the romantic setting of the waterfall and iron bridge.
This public park is idyllic and was first opened in the 19th century. It is an artificial park that features high cliffs, a waterfall, an iron bridge, a temple, and beautiful towering trees.
Parc des Buttes-Chaumont is a unique attraction for couples. Walking hand in hand, taking a few pictures together, and enjoying a romantic picnic with a French bottle of wine or macarons if you have a sweet tooth are a few of the romantic activities you do here.
More romantic parks and gardens in Paris worth checking out:
Parc Monceau in the 8th arrondissement
Jardin du Luxembourg in the 6th arrondissement
Jardin des Tuileries in the 1st arrondissement
Bois de Boulogne Parc in the 16th arrondissement
Jardin des Plantes in the 5th arrondissement
3. Visit The Top Of The Eiffel Tower
Climbing the Eiffel Tower is a unique and romantic way to experience Paris. Well, not the climbing, but the panoramic views of Arc de Triomphe, Les Invalides, and even the Sacre Coeur Basilica.
As a couple, you can climb the stairs from the bottom floor of the Eiffel Tower to the second floor. This set of stairs covers 674 steps and will take between 30 and 45 minutes for most people. Or, you can take the lift and make things a bit easier.
Also, you can take the lift up to the top of the Eiffel Tower from the second floor.
Most couples that make a romantic trip to Paris include a visit to this iconic landmark in their itineraries.
Needless to say, the Eiffel Tower is one of the most widely visited monuments in the world. Each year, about 6 million people visit this famous landmark.
Also known as the iron lady, the Eiffel Tower was built in 1889. One of the most thrilling things about the Eiffel Tower is Gustav Eiffel's secret apartment filled with oil paintings, a piano, and other luxurious items.
Visiting the Eiffel Tower always starts at the top, and that's the most romantic spot to capture a few cute photos with the one you love.
All in all, the Eiffel Tower symbolizes romanticism, and visiting it is an excellent way for lovers to declare their love for one another.
Click here to buy tour tickets + direct access to the tower.
4. Check Out The Museum Of The Romantic Life
One of the most interesting and romantic things to do in Paris is visiting the museum of the romantic life (Musée de la vie Romantique).
This free museum in Paris is at the bottom of Montmartre Hill, and its surrounding areas once housed amazing artists.
This museum is in a hotel previously owned by artist Ary Scheffer and is filled with exquisite pieces of history. You'll visit two floors of unique paintings and art exhibits miles away from large museums such as the Louvre or the Musée d'Orsay.
If you're visiting Paris in the summer, you can sit on the garden terrace and indulge in afternoon tea.
The quaint garden setting and sharing in the many tales of Ary Scheffer's artwork and her love affairs make this museum so unique.
Besides, the cobbled streets and unique architecture make this a memorable moment.
5. Stay In A Hotel With Eiffel Tower Views
One of the memorable things to do in Paris as a couple is stay in a hotel with Eiffel Tower views. The closer the view of the Eiffel Tower, the better.
Imagine booking a luxurious Parisian hotel room with a balcony, enjoying an intimate breakfast with someone you love, or, even better, taking in all the lights and city views together at night just before you sleep.
A few best hotels with Eiffel Tower views are the Hotel La Comtesse and Le Walt.
6. Take In The Best Eiffel Tower Views At Pont Alexandre III
There are many romantic spots in Paris, but there's no doubt that Pont Alexandre III, one of the most beautiful bridges in Paris, is the perfect spot to spend some romantic time together.
This bridge is adorned with art nouveau elements, winged horses, cherubs, and nymphs.
The Pont Alexandre III is a captivating French landmark and is a historical monument. It's a deck arch bridge that stretches across the Seine and has been around since the 1900s.
The most romantic thing about Pont Alexandre III is the beautiful views of the city and the Eiffel Tower.
It's the perfect photo spot and an incredible place to whisper sweet nothings in each other's ears and share a kiss as the sun sets. Or, if you're exploring Paris at night, you can take a romantic stroll along Pont Alexandre III and admire the city lights.
7. Romantic Dinner At A Restaurant With Eiffel Tower Views
Love goes through the stomach, they say.
One of the most magical and romantic things to do in Paris is enjoying a candlelight dinner at a restaurant with Eiffel Tower views.
When visiting this romantic destination, you'll want to explore as many culinary experiences as possible.
Many restaurants in Paris offer seasonal menus with traditional French cuisine.
Also, many restaurants offer exceptional dining experiences with views of the Eiffel Tower, but some are more romantic than others.
Enjoy Eiffel Tower views while sipping on cocktails and enjoying an indulgent dessert. Here are some of the many romantic restaurants perfect for date night.
8. Experience Some Of The Finest French Wine At A Wine Bar
Paris for couples is all about experiencing the sights, the culinary offerings, and, more importantly, the wine.
No matter what type of wine you're into, Parisian wine bars offer an extensive range of locally produced wines straight from the vineyards.
When visiting a wine bar in Paris, you'll be transported by all the unique flavors and tasty favorites like chardonnay, pinot noir, cabernet, and syrah.
Wine bars are popular in Paris; visiting them is a fun way to meet locals and discover even more wine bars.
Exploring wine bars is a romantic adventure. There's just something about tasting wine and eating good food that makes the best memories.
Some of the best wine bars in Paris are Déviant, Willi's Wine Bar, Aux Deux Amis, La Cave de Belleville, La Cave à Michel, and Le Baron Rouge.
Read next: Best Time to Visit Paris
9. Visit The Wall Of Love (Mur des Je t'Aime)
Visit the wall of love in Paris and say "I love you" to your partner—in any language you want.
The wall of love is a beautiful romantic spot in Paris that draws visitors from all over the world. This iconic wall is a monument to love and a symbol of reconciliation and unity.
The artists Frédéric Baron and Claire Kito wanted to design a meeting place for lovers to share many I love you's in as many languages as possible.
The dark blue backdrop of the wall of love is filled with many I love yous and the splashes of color in between represent heartbreak.
The wall of love is found in Jehan Rictus Square and is often included in many tours of Montmartre.
Take pictures in front of the wall of love and say I love you. Then, if you have more time, you can enjoy a romantic picnic after visiting the wall of love and before sightseeing through the rest of Paris.
10. Get Your Chocolate Fix At Musee Du Chocolat
Musee Du Chocolat is a gourmet chocolate museum that allows visitors to experience the history of chocolate through unique art.
The museum has three sections and explores the total evolution of chocolate. This attraction is a must-visit spot if you're a chocolate lover and should be on your itinerary of romantic things to do in Paris.
The Musee Du Chocolate offers workshops all year round, so you can taste and make your own chocolate. A chocolate-making class is perfect if you're looking for a fun activity as a couple.
Whether you prefer dark chocolate, milk chocolate, or white chocolate, the Musee du Chocolat will provide an unforgettable romantic experience where you can bond with your loved one.
11. Enjoy An Opera At Palais Garnier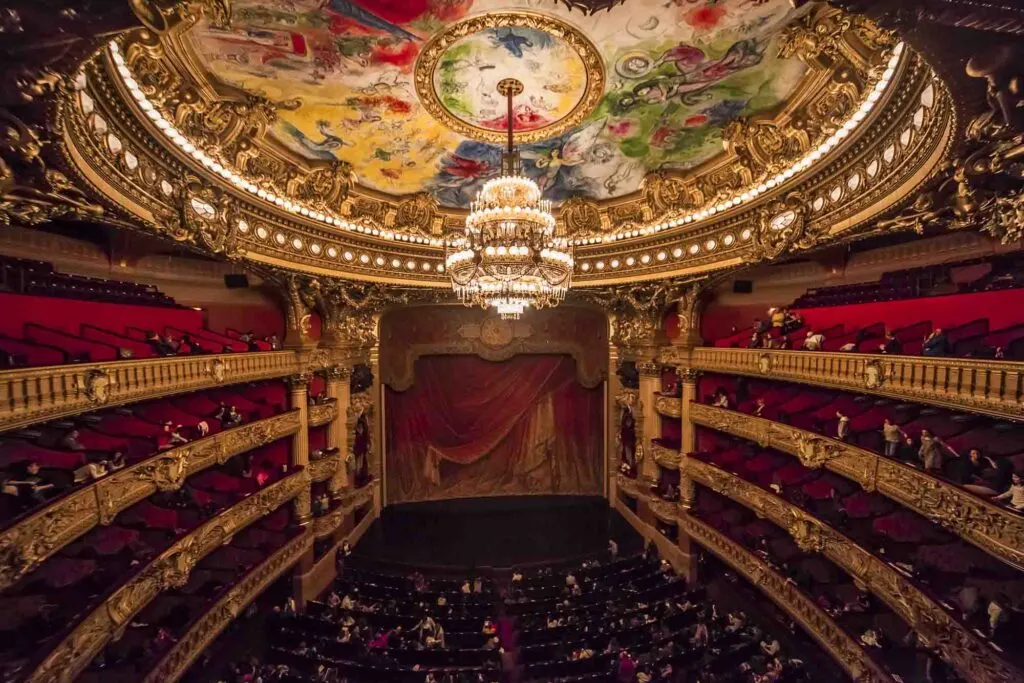 Palais Garnier is a famous opera house. This historic opera house in Paris seats 1979 people and is known as an architectural masterpiece.
A visit to this beautiful opera house is easily one of the most unique and romantic things to do in Paris as a couple.
Visitors can experience a live opera show or visit the opera house on a self-guided tour.
If you'd like a more immersive experience and want to learn more about the Palais Garnier, you can also take a guided tour of the opera house.
If you've never been to a live opera, then visiting Palais Garnier is a must. Its charm, grandeur, and romantic elegance will sweep you away.
12. Indulge In A Parisian Picnic
Indulging in a Parisian picnic is an excellent way to explore Paris for couples. When the weather is perfect, many Parisians flock to picturesque picnic spots in Paris to enjoy a romantic picnic with the one they love.
Paris has an abundance of perfect picnic spots where you can pack your picnic basket and blanket and enjoy the sunshine while tucking into sweet and savory treats and a good bottle of French wine.
Some of the best spots to enjoy a romantic picnic are the Champ de mars esplanade, the banks of the Seine, Arenes de Lutece, and Parc Montsouris.
Most of these picnic spots have incredible views of the Eiffel Tower.
For those who prefer a quieter place to picnic, the Invalides esplanade is less well known but is just as captivating with its lawns and the Invalides monument.
The banks of the Seine are one of the most popular picnic spots and a favorite amongst locals.
Parc Montsouris is filled with willow trees and is a lazy picnic spot for those who like to relax with a few comfy cushions and is perfect for settling down for a midday nap.
13. Go For Brunch At The Best Paris Restaurants
Dinners are a popular thing to do in Paris, but most people forget that there are lots of brunch spots in Paris where you can find pancakes, tapas, and pastries.
If you're exploring the dining options in Paris, you've likely been treated to a Parisian dinner and lunch but haven't experienced brunch yet.
Paris is known for its brunch offerings, and one of those fun romantic things to do in Paris as a couple is to wake up late and, after a romantic morning stroll, visit a brunch restaurant in Paris.
Brunch lets couples experience the café culture of Paris.
Read next: Best Cafes in Paris
14. Enjoy A Romantic Vintage Movie Experience
There are numerous romantic things to do in Paris, one of which is visiting a vintage cinema. Paris has a rich cinematic history.
And besides, the city is well known for being the perfect backdrop for a movie (many movies were set in Paris), and the city also has vintage movie experiences.
This movie experience is ideal for couples looking to do something more unique when visiting Paris.
A few of the most must-visit cinemas in Paris are:
15. Indulge In Freshly Baked Bread In The Boulangeries In Paris
Treat yourself to some of the most exquisite boulangeries in Paris.
One of the most delicious things to do in Paris as a couple is to visit a boulangerie. Parisian boulangeries offer some of the tastiest baguettes, sourdough bread, and brioche buns.
In Paris, baking the perfect loaf of bread is an art form, and many Parisian bakers pride themselves in offering a wide selection of freshly baked bread.
Pop into a local boulangerie and buy some delicious baked bread. Then, add lots of butter and preserves and turn it into a brunch.
Click here to learn about some of the best boulangeries in Paris.
16. Visit The Pont Des Arts
The Pont des Arts Bridge is also called the bridge of love. This footbridge extends over the Seine and boasts some of the most spectacular views of Paris.
This bridge is most famous for its collection of locks, and while you can't attach a love lock to this bridge (it's forbidden), it's a must-visit spot for lovers visiting Paris.
This free attraction is a great spot to visit on Valentine's Day and undoubtedly one of the most romantic bridges in the world.
Located between the Louvre Palace and Institut de France, this bridge is loved and adored by artists and photographers, and people travel from all over the world to take photos on the love bridge.
17. Go On A Romantic Stroll Through Paris
A trip to Paris for couples is all about love, and many couples visit Paris as a romantic getaway.
There are a few places to hold hands, share a kiss, and fall in love during a romantic walk through Paris. (Which also happens to be one of the best free things to do in Paris, right!)
Find inspiration like the great artists Van Gogh and Picasso when walking through the streets of Montmartre. Then, take the stairs to the Basilica of the Sacré-Coeur and enjoy the sights of Paris.
Walk along the banks of the Seine River and stop to admire the city's most remarkable historical monuments. Stop and take a few photos of Notre Dame Cathedral or stop for a moment and take in the picturesque Saint Martin Canal.
Stop at a few lively cafes and bistros as you walk through the Latin Quarter or visit an antique bookstore.
Other lovely places to explore on your romantic sightseeing trip are the Louvre and Tuileries gardens and the aristocratic Le Marais.
18. Visit The Historical Galerie Vivienne Passage
If you're looking for exciting things to do in Paris as a couple, visiting the Galerie Vivienne is one of the most luxurious places to sightsee.
This grand walkway was constructed in 1823 and is a historical monument.
This famous walkway is one of the many famous covered passages of Paris and has an intricate mosaic-tiled floor and is perfect for lovers, especially on a rainy day in Paris.
The glass roof lets in beautiful rays of sunlight, and you can enjoy a freshly brewed cup of coffee at Bistro Vivienne as you pass through the walkway.
Galerie Vivienne is also famous for the Jean-Paul Gaultier store. This is the perfect romantic walkway to take in the architecture, do some shopping, visit a few beautiful shops, and enjoy one of Paris' famous walkways.
More covered passages in Paris worth checking out:
Passage des Panoramas
Galerie Colbert Paris
Passage du Caire
Passage des Deux-Pavillons
19. Take A Few Photos At The Notre Dame Cathedral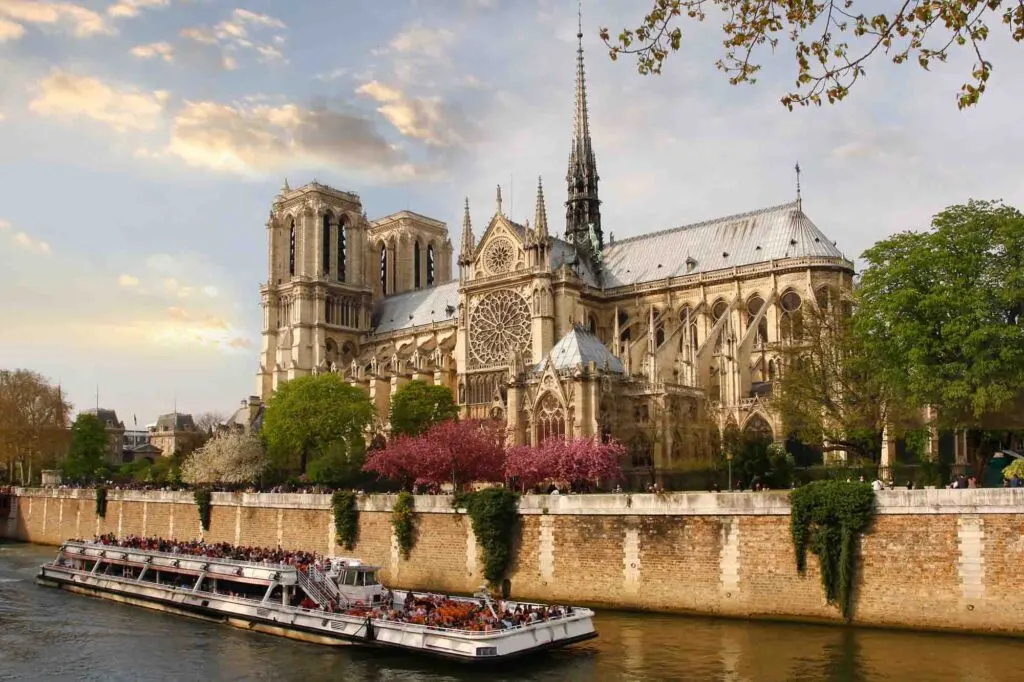 The Notre Dame Cathedral isn't the first thing you think of when looking for romantic things to do in Paris, but it's an excellent backdrop for taking photos.
Also, the Notre Dame Cathedral is not only the most famous gothic cathedral in the world, but it also is one of the prettiest churches in Paris.
Besides, this place is a must-visit attraction if you love architecture. This cathedral has gorgeous sculptures and stained glass windows. It is easily one of the most intricate and beautiful buildings in Paris.
In the springtime, it's even more romantic, with cherry blossom trees in full bloom surrounding the church.
Notre Dame is over 800 years old and was still used every Sunday until the fire in 2019 caused damage to the cathedral.
While visitors can't go into the cathedral yet, it is still widely visited and a romantic place to visit while visiting the other local attractions in Paris.
20. Dine At One Of The Many Michelin Star Restaurants
Paris is known for its cuisine; no culinary journey would be complete without visiting a Michelin-star restaurant, right?
Michelin-star restaurants are all over Paris, and there are more than 626 of them, many of which are rated as one-star Michelin restaurants.
Michelin restaurants are known for offering exceptional and, of course, delicious dishes, and spending an evening dining in a Michelin restaurant with your significant other is something every couple should experience when visiting Paris.
Whether you visit a one-star, two-star, or three-star restaurant, each experience promises to be unique and offers guests an unforgettable meal.
A few of the Michelin restaurants worth visiting are:
Arnaud Donckele at Plénitude (three-star) – intimate dining, delicious food, and unique desserts.
Pierre Gagnaire (three stars) – this well-established restaurant has been rated three stars since 1996. The menu is constantly being reinvented and inspired by the changing seasons. There is something for everyone; frequent diners will never experience the same menu twice.
Arpège (three-star) – relaxed dining focused on fresh produce and seasonal dining.
Table – Bruno Verjus (two star) – small menu, food that's made with love and made to order
L'Oiseau Blanc (two-star) – stunning views of the city and the Eiffel Tower, French cuisine, and rooftop dining.
Palais Royal Restaurant (two-star) – greek flavors, creative cuisine, and a beautiful restaurant setting
La Grande Cascade (one star) – best for memorable dining experiences and late afternoon lunch
Les Climats (one star) – a wine-inspired restaurant that tempts your tastebuds and leaves you wanting to come back for more
Le Jules Verne on the Eiffel Tower (one star) – magnificent views, delicious food, and located above Paris on the Eiffel Tower.
21. Go On a Romantic Day Trip
While the city is incredibly romantic and there are enough things to do as a couple that would keep you busy for a month, going on a day trip from Paris give you the opportunity to change sceneries and get to know one or a few cities near Paris.
The trip from Paris to Versailles is short and offers the chance to stroll together through the gorgeous gardens of the Versailles Palace.
Orleans, Provins, Chantilly, Giverny, heck, and even Normandy offer interesting things to do together. Options are endless.
Wrapping Up on Romantic Things to Do in Paris
We hope this romantic Paris guide inspired you to enjoy the best of this romantic destination with your significant other. Also, we hope you have an amazing time filled with love. See ya!
Like this article about romantic things to do in Paris? Then share it on your social media!
Don't Forget About Travel Insurance!
Before you leave for France, make sure you have a valid travel insurance policy because accidents happen on the road. We have been paying for Safety Wing travel insurance for a little over a year now, and we happily recommend them to our family and friends.
If you get sick, injured, or have your stuff stolen, you'll be happy to have the ability to pay for your medical bills or replace what was stolen.
Because, for just a couple of dollars a day (depending on how long your policy is for), you're going to get lots of things covered. Be smart and get travel insurance.