Looking for the best things to do in Paris at night? We got you covered! In this article, we'll give you tips and suggestions on what to do in Paris at night.
The City of Light is one of the most beautiful cities in the world and visiting it could be the best experience of your life.
Paris has some of the best scenes and views that the world offers. Visiting this French city might give you a new perspective on life. So what are you waiting for? Book that ticket and explore Paris.
This post will help you figure out what you can do on a night out in Paris. There are 24 activities listed in this article, but there are many more activities to do in Paris.
These activities will make sure you have the best time and experience the best parts of the French capital.
This post is valuable because it gives you safety tips for exploring the nightlife of Paris. It also helps you consider seasons, public transport, and reservations for a night out in Paris.
In addition, the post also gives examples of what to expect when doing one of these activities at night.
Tips For Exploring The Nightlife Of Paris
The most important tip to exploring Paris at night is keeping safe and keeping all your valuable items close to you. Paris is considered a safe city, but some barbarians tend to lose themselves after the sunsets.
Keep your passport in the hotel safe and bring only a copy in your purse. Also, don't bring all your cash or cards. Keep it simple.
If you're still out in the late hours of the night, you can take an Uber to your hotel.
Further out, if you are exploring the streets of Paris at night, it would be best if you are sober. This might be challenging for some of us, but this tip saves you from unwanted situations. One or two drinks should be fine, but extreme drinking should not be involved in your night out in Paris.
A walk in Paris at night is exciting and romantic, but there are some neighborhoods that you should stay away from.
Like most cities worldwide, there will be some areas that locals will warn you against—examples of places that you should stay away from, including the northern area of the 18th and 19th districts.
You now know the safety tips you will need to apply when you and your friends go out for a night in Paris.
Best Things To Do in Paris at Night
Check below to see a list of things you can do while exploring Paris at night:
1. Cruise The Seine River
Are you looking for the best way to view the city and its iconic monuments? Now is your chance for the Seine river cruises.
Options include private boat cruises, dinner date cruises, and small group cruises. The Seine River lets you see so many famous and important buildings and bridges.
The river cruise begins and ends at the Pont d'Iéna, situated near the Eiffel Tower. Boat departure hourly from 10:30 am to 1:30 pm, and then every half an hour from 1:30 pm to 10:30 pm. We suggest that you book beforehand to avoid disappointment.
Click here to book your Seine River cruise.
2. Chill At A Rooftop Bar
Pop into one of the many fantastic Paris rooftop bars where you get incredible views over the city's most beautiful landscapes.
Make your way to the Terrass" rooftop bar to taste a cozy yet intimate atmosphere. This is the best way to see panoramic views of Paris while satisfying your taste buds with lavish cocktails.
Créatures Paris is another rooftop bar and a vegetarian restaurant that gives you a 360-degree view of the city at night. You'll find this gem on the eighth floor of the Galeries Lafayette department store.
If you plan to go to a rooftop bar in a group, we suggest booking beforehand to get the best seats. Whether you go with friends or by yourself, you will have a great time and potentially make the best memories of your life.
3. Visit The Louvre Museum
This Louvre Museum started as a medieval palace during the 12th century and transformed into a Royal Palace.
Today, you'll find attractions such as the Tuileries Garden and the Arc de Triomphe du Carrousel (Monument in Paris) close to the Museum.
Every Tuesday, the Louvre remains open until 9:45 pm, so you could take in the artworks at night.
We suggest focusing on one set of collections or part of the museum on your first visit. This way, you can take everything in without rushing knowledge about history.
Booking a visit in advance will ensure that you skip the long ticket lines at the entrance. You may walk around with or without a guide. Note that you will not be allowed to return once you leave the museum. It's the museum's way of controlling the number of visitors per day.
4. Climb The Eiffel Tower
Nothing more, nothing less than 674 steps to get you to the second floor of the Eiffel Tower. Climbing up will take 30 to 45 minutes to get to the second floor but don't let that scare you — there is a lift! 😉
Once you are at the top, you can take in the lights of the city as the nightfalls. It's a breathtaking view!
We recommend that you do not do this activity if you have reduced mobility or poor health conditions. It is also advisable not to bring your newborn or toddler to this activity. The Eiffel tower has 1,665 stairs, which tend to test your fitness.
There are quicker ways to access the first and second floors for those who suffer from disabilities. A staff member usually helps you skip the ticket line if you have some disability. You will gain quick access to the first floor, where you will find food and beverages shops and gift shops.
5. Watch The Eiffel Tower Lights
As the sun hits the water and starts to make way for the moon, the stars to come life.
Not only the ones in the sky but also the ones in the Eiffel Tower. So visitors and locals wait for the Iron Lady to shine her lights at night.
Ten minutes after the sun sets, these lights switch on automatically through light-sensitive twilight sensors.
Dating back to December 1985, these lights, inspired by camera flashing lights, spark up at the beginning of each hour for at least 5 minutes.
After 01:00 am, the main lights and beacon switch off, leaving the lights sparking for a few more minutes before everything switches off.
6. Go To A Cabaret Show
If you love live entertainment (singing, dancing, comedy acts), we suggest going to one of the world's most well-known cabaret shows at the Moulin Rouge.
This show includes hundreds of artists and over a thousand costumes made by Corrado Collabucci.
Moulin Rouge was founded in 1889, and ever since then, people couldn't get enough of this show. It is nothing less the birthplace of the modern form of the can-can dance.
These dancers are known for performing famous acts and amazing visual work. Creating over a century of creativity in just 90 minutes will surely leave you astonished.
7. Take A Moonlit Stroll
Taking a stroll through the Parisian streets can either be relaxing or make you want to paint the streets red.
Take a relaxing stroll along the Seine river banks with the moonlight reflecting on the water and the Eiffel Tower lights catching your eye.
Another moonlit stroll can include a walk past the Notre Dame De Paris (Cathedral in Paris) and perhaps a walk through the Le Marais district.
This is where you walk through narrow, medieval-era streets before reaching the nearest bar or restaurant to end off the Parisian night with a candlelight dinner and wine.
8. Taste A Glass Of Wine At Popular Wine Bars
Avant Comptoir de la Terre (a modern wine bar in Paris) is one of Paris's most well-known eating and drinking places.
Their wine collection is part of a tradition, and there are wines for the young and old. This cheerful festivity bar will have you feeling free and relaxed simultaneously.
Comptoir de la Mer has mouthwatering seafood selections from Bloody Mary oysters to Cherbourg Salmon croquettes if you are a seafood lover.
Let's not forget about the amazing tartar sauce. Pairing this with any wine of your choice can be perfect for having an amazing night out in Paris.
9. Embrace An Opera Performance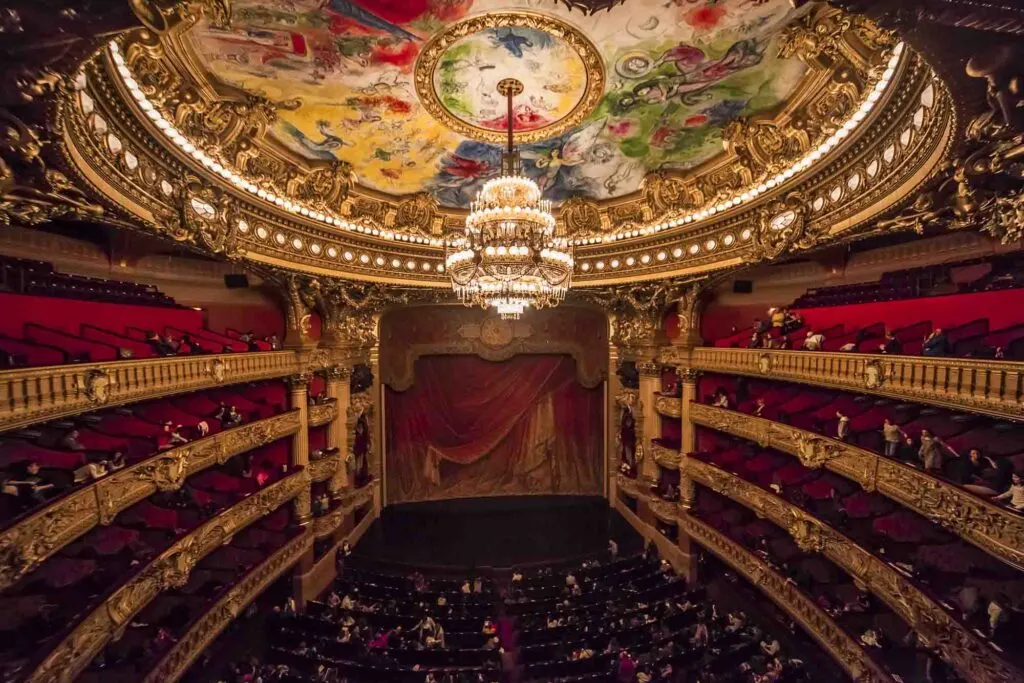 The Palais Garnier (Opera house in Paris) is a masterpiece theatre art building of the century.
This theatre offers a wide variety of orchestras, choirs, ballets, and seasonal artists. This is an art building that symbolizes Paris with all her amazing attractions.
This architectural masterpiece was established in 1875 by Napoleon III and today is considered the most glamorous and elegant monument in Paris.
You are more than welcome to do this tour yourself and get access to public areas, including the Library-Museum of the Opera, La Rotonde des abonnées, and the moon and sun salons.
10. Explore The Dark City Secret Walking Tour
Booking a walking tour through Paris at night is best if it is your first time in the city. These Paris night tours usually feature a local guide that knows what they are talking about. A smaller-sized tour is provided to guarantee a more personalized experience.
This walk is two hours long. You will come across historical crime stories, and learn and explore all the fantastic legends that have created the story of this magnificent city.
Stroll past the public execution sites, and if you are a fan of ghosts, you will learn more about the most famous Parisian ghost.
For some paranormal activity, this walking tour will take you to the Notre Dame Cathedral, where the demons await and the cursed locations will keep you on your tippy-toes.
Click here to book your night tour in Paris
11. Watch French Inspired Movies
Jean-Luc Godard and Francois Truffaut launched a thematic movement during the 1960s, and ever since, Paris has been known for showcasing incredible musicals and movies, from animation to white-knuckle thrillers, biopics, and much more different genres.
Classic mystery movies set in Paris like the Da Vinci Code, took place at the Louvre Museum. You might catch it in a movie theater.
12. Ride The Ferris Wheel
From November to February, the Ferris wheel on Place De La Concorde not only lights up the night but also gives you incredible views of Paris.
This attraction is particularly popular during Christmas in Paris, but with a little planning, you might go quickly. In addition, this limited-time structure gives you a breathtaking view of the Eiffel Tower, Louvre, Champs-Elysees, and the Seine.
We would suggest that you get on the ride at sundown to experience the Eiffel Tower lights from another perspective. The Ferris wheel runs until Midnight for spectacular views of the night lights.
13. Go Wine Tasting
If you plan on doing a wine tasting, then going for a French wine tasting class with a sommelier is the best available option.
You will not only sample wines from different French regions, but you will also learn how to identify and taste these wines. It is like going on a journey through the wine regions of France!
Besides, you'll also learn how to properly read a wine label, if you don't already know. You can enjoy wine and cheese pairing with friends and family close to the Louvre museum.
And after the class, you have the option to buy the wine you tasted (it's an incredible souvenir) plus other bottles of wine.
Click here to book your experience
14. Have a Traditional French Meal
Duck confit is one of the well-known French dishes that uses a unique technique of preservation that includes salting the duck and then using the duck fat to cook it.
Another classical dish is Boeuf Bourguignon, a French beef stew made with red wine, onions, mushrooms, and bacon.
Croissants are France's king pastry and icon, warm and flakey for any pastry lover.
If French dishes inspire you, make a turn by any local restaurant or brasserie for your favorite traditional French dinner, which usually happens around 7:30-11 p.m.
A fun night out in Paris needs to involve traditional French food!
15. Try Out A Pub Crawl
In the mood to hop from one bar to another for the evening? Then try the pub crawl Paris tour.
In this tour, a team of friendly and international night guides will take you through 3 bars, all located within the Latin Quarter of Paris.
Your tour will also include a visit to the Long Hop bar, famous for its exciting nightlife.
During the week, buy one drink and get a free shot at each bar. On the weekend, you will enjoy 3 shots, one in each bar, as well as free entries.
Click here to book your pub crawl
16. Walk Through The Rue Montorgueil
If you are a food lover, this would be the perfect outing. This is a street full of food venues and shops filled with delicious food and traditions.
This street stretches four blocks between Rue Etienne Marcel to the south and Rue Saint-Sauveur to the north.
The pastries on this street have been well-known by Parisians and visitors for almost 280 years.
Food lovers need to stop by the frozen food markets and French-inspired bread markets made with love. Mini desserts and homemade appetizers can also be found along the way.
17. Drive Along With A Vintage Car
Be prepared for some fresh air when taking a one-hour drive with a vintage French convertible car from the sixties through the city.
This tour allows you to embrace Paris's oldest church in Saint-Germain-des-Près, drive along the Champs-Elysées, and visit Concorde Square. Enjoy the Eiffel Tower peeking at you from every corner.
Your tour guide or driver will show you around the city and will usually educate you on the history of each attraction. Your driver will inform you about restaurant spots to visit and rooftop bars to try out while you are in Paris.
Further out, you can cruise through the streets of Paris in a vintage French convertible and watch the Eiffel Tower light up at sundown.
18. Watch The Sunset
There are many places to catch a sunset in Paris, but Sacré Cœur (a Roman Catholic Church) is one of the highest viewpoints and one of the most popular spots for a romantic sunset.
Therefore catch a seat on the grass an hour before the sunset to ensure a clear view of this natural event.
Place du Trocadéro is also an excellent sunset spot. You could gather snacks and a bottle of wine for picture-perfect panoramic views from Place du Trocadéro.
You will be able to see the Eiffel Tower and the sunset shining through this monument — this happens minutes before this Iron Lady lights up.
Alternatively, take a Seine River Cruise during sunset. It's a unique experience to see the beautiful reflection of pink, orange, and yellow sunlight on the water. It's a romantic sunset cruising the river as the Eiffel Tower flickers on.
19. Ride Along With A Bike Tour
Paris night bike tours started in 1999; with improvement over the years, they've built side roads just for bike riders. Along the way, you will ride past all the attractions and monuments in Paris.
This four-and-a-half-hour ride offers you the most popular sites like the Louvre Museum. Besides, it's an educational framework that can help you appreciate the attractions and loads of unique historical stories about Notre Dame and the Eiffel Tower
On top of that, it also gives you access to a Seine cruise with free wine. What's not to love?
We suggest booking it in advance if you decide on doing this with friends or family. You will get opportunities to snap some of your favorite places in the comfort of a bike and all with the help of your tour guide and the staff.
20. Explore The Covered Passages
Glass-covered roofs are a Parisian architectural design that dates back to the 19th century.
There are approximately 20 passages with these roofs in Paris in the Grands Boulevards area. The Paris passages are galleries that house incredible shops, restaurants, and theaters.
A few passages worth checking out are the Passage du Caire arcade is by far the longest and narrowest in this capital.
The most famous covered passage was the Galerie Colbert, constructed in 1823. This is a unique passage that has no shops. It's free for the public to explore and take pictures of these architectural designs.
You can enjoy a lovely supper at the Grand Colbert brasserie, which sits at the entrance and is known for its magnificent art deco style.
In addition, Galerie Vivienne, built in 1823, has beautiful and colorful mosaics. Don't forget to lift your eyes towards the glassed ceiling that illuminates the night.
There is something for everyone. With an array of boutiques, wine cellars, gourmet food boutiques, and book shops, you will be able to spend the day just browsing in true beauty.
21. Sip On Craft Beer
We all know the French are famous for their wines, but nowadays craft beer is becoming more and more popular among the French.
Paris established breweries like BAPBAP Grand Paris, and many more are following suit in competition with Kronenbourg, a famous brewery from Strasbourg.
If you are interested in tickling your tastebuds by trying different types of beers and knowing more about the history of how they brew them, then attend the Paris Historical Craft Beer Walk.
Your tour guide should take you to three fantastic craft beer bars, where you get the opportunity to taste these amazing beers.
22. Dance Through Paris Night Clubs
From posh Pigalle to the historical Latin Quarter, the Paris nightlife atmosphere is flourishing, and this fun experience is second to none by far the best.
Bastille area is known for its diversity with different options from clubs, bars, and music.
This nighttime activity can please you to your liking, whether you're interested in visiting clubs for never-ending dancing or want a few drinks at a bar while experiencing Paris at night.
23. Go To A Sainte Chapelle Concert
This beautiful Gothic-styled gem was built in seven years only, with over 1,113 stained glass pieces consisting of over fifteen different windows.
Most of the stained glass is still from the original building, the oldest yet to be found in Paris.
Listen to the night away with beautiful baroque music, and take your time to embrace the beauty of the church. It's literally jaw-dropping.
Various musicians perform at various concerts, from the Four Cousins performance to Antonio Vivaldi. We recommend booking now so that you don't miss out on this breathtaking experience.
24. Discover the Catacombs
Discover the world beneath the streets of Paris through hundreds of kilometers of tunnels.
This unique attraction is morbidly decorated with 6 million Parisians' human bones and skulls.
The catacomb was originally a quarry during the eighteen hundreds, but it became what it is today when public hygiene issues arose in the city and the remains of millions of Parisians were moved here.
This interesting tour is one hour long and filled with fun and dirt. Make sure to wear comfortable clothing and shoes. You can enter at 5 pm, which should be dark outside during winter in Paris.
Map of Paris at Night
Here's an interactive map with the locations above that you can freely use on your mobile to find your way through Paris. Happy travels!
Don't Forget About Travel Insurance!
Before you leave for France, make sure you have a valid travel insurance policy because accidents happen on the road. We have been paying for Safety Wing travel insurance for a little over a year now, and we happily recommend them to our family and friends.
If you get sick, injured, or have your stuff stolen, you'll be happy to have the ability to pay for your medical bills or replace what was stolen.
Because, for just a couple of dollars a day (depending on how long your policy is for), you're going to get lots of things covered. Be smart and get travel insurance.