Spending 3 days in Paris? Here's a ready-to-use itinerary for you!
Three days in Paris is undoubtedly a short length of time to spend in such a big city, and one can't possibly get to see everything that makes it so lovely; or can you?
Whether you've been dreaming of coming to Paris for years or finding yourself in the area by chance, this 3-day itinerary for Paris will help you make the most of your time in the City of Lights. A guide from landmarks to the best-rated and affordable restaurants nearby.
After reading through our guide on spending 3 days in Paris, you will be even more excited about your time there.
The days we have set out take travel time and all your meals into consideration while leaving some leeway for delays and personal choice. The power is in your hands!
We know this 3-day itinerary for Paris might sound too good to be believable, but why not see for yourself?
Where To Stay in Paris
If you're wondering where to stay in Paris, we have many guides to help you choose the best hotels for you and your family.
Namely, we have guides about luxury hotels, boutique hotels, 5-star hotels, and incredible hotels with a view of the Iron Lady.
As always, be sure to book your accommodation in advance because this has a major impact on availability and rates, especially in Paris.
When To Visit Paris
Planning a trip is no simple ordeal, and an essential consideration includes deciding when to go. The seasons affect the weather and determine other factors such as crowds, the locals' daily routines, and prices.
Summer
Paris is generally most popular among tourists from June through August during the Parisian summer.
Locals and tourists consider the city to be most beautiful in its summer months since the sunlight creates a warm and bright mood throughout the city, uplifting its already picturesque views to even more beautiful sceneries.
However, one should remember that the summer season is busier than other times.
So, if bustling crowds and waves of other tourists are what you are looking for, then the summer sun is for you; however, if you prefer to visit Paris during quieter months, you would probably like to avoid going in the summer.
Our advice, especially if you've only got three days to explore this wonderfully vibrant city, is to visit Paris during one of its shoulder seasons or an off-season.
If anything, this is so that you don't waste half your time waiting in long queues to enter some of the more popular spots. If you find yourself in Paris during its busy season, don't worry because we have many quieter places for you to see too!
Autumn
Although not as popular as the summer season, autumn could be a better time for you to spend your 3 days in Paris.
The city takes on an entirely different color in autumn, with the parks, palaces, and arrondissements imbued with the stunning red and gold of the autumn leaves. This season compliments the city well, and if you don't believe it, you have to see for yourself!
What's more, the city is exceptionally quieter during the Autumn season. There are shorter waiting times at the most famous landmarks, and many of them are also much cheaper during the off-season.
It's also a chance to experience Paris more authentically (without hordes of tourists photobombing each of your dear memories). Autumn in Paris is from September to November.
Winter
Since the rain seems to be relatively constant during the Parisian winter (December to February), this may not be the best option to spend only 3 days in Paris.
However, if you prefer indoor activities, you can still keep yourself busy visiting innumerable cathedrals, art galleries, art museums, and cafés. Just be aware that you will also be missing out on various activities that require good weather.
On the other hand, an important consideration is that the festive Christmas displays an excellent opportunity to see the City of Lights differently.
Strasbourg, an Alsatian town on the eastern border of France, is famous for having one of the most fabulous Christmas markets in the world. Because of this, many Alsatian-styled markets pop up around the city during this time.
Spring
Visiting The City of Light in bloom could be the perfect time for lovers of nature, gardens, and parks. The city's flora turns colors during this season, and it complements the surrounding landmarks.
Since spring is from March to May in the town, you could have the chance to celebrate Easter while visiting some of the fabulous churches, chapels, and chocolatiers (Angelina on Rue de Rivoli – yum!) found in Paris.
It is also a great time to try the fresh local produce at this city's various farmers' markets. Furthermore, on the third Saturday of May, almost all great art galleries stay open until late at night – an absolute delight for any aesthete or art connoisseur.
For lovers of music and jazz, spring may also be the preferred option since the city hosts the annual Jazz Festival à Saint-Germain-des-Prés.
Hopefully, this will guide you in deciding when to visit Paris. However, this still begs what to do in this beautiful city while you are there. Lucky for you, we have already compiled a 3-day itinerary just for you – voilà!
Paris Itinerary – Day 1
Day one of our itinerary will set off in Montmartre – one of the world's most renowned cultural hot spots – and eventually take you through the city's most famous attractions.
For this day, you will be eating on the go while absorbing all the beautiful sights and attractions this city offers. Alors, on y va.
Start Your Day With A Bite At Boulangerie Alexine
Situated in the 18th arrondissement on 40 rue Lepic, you will find this quaint and charming bakery – the perfect place to kick off your 3 days in Paris.
Rated one of the best bakeries in Paris and with the 4th best baguette, this little shop in the Montmartre district is one you wouldn't want to miss! Even better yet, it's right around the corner from the Sacré-Cœur.
Try out some of their delicious baked goods for breakfast and start your day the French way (unless you're a real Parisian who prefers just a coffee and cigarette).
Our recommendation would be a pain au chocolat (chocolate croissant), but if you are into something more savory, you can't go wrong with a quiche or a baguette.
Discover The Sacré-Cœur Basilica
At the top of Montmartre hill, you will find the Sacré-Cœur or the "big meringue" among locals. This dazzling 19th-century church is one of the most iconic spots in all of the city. And, it is one of the best things to do in Paris.
It boasts stunning architecture and rich history in tandem with the title of the second tallest spot in all of Paris. Therefore, you will not only enjoy the building itself but also see sweeping views of the entire city.
Climb to the towers so you can have grand views of the Eiffel Tower, the Louvre Museum, and the rest of Paris.
Stroll Through The Streets Of Montmartre
Known as one of the world's cultural centers, the village-like neighborhood of Montmartre has some of the most exciting streets in Paris.
Stumble across little gems or look for one of the many sculptures and statues that form part of the area. You will likely find a museum on every second street, so why not have a look.
We recommend looking out for the Wall of Love and the Montmartre Cemetery.
You might like: Montmartre Walking Tour
Have A Crêpe At La Crêperie Mon Amie
After a long walk through the neighborhood's magical streets, you can find yourself right back where the day started to enjoy another French classic: the crêpe!
At this tiny hole in the wall (literally), you will find some of the best crêpes around to keep you going for the rest of the walk.
Unfortunately, there is no sit-down option, but you can enjoy the crêpe on a nearby bench or go to a café instead if you need a rest.
Go On A Shopping Spree At The Galeries Lafayette
Unfortunately, the time has come to leave Montmartre and head to the 9th arrondissement but fret not, for when the sun falls, you will return to see Montmartre in a different light.
In the meantime, you can keep yourself busy at France's most famous department store.
One of the many activities seemingly synonymous with French culture is shopping. The Galeries Lafayette Haussmann takes this to the next level with exquisite architecture, high fashion events, food and drinks tasting, etc.
If you're an avid shopper, we recommend you don't check your balance after this expedition.
Stare At The Ceiling Of The Palais Garnier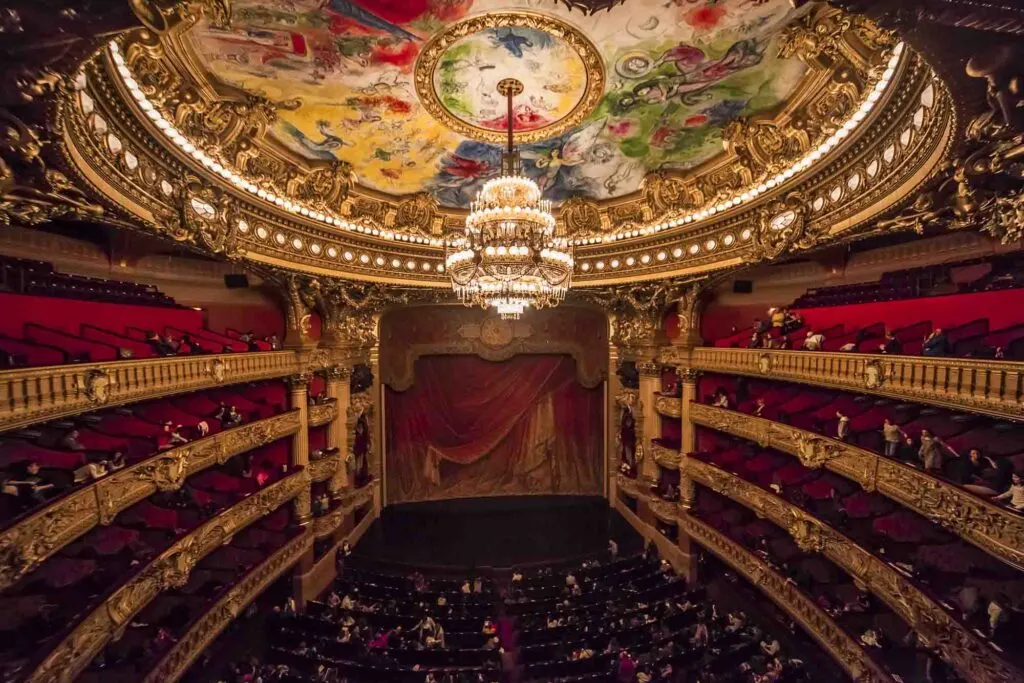 As breathtaking as this magnificent building may seem from the outside, one is only really blown away upon entry.
Just a block from the Galeries Lafayette, the Palais Garnier truly is a must-see. The ceiling is a beautiful tribute to some of opera's greatest composers, and the palace also has a museum.
Sit Down For A Dinner at Chez Delphine
A restaurant with all the classics French cuisine has to offer. From snails and beef tartare to foie gras and other meaty options.
For vegetarians, there are also a variety of options with rave reviews.
Sit down here, relax, and enjoy the day's memories passed with a nice glass of wine, excellent service, and a calm French ambiance.
Watch A Cabaret At The Moulin Rouge
By this time, you must already be quite tired from traversing the hills and stairs of Montmartre and walking all through the shops at the Galeries Lafayette.
But after all, with only 3 days in Paris one has to move to get everywhere you need to be!
This part of the trip will take you back to Montmartre to dine at the legendary Moulin Rouge.
Named after the red windmill giving the venue its iconic look, the Moulin Rouge is a cabaret venue widely popularized by modern films. It is an iconic spot, and ending your first day with a cabaret show (and drinks) there will be worth your time.
Click here to book your cabaret show
Paris Itinerary – Day 2
Day two of your 3 days in Paris will take you to all the places you've dreamed of visiting since you've heard of this magical city, like the Arc de Triomphe, Eiffel Tower, and Sainte-Chapelle.
If you think you were all over the place on day one, get ready for even more walking. Remember to pack your most comfortable shoes because the Champs-Elysées aren't going to walk themselves.
Grab Breakfast At Le Pain Quotidien
Located on the beautiful Champs-Elysées, Le Pain Quotidien (meaning the daily bread) offers the best breakfast to prepare you for another busy day.
With a wide range of options and a styling interior, Le Pain Quotidien is one of Paris's most successful franchises.
Marvel At The Arc De Triomphe
Just down the Champs-Elysées lies the massive monument of military power: the Arc de Triomphe.
Built by Napoléon, in his honor, the symbol of sheer strength is enough to send shivers down your spine. The Arc de Triomphe is not only a popular attraction but also a major landmark in Paris.
In addition, you can have wonderful views of the Eiffel Tower, Champs-Elysées, Place de la Concorde (where Louis XVI and Marie-Antoinette were executed), and beyond from the top of the arch. The fee to climb it is included in the Paris Pass.
Also, note the crazy driving in the roundabout around the Arc de Triomphe is!
Don't miss out! A wine tasting experience is included in the Paris Pass!
Stroll Down The Champs-Elysées
After taking in the Arc de Triomphe is time to explore the Champs-Elysées. This famous street is like no other.
The Champs-Elysées is about as well-known as Zinedine Zidane and is certainly more beautiful. Enjoy your walk down this iconic road, and don't forget to do enough window-shopping along the way.
End the walk at the spectacular Elysée Palace, see the Hôtel de la Marine, and stroll through the Tuileries Garden.
Climb The Eiffel Tower
Finally, it is time to see the Eiffel Tower. Enjoy a long walk along the Seine River on your way, and don't overlook the many bridges – each one of them has its charm!
Gustave Eiffel had no idea how famous his last name would become when he designed and built the most recognizable tower in the world. Over 6 MILLION people ascend this structure every year to see Paris from another angle.
Inspired by the design of the Latting Observatory in New York City, the Eiffel Tower in Champ de Mars was built to celebrate the 100th anniversary of the French Revolution.
That's why there is no better way to start your Paris itinerary than on Eiffel Tower. The 1063-foot-tall tower has three levels that you can reach by stairs and elevator, except the last one. We will explain:
The first level has a glass floor, and you can ascend to it by either a staircase or elevator. On the second floor, you can find a pricey 5-star Michelin restaurant (also reached either by stairs or elevator).
To achieve the summit, you must take the elevator. While on the top floor, you will have one of the most breathtaking views over Paris. Try to spot the Louvre, Tuileries Garden, and the Sacré-Cœur Basilica.
Fun fact: The Eiffel Tower is the most-visited paid monument in the world.
Admission: The ticket price to ascend this iconic attraction varies on how you go up in the tower:

Staircase to the 2nd floor plus the elevator to reach the third-floor costs around €20
Lift to the summit costs €27 – if you can, choose the earliest time slot to avoid the crowds at the Eiffel Tower
Don't miss out! Book your skip-the-line tickets plus a guided tour.
It's important to note that you can stop at intermediate floors, regardless of the ticket you buy.
Opening hours:

Lift: 9.30 am-10.45 pm | Stairs: 9.30 am-10.45 pm.
After you have ascended the tower, stroll around the Champ de Mars and Trocadero Gardens to take some good pictures of the tower. The view of the Eiffel Tower from across the river is astonishing. The walk to Rue Cler is also very pretty.
Many will agree that it may be worth it to return to the Eiffel Tower at night since the skyline of Paris at night changes entirely (not to mention the tower itself). However, going to and fro the Eiffel Tower does take a big chunk of your time, so in the end, you should decide.
Good to know: access to the Eiffel Tower summit is included in the Paris Pass.
Wander Through The Rue Mouffetard Market
Mouffetard Street offers one of the most popular markets in all of Paris. Here you can shop for various cheeses, bread, fruits, and spreads.
We advise you to put together a little basket and head to the Luxembourg Gardens for a lovely afternoon picnic. The banks along the Seine make for an equally delightful picnic spot.
On your way to Rue Mouffetard, you will likely pass many other landmarks, such as the tomb of Napoleon Bonaparte and the Montparnasse tower.
Feel free to explore these, but also remember that there is limited time if you want to see the more exciting places.
Explore The Latin Quarter
This part of Paris, the 5th arrondissement, has indeed cultivated an academic atmosphere to it.
The character is partly thanks to the Sorbonne University located at its heart, but more than just that, it is the people, the architecture, and the surroundings.
Visiting the Pantheon is a must, and if you're willing to climb to the dome, it rewards you with a 360-degree panorama of Paris. The Sorbonne University, founded in 1253, is equally iconic and will leave your mind hungry for knowledge.
Visit The Sainte-Chapelle
Providing magnificent stained glass displays, the Sainte-Chapelle is sure to take your breath away. There is no chance you can miss this absolute wonder of a church.
Furthermore, it is situated next to Notre Dame, which is unfortunately still temporarily closed for restoration, but worth looking at from the outside! The fee to enter the church is included in the Paris Pass.
Dine At La Péniche Marcounet
Likely, you won't have the time to explore the Louvre or the Museum of Orsay before closing time (unless a special event is happening). Therefore, we advise you to leave these attractions for another day when you'll have time to appreciate the art.
In the meantime, if you're hungry, why not have dinner at a bit restaurant boat (or péniche) along the Seine.
Many tourists miss out on something like this, but it is a very authentic and delicious experience. La Péniche Marcounet is famous for its fantastic food, jazz shows, and great location across the Sainte-Chapelle.
End The Day At Le Perchoir Rooftop Bar
With a fantastic city skyline to complement your drinks, you cannot go wrong with Le Perchoir, a wonderful rooftop bar.
The view will blow you away, and the ambiance is immaculate. Open until 02h00; you can fully kick back and relax until you are ready to head home.
On your way home, don't forget to stop for a bowl of French onion soup – a staple after a late night out.
Paris Itinerary – Day 3
Today is the day for art – and lots of it. You will take the metro out of Paris city center and head out to the Palace of Versailles. Here's how to get from Paris to Versailles. Luckily, Versailles is a lovely town near Paris.
Afterward, you will head back to the end of the Champs-Elysées, exploring two more major art museums (and perhaps more if you're still interested). Afterward, you can explore some less traversed and hidden parts of the city.
Head To The Stray Bean For Coffee
A coffee shop with an excellent reputation in Versailles, this place would suit your needs after the short morning train ride to Versailles. It is close to the palace, and they serve excellent food. What more could you ask?
Tour Through The Palace Of Versailles
There are many words available to describe the Palace of Versailles. Words to describe it ranges from magical, mystifying, and beautiful to impressive, grand, and artistic.
However, one of the best words would be immense because this palace can easily take an entire day to explore fully.
Take your time to explore it as much as you like – we can almost guarantee you will not regret it.
Many generations constructed parts of the palace over different decades and eras, but much has changed since the Revolution.
It has a rich history, and we recommend reading up a bit on it since it would undoubtedly make the experience more enjoyable. The entrance fee to Versailles is included in the Paris Pass.
Lunch At Le Sept On Montreuil
Described as a family-priced restaurant with Michelin quality food and ambiance, you can't go wrong with lunch at Le Sept.
The perfect way to round off your Versailles trip before returning to the city center. You will likely see many more local French here than other tourists, making it a very authentic experience.
Appreciate Art At The Louvre and Orsay
History buffs will have the time of their life at the Louvre Museum and D'Orsay!
We recommend these Paris museums to both art appreciators and casual tourists alike. Both the Louvre and Musée d'Orsay are locations where you can spend days without seeing everything there is to experience. However, we recommend that you go anyway – and remember to dress the part!
Louvre Museum has the enigmatic Leonardo DaVinci's Mona Lisa, but other highlights worth checking out are the Winged Victory and Venus de Milo.
Most visitors come to see the famous Mona Lisa. The Mona Lisa is now in a prominent and permanent location in the Denon Wing.
On the other hand, Musée d'Orsay, which is housed in an old train station, shelters the largest collection of Impressionist art in the world.
Good to know: The entrance fee to both art museums is included in the Paris Pass.
Walk Around The Hidden Passages
Paris is home to many secret passages and galleries, which are beautiful indoor streets housing all sorts of luxury boutiques and little restaurants.
The Galerie Vivienne is right around the corner from the Louvre Museum, making it the perfect option to explore these covered French passages.
Descend Into The Parisian Catacombs
If art museums and shopping districts aren't your things, or if you're a fan of the dark and gothic, then the Catacombs of Paris could be a better alternative for an adventure.
These morbidly fascinating catacombs of the capital are sure to evoke some emotions. Be it fear, grief, or mere interest, you're sure to remember what you saw.
Cruise Along The Seine
Perhaps you're too tired for any of the other options mentioned for this day. 3 days in Paris can take its toll on your body. In this case, why not have a relaxing cruise along the Seine River?
It's sure to have you well rested for the remainder of the night, and it could provide some stunning views at any time of day.
Don't miss out! The Paris Pass gives you access to a 1-hour Seine Cruise!
Quench Your Thirst At Le Galibot
Both a bar and restaurant, Le Galibot presents a thoroughly French experience.
With food inspired by Northern French cuisine and a classic bar aesthetic, Le Galibot is the perfect spot for you to finish your last day and hang out with the locals.
Sip A Final Drink At Jacques' Bar
Located at the top of the Hoxton Hotel is a classy yet cozy little cocktail bar.
With an extensive and creative drinks menu, you can reminisce about your last day in Paris with a lovely drink and intimate company. If Jacques' Bar isn't quite your vibe, then visit any of the other pleasant cocktail parlors nearby.
Summary What to Do in Paris in 3 Days
Be sure to bookmark this page so you can reference back to it while planning your vacation.
Day 1:
Day 2:
Day 3:
Have More Days in Paris?
Here's what you can do:
Visit the Disneyland Paris
Spend more time at the Luxembourg Gardens
Go on a dinner cruise in the Seine
Watch the sunset from the Eiffel Tower
Visit the Pere Lachaise Cemetery to see the burial place of several famous people, like Oscar Wilde and Jim Morrison
Hang around the Canal Saint-Martin area for a local feeling
Get lost at the National Museum of Modern Art
Alternatively, you can check out our other itineraries: one day in Paris, 2 days in Paris, and 4 days in Paris!
Map of 3 Days in Paris
Here's a free, interactive map with the itinerary above that you're welcome to download for personal use. Enjoy!
Final Thoughts
This guide outlines what 3 days in Paris could look like. It's quite the ordeal to work out a 3-day itinerary for Paris, and it takes a lot of personal consideration regarding your own needs and interests.
Knowing this, use this to supplement your knowledge about yourself and the city already, and we're sure that you'll have the most incredible time in the city of lights. Profitez bien!
Don't Forget About Travel Insurance!
Before you leave for France, make sure you have a valid travel insurance policy because accidents happen on the road. We have been paying for Safety Wing travel insurance for a little over a year now, and we happily recommend them to our family and friends.
If you get sick, injured, or have your stuff stolen, you'll be happy to have the ability to pay for your medical bills or replace what was stolen.
Because, for just a couple of dollars a day (depending on how long your policy is for), you're going to get lots of things covered. Be smart and get travel insurance.