So, you are taking a trip to Paris in October, how exhilarating!
Its quaint cobbled streets, beautiful architecture, museums, monuments, and gorgeous gardens make Paris magical.
The city offers exquisite fashion, fabulous art, and delectable cuisine to tourists hungry for the taste of Parisian culture. But what does Paris offer the October visitor?
Paris in October is the changing of the season. The trees are turning from green into the magical colors of autumn.
Tourist season is slower, offering visitors less crowded spaces and cheaper airfares. Paris in October is delightful and gives visitors plenty of marvelous tourist attractions.
Although it's cooler in October, there is still much to see in the beautiful City of Lights. This article discusses the expected weather, what to pack for your visit, and recommends a lovely place to stay.
We give you some fabulous attractions and special activities to visit during your trip. Come along on this delightful journey and see why you should visit captivating Paris in October!
Pssst: If you're still not sure when to go, here's a handy guide on the best time to go to Paris by month and season.
Why You Must Visit Paris In October
There are so many beautiful reasons to come to Paris in October! Here is why we recommend you visit Paris in the fall.
The Color Of Paris In October
October in Paris is a sea of autumn colors. Golden yellow, oranges, reds, russet browns, and deep auburn, a feast for the eye! Everywhere you look, the trees transform from green to these magnificent colors.
The Cost Factor Of Paris In October
A great incentive to visit Paris in October is shoulder season for tourism. This means prices for flights are cheaper throughout the month. There may be some special package deals on accommodation so search the internet for more information.
There Is Less Buzz In Paris In October
In October, there are fewer tourists in the city. The cafés, restaurants, and attractions still have the same fantastic vibe; it's just a bit quieter without the busy buzz of too many visitors. Less crowded stores and shorter waiting lines are an added bonus for visiting Paris in October.
Where To Stay In Paris In October
The best hotels for honeymooners, groups of friends, and families can be found all over the city. Most of these venues are within walkable distance of Paris's attractions.
Or if not, a reliable metro system or taxi is always available to transport you to your destination. One of the best places to stay in we recommend is the Mom'Art Hotel.
The Mom'Art Hotel
Stay at the beautiful Mom'Art Hotel, situated in the heart of Montmartre, and is an excellent hotel for couples, too. This beautiful hotel is family-run and offers you a friendly and comfortable stay.
This hotel is in one of the best locations in Paris and is close to transport facilities and tourist attractions. You can check in from 15:00 to 23:59 every day.
Choose the cozy double room with spa access where a comfy king-size bed awaits you. The room offers a private bathroom, a flat-screen TV, a minibar, a coffee machine, and free WiFi. Other available rooms are a twin or quadruple and a suite. This hotel will accommodate children (under the age of 12). Adding a bed and a crib to the room can be arranged.
Enjoy a good morning buffet or continental breakfast, part of the accommodation package. Tuck into delicious lunches and suppers created by the in-house-chef at the a la carte restaurant. Enjoy your meals on the warm and cozy heated patio. Sip on a spritz drink in the comfortable on-site bar and lounge area in the evenings.
Soak up the October sun on the terrace, or for the more active, you can keep up your gym routine in the well-equipped fitness center. Ease the everyday tension with a sauna, jacuzzi, or massage in the luxurious wellness center.
Mom'Art Hotel is close to Orly Airport (10.7 miles), and Charles De Gaulle Airport is 13.3 miles away. Taxis are available to travel to the airport, and the hotel offers an airport shuttle at a surcharge.
Take a ride on the train at the Gare du Nord (0.6 miles) for your sightseeing excursions that are not within walking distance.
Click here to check availability
Visit the following tourist attractions that are close to the hotel:
Montmartre Streets (1 mile)
Moulin Rouge (1 mile)
Passage des Panoramas (1.6 miles)
The Louvre Museum (2.6 miles) (timed entrance here)
Tuileries Gardens (2.6 miles)
Les Caves Du Louvre Wine Cellar (3.2 miles)
Eiffel Tower (3.8 miles) (skip-the-line ticket here)
Other places of interest which can be reached by train:
Paris Weather In October
Although autumn has just started at the end of September, the weather is mild but still pleasant.
The days are shorter, but there is enough sunshine to enjoy the outings. The evenings are cool, but you can still enjoy the City of Light at night, which is magnificent and full of surprises.
You can expect average temperatures of a maximum of 56°F in the day, falling to a minimum of 35°F at night.
As for the rain, you can expect light showers on about 12 out of the 31 days in October. You can also expect a light breeze.
Minimum temperature: 44°F
Maximum temperature: 56°F
Average rainfall: 1.7 inches
Average sunshine hours: Roughly 5 hours
What To Wear In Paris In October
Paris is the world's fashion capital, so blend in by wearing stylish but comfortable clothes.
What To Do In Paris In October
Here are just a few attractions to see in Paris during October.
1. Celebrate Halloween At Disneyland Paris
Spooky monsters, pumpkin lanterns, spider webs, and eerie music! These Halloween images will greet you when you visit Disney Village Paris.
The shows and parades will delight one and all. This event takes place every 31st of October and is an excellent reason to visit Paris in the fall.
Besides, Disneyland is the perfect day trip from Paris.
2. Snap Photos Of The Fall Foliage
Autumn in Paris is magical, and the changing colors of the beautiful trees can only be seen in October.
The best place to experience and capture this natural beauty is visiting the Jardin des Tuileries.
Gorgeous trees planted in elegant lines along numerous pathways will lead you to wonderful architectural buildings that are so much a part of the enchantment of Paris.
There are many parks in this beautiful city to sit, relax and admire the view. Buy some wine, cheese, bread, and delectable fruit, and bring a picnic blanket.
October is still warm enough to sit on the grass, sip your wine and take beautiful pictures for your memory book.
3. Join A Wine Tasting Experience
You cannot leave Paris without visiting a winery to taste the fabulous Paris wines.
Visit the Les Caves Du Louvre, an authentic wine cellar situated near the Louvre. This 18th-century gem was once a royal wine cellar of King Louis XV.
There are different guided tours on offer. Take part in tasting the superb wines and enjoy the tour of the journey of wine from vine to bottle.
Good to know: this wine tasting experience is included in the Paris Pass. This pass offers discounts on a number of attractions in the city. Click here to buy yours!
4. Stroll the Streets of Montmartre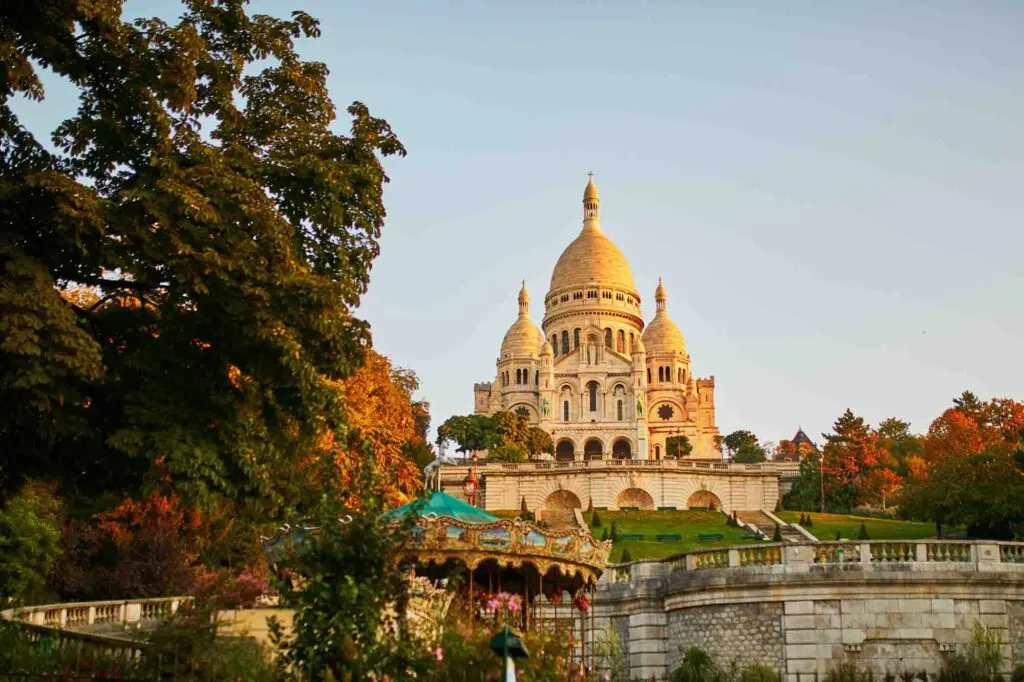 Strolling the cobbled streets of Montmartre, you will be thrilled with the beautiful views from the top of the small hill. There are many cafés, bistros, and shops in the charming 18th arrondissement.
Browse through the excellent paintings of the street artists and stop to listen to the musicians and street performers that frequent the area.
5. Visit A Parisian Museum
Take a trip to one of the most iconic museums in the world, the Louvre. We recommend a guided tour to see all the great works in this museum.
See the Mona Lisa, the Venus de Milo, and other impressive paintings of famous artists that adorn the walls. Book your tickets online to save time and spend a few hours at this incredible place.
6. Explore The Covered Passages
Enjoy a few hours of just strolling through these charming, covered passages that date back to the 18th and 19th centuries.
These whimsical walkways are decorated with beautiful stained-glass windows, steel frames, and ornate décor. You will find bookstores and quaint shops with lovely treasures to buy as keepsakes.
Look up the Galerie Vivienne, Passage du Grand Cerf, Passage des Panoramas or Passage Jouffroy. These are some covered passages to explore on a rainy October day in Paris.
7. Enjoy Local Wine At The Grape Harvest
Visit the Grape Harvest Festival in Montmartre, which usually occurs at the beginning of October. This is the only place in the city where the grapes are still grown.
This fantastic festival has a lot to offer the tourists. You can taste the wine and various foods, participate in dancing, see exhibitions, and watch a spectacular fireworks display.
8. See A Cabaret Show
A not to be missed opportunity is to see the world-famous and best of Parisian Cabaret, the Moulin Rouge.
See this exciting cabaret performance that dates back to 1889. The show has been modernized over the years.
Be mesmerized by the 80 stunning performers who will dance and sing for you in spectacular and glitzy costumes.
There are options to see different shows, but we recommend one of the dinner and show options.
9. Go On A Self-Guided Walking Tour
Take a long leisurely walk and discover some of the magic of Paris in October at your own pace.
There are many streets that you can walk along, and it will lead you to places of interest. We recommend walking along the Seine River, starting at the Eiffel Tower–the greatest Paris landmark.
A wide pedestrian path stretches for miles along the river with lawns, playgrounds, benches, and lovely tree-lined gardens.
You will pass museums, bridges, carousels, the exact replica of the torch of the Statue of Liberty, and many other places of interest. Your walk will end at the Musée d'Orsay.
Here you can enjoy a meal or refreshment at the restaurant or café. An outdoor terrace overlooks the Seine River and the Tuileries Garden. The train station is at this destination so you can travel back to your hotel.
10. Sip Coffee And People Watch
What a delightful way to relax after much sightseeing. Sipping coffee and people watching in a Paris café!
Enjoy a warm October morning by having delicious alongè (americano) coffee and a croissant at Le Progrès, Enfants-Rouges.
Or lunch on a delicious quiche as you watch the people go by at Le Nemours Café and Brasserie at Palais-Royal. After a show or dancing, end the autumn evening with a café (espresso) at Bar du Marché, Saint-Germain-des-Prés.
Events In Paris In October
You should not miss these events when visiting Paris in October.
A major cultural event in Paris, the contemporary all-night art festival stretches across the city streets and monuments. This annual event is a complimentary invitation to see the fantastic works of art by local and international artists. Don't miss this beautiful opportunity to see spectacular sculptures and street art.
When: October 20th to 23rd, 2022
This is a particular time when tourists come to Paris every fall to see the works of more than 200 art galleries. Twenty countries participate in this exhibition, showcasing their country's best talents. Make sure to visit the Grand Palais éphémère to celebrate these outstanding artists.
When: October 21st to 30th, 2022
This fantastic fair is held over ten days in the expo Porte de Versailles, the largest exhibition complex in Europe. You can see events and interactive workshops on travel, beauty, cooking, housing, and the latest sports and green living trends. There is something for everyone!
Be sure to visit this fantastic chocolate expo at the fair at Porte de Versailles. Excellent exhibitions of chocolate making from world-renowned chocolatiers and chefs, a chocolate fashion show, and prestigious competitions. This is the biggest global event dedicated to chocolate and cocoa. A must-see!
Things To Note When Travelling To Paris In October
Here are a few considerations when visiting Paris in October:
Early booking is essential, especially the better value hotels, which fill up quickly.
If you ever dreamed of staying in a hotel with a view of the Eiffel Tower, not it's the time, price-wise!
The weather will be cooler in October as Paris is in its autumn season, so you will need to pack in some warmer clothes.
Light rain showers could occur during October so bring along a sturdy umbrella.
Final Thoughts About Paris in October
It's autumn in Paris in October, and the colors of the trees create a beautiful golden glow over the city. It's shoulder season for tourists, so the city has fewer visitors and cheaper airfares.
The weather in October is a little cooler with colder nights, and some rain can be expected. Pack in some warm clothes, a trench coat and don't forget to bring an umbrella.
There is still plenty to do during October. Art festivals, cabaret shows, museum outings, and wine tasting are just a few activities and attractions Paris offers during the autumn.
Stay at the lovely Mom'Art Hotel, stroll along the banks of the Seine River, and sip coffee in Parisian sidewalk cafés. Rest assured, October is a magical time to visit Paris!
Don't Forget About Travel Insurance!
Before you leave for France, make sure you have a valid travel insurance policy because accidents happen on the road. We have been paying for Safety Wing travel insurance for a little over a year now, and we happily recommend them to our family and friends.
If you get sick, injured, or have your stuff stolen, you'll be happy to have the ability to pay for your medical bills or replace what was stolen.
Because, for just a couple of dollars a day (depending on how long your policy is for), you're going to get lots of things covered. Be smart and get travel insurance.