Planning a trip to Paris? In this guide, we will show you exactly how!
More often than not, we receive messages from readers who have no idea how to begin their Paris vacation planning. We get that.
There is so much information on the web that sometimes it can be all so overwhelming. Worry not – we're here to help you!
Planning a trip to Paris, the City of Love—or is it the City of Light?—doesn't have to be stressful. And because of that, we wrote this step-by-step guide packed with Paris tips so that you can have a hassle-free trip!
Are you dreaming of seeing the Eiffel Tower, Notre Dame, and the Louvre Museum? With these tips, you can plan the perfect itinerary!
How to plan a trip to Paris
Are you traveling to Paris soon? We hope this guide on how to plan a trip to Paris in only 11 steps will be useful to you!
Step 1: Best time to visit Paris
While planning a trip to Paris, it is essential to pick the time of the year that best suits your interests.
Are you interested in sipping coffee in the best cafés in Paris, or would you prefer to visit the many Parisian museums?
Is this your first time in Paris, and you want to see the main attractions, or do you want to discover some hidden gems in Paris?
Generally speaking, summertime and December are the crowdest months, so you should expect to stand in line for quite some time when visiting the most popular places, such as the Eiffel Tower.
For us, the best time to visit Paris is from April to June and October to early November. During these months, the weather is enjoyable, and crowds are smaller than during summer.
Step 2: Book your flights
After you've decided when your Paris vacation will take place, it is time to book your flights!
More often than not, airline companies send good deals on their newsletters, so be sure to sign up for the airline company's newsletter of your preference.
However, we recommend you check the Parisian airline Air France since they have many flights to Paris every day.
You will also want to book a flight to Paris-Charles de Gaulle airport, which is the closest international airport to the city center.
Pro tips: Use Google Flights to browse the best dates and check the best flight/prices. Once you've chosen your flights, head over to the airline's website and make your purchase for those dates – that's usually cheaper.
Step 3: Book your accommodation
After you've bought your flight tickets, it is time to book your hotel in Paris!
You'll want to pick a place near the metro so that you can easily travel around the city. The metro in Paris is very extensive and essential for getting around the city.
Beyond that, you will obviously want to book a hotel that fits your budget – Paris is an expensive place.
While the city has many 5-star hotels, you can still find good hotels that won't break the bank.
And to help you with that, we wrote a complete guide on where to stay in Paris for every budget. This guide includes the best arrondissements around the town, and this is one the best hotels with a view of the Eiffel Tower!
A gold tip to save money while booking your accommodation is to plan your trip to Paris in the shoulder season and book it in advance. It works like a charm.
Step 4: Plan your Paris itinerary
Flights and accommodation are booked! Now it is time to plan your Paris itinerary – so exciting!
First, write down a list of things to do in Paris. Jot down all the landmarks, attractions, Parisian gardens, and streets you simply can't leave Paris without seeing.
Then, consider how many days you have in the city and check if that's a realistic plan. Will you have time to go on a day trip to the Palace of Versailles, for example?
Alternatively, you can get some inspiration from one of our itineraries. We have guides for one day in Paris, 2 days in Paris, 3 days in Paris, 4 days in Paris, and 5 days in Paris.
These itineraries are very well-laid out and ready to be used!
Step 5: Consider taking some tours in Paris
A great way to get to know a place better and deepen your understanding of another culture is by taking a guided tour.
Most Paris tours are focused on architecture and history, but there are some pretty good guided tours and activities for food experiences, wine tastings, and street art.
Decide what you would like to know better and look for a well-reviewed activity.
We often use GetYourGuide to search for tours in Paris because it is a reliable website with a "lowest price" guarantee – we recommend them!
More often than not, GetYourGuide sells skip-the-line tickets for the most visited attractions in Paris, and that's priceless!
After all, Paris is the 2nd most visited European city!
Click here to open the GetYourGuide website (then click Ctrl+D/Cmd+D to save it for later)
Step 6: Budget for your trip to Paris
Now that you've booked everything you could from the comfort of your home, it's time to budget for your trip to Paris – that's an absolute must!
It is not a secret that Paris is an expensive city. Therefore, budgeting and planning ahead will give you a pretty good idea of what you can spend in the city.
Think of food, drinks, souvenirs (shopping in Paris is a must!), public transportation, and last-minute activities. For instance, the Paris Pass (which includes the Museum Pass and Attractions Pass) is an excellent way to save some money and visit the must-see attractions in town.
We wrote a handy guide with some averages and estimates of how much a trip to Paris costs. Feel free to use it as a reference.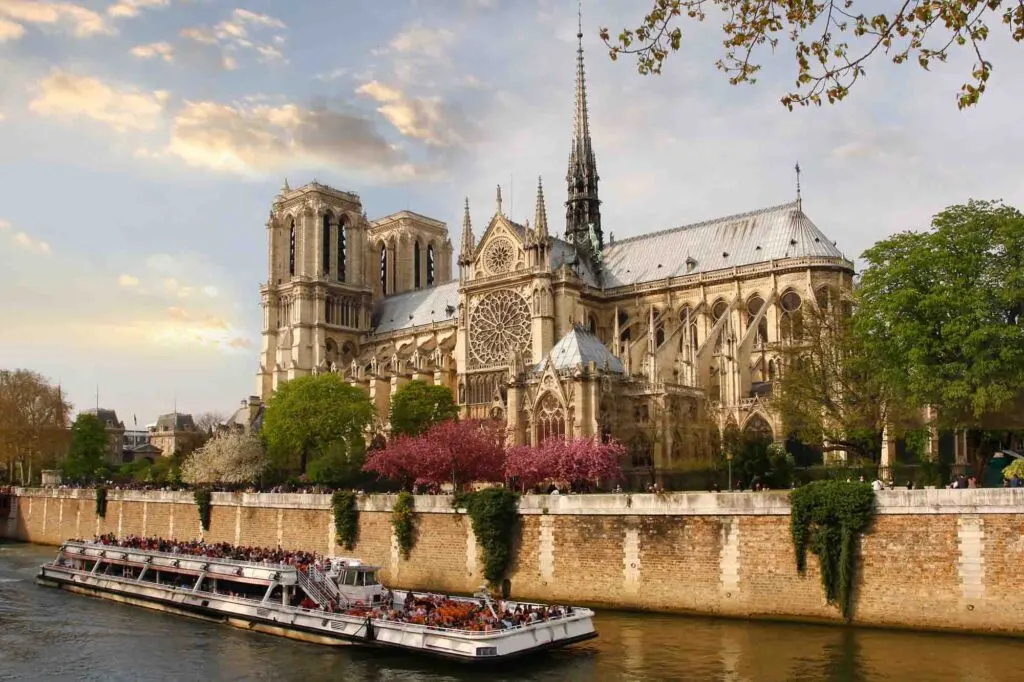 Step 7: Buy travel insurance for your trip to Paris
You have booked and planned most of your Paris vacation, but there is a travel essential you simply can't travel without – travel insurance.
We can't predict when an accident or setback will happen. We can't predict when our belongings will be stolen or when our flight will be canceled.
But we can take precautions that will avoid a lot of headaches and save us money!
For a couple of dollars a day, you have coverage for many situations that occur every day worldwide.
And the best part is that you're insured from the moment you receive your policy number.
Say you buy it today for a trip that will happen in 6 months, but just before your vacation, you got sick, and your doctor said you shouldn't travel like that.
Travel insurance will cover most – if not all – the costs you can't reimburse from flight tickets to accommodation.
We use Safety Wing, and we are very happy with them. We have never had a problem making a claim with this company.
That's also why we happily recommend them to our friends and family.
Step 8: While planning a trip to Paris, be sure to write your packing list down
It's almost time for your trip to Paris, and you need to write down everything you will need so that you have enough time to buy them.
Obviously, your Paris packing list will depend on the season you are traveling.
Say you're going to Paris in August, then you will want to pack summer clothes, sunglasses, and a hat.
Also, a reusable water bottle will be convenient!
If you're traveling to Paris in January, you might want to bring scarves, beanies, gloves, and a thick outer layer.
More often than not, friends ask us what to wear in Paris because they're intimidated by the elegant atmosphere the city has.
Truth be told, that sweatshirt and yoga pants won't cut it. Still, you don't need to pack for a cocktail party either.
To help you with that, we wrote this guide, which has excellent tips on what to wear in Paris.
Step 9: Learn some French words
There is nothing better than traveling to a place you can read street signs and understand basic phrases.
Here are some essential French words and sentences for you:
Bonjour – Hello/Good morning/Good afternoon
Bonsoir – Hello/Good evening
Ça va? – How are you?
Très bien, merci – Very good, thank you
Merci – Thank you
Oui – Yes
Non – No
Excusez-moi – Excuse me
S'il vous plaît – Please
Il ñ'y a pas de quoi – You're welcome
Désolé – Sorry
Au revoir – Goodbye
Parlez vous anglais? – Do you speak English?
Je ne comprends pas – I don't understand
Je ne sais pas – I don't know
Step 10: Plan your arrival in Paris
Planning your arrival in Paris is one of the essential steps of your planning process – but many tourists forget about it!
Keep in mind that you will spend hours on the airplane and all you will be able to think about is dropping your suitcase in the hotel and freshen up – maybe eat something too?
So make things easier for yourself and book ahead, or at least search for how to get to Paris from the airport.
The best options are by train and shuttle bus in this order. The RER B train is cheap and takes about 50 minutes to reach the city center.
On the other hand, the bus is a little more expensive and takes approximately 70 minutes to reach the city center.
There is a faster service called Le Bus Direct, and it costs 17 euros.
If you prefer to take a cab, taxis charge a flat rate of 60 euros.
Also, have a cheat sheet with the name, address, and phone number of your accommodation. That will be handy!
Step 11: Enjoy your Paris trip!
After so much planning, it is time to enjoy your much-deserved trip to Paris finally!
Bring your itinerary along, but also allow yourself some free time to wander through the streets of this romantic city!
You won't regret it!
Things to do & to bring to Paris
Bank notice – don't forget to give your bank a notice you'll be using your cards abroad!
Copies – always make copies of your documents, including passport, and carry them with you instead of the original documents. This way, if someone pickpockets you, your passport/documents are safe!
Travel insurance policy + phone number – write both numbers on a paper and save it on your phone so that you can still reach the insurance in the worst-case scenario.
Local emergency number – always good to know: 112
Big mistakes to avoid when planning a trip to Paris
Doing too much in one trip – Paris isn't going anywhere. Trying to visit all attractions in one trip will overwhelm you.
Renting a car to drive in Paris – There is absolutely no need to rent a car to drive in Paris. The metro works just fine, plus, the traffic is chaotic.
Not buying the skip-the-line ticket for the main attractions – Can't stress this enough! It will save you precious time during your trip!
Completely writing off other French cities – We're absolutely in love with Paris, but we can't deny France is filled with many quaint towns and castles. At least consider going on a day trip from Paris!
Only traveling to Paris in the summer – Paris gets jam-packed during summer, so if you can, plan your trip to Paris during the shoulder season!
Was this guide on how to plan a trip to Paris useful? Then save it to your Pinterest travel board or share it with a friend who might find it helpful too!
Don't Forget About Travel Insurance!
Before you leave for France, make sure you have a valid travel insurance policy because accidents happen on the road. We have been paying for Safety Wing travel insurance for a little over a year now, and we happily recommend them to our family and friends.
If you get sick, injured, or have your stuff stolen, you'll be happy to have the ability to pay for your medical bills or replace what was stolen.
Because, for just a couple of dollars a day (depending on how long your policy is for), you're going to get lots of things covered. Be smart and get travel insurance.