Romantic and charming, the City of Light is among the most visited capitals in Europe, and we'll show you how to enjoy 4 days in Paris.
"Paris est toujours une bonne idee.", said Audrey Hepburn in the movie Sabrina. She wasn't wrong. Paris is a unique and inspiring place where something so simple as having a cup of coffee while people-watching feels enough.
Still, this Paris itinerary will take you to all the places you must visit on your first trip to the city.
Four days in Paris are by no means enough to feel the real local vibes and atmosphere as there are lots and lots of things to do in Paris, but you gotta start somewhere, right?
Moreover, Paris is a must for every person traveling to Europe as the city is jam-packed with exciting attractions – excellent museums, striking architecture, delicious wine, and wonderful food are to be found almost in every corner. And we're not exaggerating.
4 Days in Paris Itinerary
Well, if you're going to spend 4 days in Paris, this guide is exactly what you need to have a fantastic time in the French capital. We've listed a bunch of information to make your planning easy peasy.
Here you'll find: a few tips for visiting Paris, our take on the Paris Pass, where to stay in Paris, the best time to go, how to get to the city and around it, an interactive map with all locations here mentioned divided by day (you're welcome), day trips, and your Paris itinerary, of course.
Literally everything you need to get the most out of your trip to Paris.
Read next: 10 Reasons Why Paris Is Always a Good Idea
Your Perfect Paris Itinerary
This itinerary considers that you have four full days in Paris and maybe an extra day to visit nearby cities and towns, such as Versailles. But if for any reason you're short on time, check out our guides for one day in Paris, 2 days in Paris, 3 days in Paris, and 5 days in Paris.
Also, know that Paris is a big city and as said packed with people and great attractions.
Therefore we'll tell you our secret to making the most out of your 4 days in Paris itinerary: Paris Pass.
With it, we had fast-track entry to the main museums and free entrance to lots of places. Almost all of them, to be honest. But we'll talk about it later.
Want to know what to do in Paris in 4 days? Read on!
Travel Tips for Your 4 Days in Paris Itinerary
Be sure to wear comfortable shoes because you will walk a lot.
Consider purchasing a money belt as Paris has lots of pickpockets.
Enjoy plenty of gratuities in museums and churches if you're a European citizen and under 26 years old or a Europe long-term resident (over three months).
Some museums have discounts for those who are between 18-25 years old independent of their country of residence or nationality. Always check that.
Consider purchasing a Paris Pass to have free access to 60 museums and galleries and some other discounts/ tours. We'll explain more about it below.
If you don't need the Paris Pass, be sure to buy your skip-the-line tickets in advance because queues in Paris are no joke. We'll indicate those tickets below.
Where to Stay in Paris
You might be wondering which arrondissement is the best to stay in so you can have easy access to most attractions in Paris.
Well, we'd say from the 3rd/4th arrondissements (Le Marais) to the 7th arrondissement is where you can find the hotels with the best locations, but Montmartre is also a delightful area.
We will briefly talk about our favorite hotels in Paris below, but you might want to read our detailed guide to where to stay in Paris.
It's not a secret that accommodation in Paris can be costly. Still, the Regyn's Montmartre is a decent and affordable option in the 18th arrondissement. Within walking distance to the Sacre-Coeur, to a supermarket, ATM, and the metro station, the area couldn't be better at their price. Not only that, but some rooms offer a unique view of Paris and the Eiffel Tower. Click here to see the price and read more reviews about Regyn's Montmartre
If you want a hotel closer to the city center and with a little more comfort than the latter, check out the Hotel Le Compostelle in the 4th arrondissement. The location is also perfect: near the Hotel de Ville and within walking distance to the Notre Dame Cathedral. This art nouveau hotel is surrounded by restaurants (and some good bookstores too). All rooms include a TV, hairdryer, free WiFi, and wardrobe. Beyond that, this area is safe for female travelers. Click here to see the price and read more reviews about the Hotel Le Compostelle
Is the Paris Pass Worth It?
We think it's fair to say that Paris is one of the most artistry cities in Europe, let alone in the world. There are many museums for all types of art lovers and curious people.
So if you're spending 4 days in Paris, chances are you're going to visit lots of places and could use a skip-the-line ticket for these museums and churches. It saves a ton of time!
Oh, if you're not a European citizen under 26 years old, you will have to pay the full price for all attractions, and that's expensive, especially if you're staying 4 days in Paris and not only 1 or 2 days.
Besides, with the Paris Pass, you have a one-day ticket to a hop-on-hop-off bus to get around the city (so it's a Paris Museum Pass + Attractions Pass + one-day hop-on-hop-off bus).
No need to walk long distances or spend unnecessary money on many single tickets for attractions.
Therefore, in our honest opinion, the Paris Pass is a great option to save time and money in a city like Paris.
It wouldn't be worth it if you like to travel really slowly and don't mind missing most of the major attractions in the city, though.
With the Paris Pass, you get:
Skip-the-line tickets for the Louvre, Orangerie, and Musée d'Orsay, and free admission to over 60 museums, monuments, and galleries, such as the Palace of Versailles and Arc de Triomphe.
Go on a river cruise, take a guided tour of Montmartre, the Opera Garnier, and go wine tasting.
Discount for Lido, Hop-on Hop-off bus, Montparnasse, and more.
Click here to see the latest price and read more about the Paris Pass.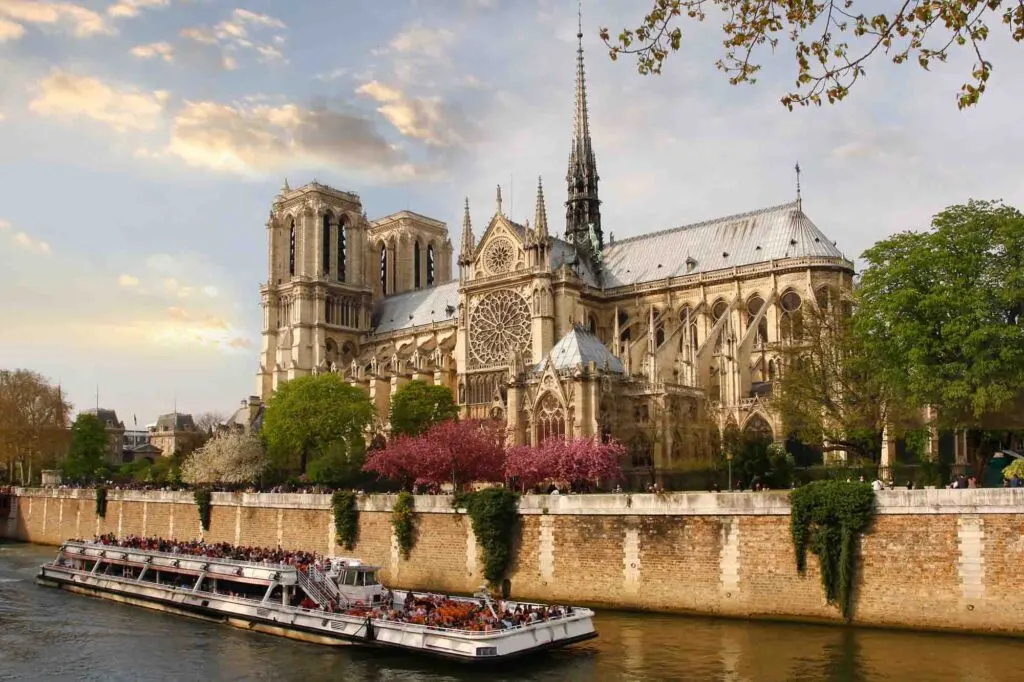 Read next: Inspiring Quotes About Paris
How to Get to Paris to Begin Your 4 days in Paris Itinerary
If you're arriving in Paris by plane, chances are you're arriving at the Charles de Gaulle Airport (CDG) or Orly Airport (ORY).
The fastest way to get to the city center from Charles de Gaulle is by train. Take the RER line b. It's a 35-minute trip, and it costs about €11.40.
If you arrive at Orly, take the RER line C labeled GOTA or NORA. It's a 35-minute trip, and it costs approximately €6.40.
How to Get Around Paris During Your Four Days in Paris Itinerary
Metro is hands down the best way to get around Paris. Don't underestimate the size of the city, especially if you're spending four days in Paris because you'll walk a lot, even taking the metro.
After the first use of your metro ticket, this one will be valid for 1:30 hours, which means you can transfer from one metro line to another for free in that period (without exiting the station). The Paris Travel ticket costs about €5.80 a day, and you can buy it at any station.
Things to Watch Out in Paris
Such a jam-packed city, Paris is also jam-packed with pickpockets. No reason to fear, though. Just be careful in the streets as you would typically be in any town, and you should be fine.
The Eiffel Tower, Sacré-Cœur, and Louvre, all these attractions are where most tourists are and also where pickpockets act.
Remember to keep your belongings in sight at all times and close to your body.
Some Paris Tours Worth Seeing
Here are some interesting tours to take while in Paris so you can learn about its history, a landmark, or have access to incredible viewpoints.
Best Time to Do this 4 Day Paris Itinerary
January-February: Visiting Paris in the winter is perfect to avoid long queues as tourism slows down and kids are at school. Also, a great chance to find good deals on airfare and hotel prices. The weather is chilly and damp.
March-May: Visiting Paris in the spring gives you the best chances of good weather and fewer crowds than in the high season. We would say that May is the best month to visit Paris in the first semester, bus Paris in March is also lovely.
June-mid-September: Visiting Paris in the summer is tricky. It's high season, hotels and airfare are expensive, and there are lots of crowds. But, the weather is awesome.
Mid-September-November: Visiting Paris in the fall offers you good chances of decent weather and fewer crowds. Your best bet is late September for good weather and fewer tourists.
December: The first half of the month is much less crowded than the second half. The weather is chilly and you can visit lots of Christmas Markets all month long. Still, Christmas in Paris is when crowds pick back up again, so keep that in mind.
Four Days in Paris Itinerary – Day 1
As we said, we've divided this guide into a 4-day itinerary for Paris. Feel free to invert the days or tailor this guide to your preferences.
Climb the Eiffel Tower
Gustave Eiffel had no idea how famous his last name would become when he designed and built the most recognizable tower in the world. Over 6 MILLION people ascend this structure every year to see Paris from another angle.
Inspired by the design of the Latting Observatory in New York City, the Eiffel Tower in Champ de Mars was built to celebrate the 100th anniversary of the French Revolution.
That's why there is no better way to start your Paris itinerary than on Eiffel Tower. The 1063-foot-tall tower has three levels that you can reach by stairs and elevator, except the last one. We will explain:
The first level has a glass floor, and you can ascend to it by either a staircase or elevator. On the second floor, you can find a pricey 5-star Michelin restaurant (also reached either by stairs or elevator).
To achieve the summit, you must take the elevator. While on the top floor, you will have one of the most breathtaking views over Paris. Try to spot the Louvre, Tuileries Garden, and the Sacré-Cœur Basilica.
Fun fact: The Eiffel Tower is the most-visited paid monument in the world.
Admission: The ticket price to ascend this iconic attraction varies upon how you go up in the tower:

Staircase to the 2nd floor plus the elevator to reach the third-floor costs around €20
Lift to the summit costs €27 – if you can, choose the earliest time slot to avoid the crowds at the Eiffel Tower
Don't miss out! Book your skip-the-line tickets plus a guided tour.
It's important to note that you can stop at intermediate floors, regardless of the ticket you buy.
Opening hours:

Lift: 9.30 am-10.45 pm | Stairs: 9.30 am-10.45 pm.
After you have ascended the tower, stroll around the Champ de Mars and Trocadero Gardens to take some good pictures of the tower. The view of the Eiffel Tower from across the river is astonishing. The walk to Rue Cler is also very pretty.
Visit Les Invalides
This 17th-century complex was first built to house a hospital for disabled war veterans.
Today, it is home to many other institutions and museums of the army, such as the Musee de l'Armee and the Dome des Invalides, which are the Army Museum and the church where Napoleon's tomb is, respectively.
So if you want to see the grave of one of the most famous men in the Western World, this is your chance. In addition, many other national heroes are also buried here. It's a Frech history class!
Pssst: The view of Les Invalides from the Alexandre III Bridge is impressive.
Admission: 14 euros for the ticket on their website. Free entrance with the Paris Pass.
Opening hours Dome Church: Every day 10 am – 6 pm.
Lunchtime
If you want to have a wonderful lunch, we recommend stopping by Cosi Restaurant at Saint Germain des Pres neighborhood. The food here is affordable and delicious. The staff is friendly, and you might find yourself going back to it for dinner.
Stop by the Church of Saint-Sulpice
Have you ever read (or watched) the novel The Da Vinci Code? In this fiction, they show the Church of Saint-Sulpice (in French: Eglise St-Sulpice), among other sites and art pieces in Paris.
Note that Dan Brown changed the meaning of all elements in the church to adapt to the story.
The Catholic Church of Saint-Sulpice has nothing to do with paganism, nor the Priory of Sion. Still, it is a beautiful place to visit in Paris. The interior is highly detailed, and it has a somber look. We like it.
Admission: Free entrance.
Opening hours: Every day 8 am – 8 pm
Relax at Luxembourg Gardens
These 17th-century gardens are split into French gardens and English gardens, which are divided by a large pretty pond.
In addition, there are lots of things to see in this beautiful garden. You can find other interesting things here, such as greenhouses with a collection of stunning orchids and a rose garden, a farm with an array of rare apple and pear trees, and the Medici Fountain.
You don't have to visit all of these areas inside the garden, but just so you know a little more about it. 😉
Nevertheless, Luxembourg Garden is well-taken care of, and if you were wondering what to see in Paris in 4 days, this is a pleasant place to relax a bit. In the summer months, locals enjoy sitting in the Luxembourg Gardens, picnicking with friends, playing chess, tennis, or anything.
Admission: Free entrance
Opening hours: Every day 7.30 am -9.30 pm in the summer and 8.15 am – 4.30 pm in the winter.
Admire the Pantheon of Paris
The Pantheon in the Latin Quarter is a striking building worth visiting if you're spending 4 days in Paris. Only those considered of some influence in the country's identity are buried in the Pantheon.
Notable people are buried here, such as Rousseau, Voltaire, Alexandre Dumas, and Victor Hugo. The crypt also accommodates an interesting permanent exposition about their lives.
Architecture-wise, the Pantheon is genuinely breathtaking. You'll feel tiny once you walk in. The tall columns and huge statues on pedestals make you feel like you're walking into a remarkable temple.
Take a Glimpse at the Saint-Etienne-du-Mont Church
Just a few steps from the Pantheon in the Latin Quarter, you'll find Saint-Etienne-du-Mont, a beautiful gothic church.
The first chapel built on this ground was in the 6th-century. As the centuries passed, they built a new church with a new bell tower and many other elements to make it a gorgeous, gothic French church.
Saint-Etienne was the patron saint of Paris.
Fun fact: The rood screen was carved in 1545.
Admission: Free entrance.
Opening hours: Tuesday-Friday 8 am – 6.45 pm. It might differ in school holidays and weekends.
Visit the Catacombs of Paris During Your 4 Days in Paris
Over 6 million people were brought to this ossuary from many cemeteries across Paris at the end of the 18th-century.
The reason for this is that graves represented a sanitary risk to the population. So throughout two years, all bones of millions of Parisians were transferred to this spot.
Nowadays, this ossuary is a creepy and yet interesting attraction to visit in Paris. You can learn more about it in the 45-minute long tour in the catacombs.
Mind you, only 200 people can visit it at the same time, so be sure to book it in advance.
Pro tip: Be sure to bring a coat even if you're traveling to Paris during the summer. The temperature in the catacombs drops to 57°F.
Opening hours: Closed on Mondays. Tuesday-Sunday 9.45 am – 8.30 pm.
Dinner time
Have dinner in an affordable and typical French restaurant at the 5th arrondissement. Besides having excellent food, Bouillon Racine also has a great selection of wines. Be sure to try their duck confit and creme brulee.
What to Do in Paris in 4 Days – Day 2
Visit the Majestic Louvre Museum
Louvre is the world's largest museum and one of the most beautiful ones, in our opinion. It is also the #2 landmark in Paris, meaning it gets packed with tourists, so you should consider buying a skip-the-line ticket.
Located in the 1st arrondissement, the Louvre holds thousands of pieces of art of the Western world from the medieval period to the 19th-century. It also showcases art pieces from the Islamic and the Ancient World.
Some of the highlights of the exposition are Da Vinci's Mona Lisa, Antioch's Venus de Milo, Caravaggio's Death of the Virgin, Pythokritos' Winged Victory, and the Law Code of Hammurabi.
Lunchtime
After seeing so many beautiful art pieces, it's time for a hearty lunch. Not far from the Louvre you'll find the old-fashioned Bistrot Victoires.
If we may recommend a dish, try the delicious rump steak and the pudding creme brulee for dessert. Dishes and glasses of wine are both affordable in this bistro (or is it too early to drink? Well, it's happy hour somewhere).
Have Your Breath Taken Away at Orsay Museum
The Musee d'Orsay has the world's most extensive collection of impressionist and post-impressionist art. In addition, most of its collection are French pieces from the second half of the 19th-century to the beginning of WWI.
This alone would make it an interesting place to visit in Paris in 4 days, but the museum is established in a former railway station, giving it a unique decoration that resembles a large (but fancy) train station.
Not only that but the museum's restaurant is almost an art piece by itself.
Stroll Around Orangerie Museum
Musee De l'Orangerie has beautiful artworks of the impressionism and post-impressionism movement, and it's absolutely worth visiting.
The highlight of the permanent collection is Monet's "Water Lilies." These are eight panels spread across 299 ft in two rooms—a stunning painting.
Besides, Musee l'Orangerie isn't a large museum, and you can find some big names there, such as Renoir, Rousseau, and Modigliani.
Fun fact: The first building was built as a winter shelter for the orange trees of the Tuileries Palace.
Photograph the Egyptian Obelisk at Place de la Concorde
At this square, Marie Antoinette and Louis XVI were beheaded in a public execution right before the end of the French Revolution.
Despite this tragic historical moment, Place de la Concorde is a pretty beautiful square to visit. There are two stunning fountains and an Egyptian obelisk decorating the square.
Wander Through the Champs-Élysées
Paris's most prestigious avenue, Champs-Élysées, runs from Place de la Concorde to the Arc de Triomphe (around 1.2 miles).
This avenue is famous for having high-end shops, but some familiar brands are slowly opening retail stores there, such as H&M.
Anyway, this avenue is a place worth seeing while in Paris because it really embodies the meaning of Paris' nickname: the City of Light—the lights shining here are truly inspiring.
Fun fact 1: Champs-Élysées is such an inspiring place that the Elisabeta Boulevard in Bucharest was made after it.
Fun fact 2: Champs-Élysées means Elysian Fields, the paradise for deceased heroes in Greek mythology.
Climb the Arc de Triomphe
Time to head to the Arc de Triomphe, a 164-foot-tall monument that honors the soldiers who fought and perished during the French Revolution and the Napoleonic Wars.
Walk around and underneath the arch to read the inscriptions on the walls. You can find the name of the battles they won and the general's names (the underlined names belong to the men who died on the battlefield).
Moreover, the Tomb of the Unknown Soldiers from WWI is also underneath the arch, and it has an eternal flame on it. Be sure to take a leaflet to learn about the sculptures carved on the arch and their meanings.
Ascend the arch by elevator to reach the attic. There is a small but interesting exhibition there. Then, take the stairs to have a breathtaking view of Paris. Yes, another one. This is a must-see during your four days in Paris.
If you have a zoom lens, you can take amazing photos from the Louvre, Sacré-Cœur, and the Eiffel Tower.
In addition, the Arc de Triomphe is located on a roundabout that connects twelve avenues. As a result, you can take interesting photos of the roads.
Fun fact: The eternal flame underneath the arch inspired Jacqueline Kennedy to request an eternal flame for John F. Kennedy's grave.
Dinner time
It might sound crazy that a restaurant near the Eiffel Tower might be affordable, especially if they serve traditional French food, but this place does exist.
Les Cocottes is a cozy restaurant with a great atmosphere and friendly staff. FWIW – Their ravioli is delicious.
Watch a Cabaret Show in Paris
Cabaret shows have been part of French culture for centuries. Even though some cabarets have nudity, it's a classy and artistic performance made by professionals.
In addition, it is a type of art performance that is connected to literature, music, and the empowering of women. And while this show was forbidden for years in several countries around the world, France was long ago chilled out about it.
Anyway, the best places to watch a real French cabaret show are at Le Lido and at Moulin Rouge (Le Lido is usually a tad more affordable than Moulin Rouge). Either way, it's a fantastic experience to include in your 4-day Paris itinerary.
Don't miss out! Book tickets for Le Lido or book tickets for Moulin Rouge.
4 Days in Paris Itinerary – Day 3
Buy a Book at Shakespeare and Company Bookstore
We are bookworms, so whenever we see cute bookstores like this one, we run into them.
This fantastic bookstore opened in 1919 and was a gathering place for James Joyce, Ernest Hemingway, and Ezra Pound.
Unfortunately, the place is a victim of its popularity, and there's often a queue to get in. Regardless of the crowds, this bookstore is still worth a visit. Also, have a coffee at their cafe around the corner or head over to Odette, one of the best cafes in Paris.
Pssst: Be sure to go up to the 1st floor in the bookshop to spot their cute cat.
Opening hours: Every day 10 am – 10 pm.
Explore the Ile de la Cite
The heart of Paris, Ile de la Cite, houses historical buildings and landmarks, such as the Notre-Dame Cathedral, the Hotel Dieu, the Palace of Justice, Conciergerie, and St. Chapelle.
So wander through the streets of the island before you visit these constructions. You'll love the area. Also, stroll around the Square du Vert-Galant, an adorable park by the water's edge.
Find Your Peace at the Notre-Dame of Paris
In April 2019, the Notre-Dame de Paris was severely damaged by a fire. As of now, the church is closed to the public, but when it's open again, we'll update this post.
Possibly one of the most beautiful churches we've visited in Europe, the 13th-century Notre-Dame Cathedral is a characteristic French gothic building that will give you goosebumps.
The interior is barely illuminated, and the stained glass windows add some mysterious air to this sacred place. Have you watched the Hunchback of Notre Dame? It's exactly like the movie (♥).
Anyway, all decoration elements have a meaning – the gargoyles, the facade, and the statues. Grab a leaflet at the entrance to learn more about them.
Furthermore, don't forget to climb the bell tower just outside the cathedral on the left side when you face the building, the view is also.
Admission: Free entrance to the church.
Opening hours: Currently closed.
Pro tip: Looking for a quiet place to admire Notre Dame? While facing the church turn left, you'll see a blue door. This is the Hotel Dieu, the oldest hospital in Paris.
The hospital is still functioning but not entirely, so you can explore a few inhabited halls and the balcony above a garden, which is a peaceful place to maybe have your lunch with a view.
Take a Self-Guided Tour at Sainte-Chapelle
Impressive stained glass windows and a starry ceiling are the main aspects of the Sainte Chapelle. We don't really have words to describe it. It's one of the most remarkable things to do in Paris in 4 days.
The royal Sainte-Chapelle, also built in the classic Gothic style, has one of the most extensive stained glass collections in the world!
Well, they're not just impressive, they're actually telling a story which you can learn about by scanning it with the camera of your smartphone.
To discover what these stained glass windows mean, download the free app Sainte-Chapelle stained glass (available for Android and iPhone).
Learn About the French Revolution at the Conciergerie
A former royal palace that became an infamous prison around 1392, the Conciergerie was the place where they kept the infamous French Queen, Marie Antoinette, and her husband, King Louis XVI until they were beheaded at the Place de la Concorde.
Therefore, if you want to learn more about the French Revolution and the history of this macabre building, the Conciergerie is the perfect spot to add to your Paris itinerary. Not to mention that the French Revolution is a crucial part of France's history.
Moreover, this building is part of the Palace of the City. The Palace of the City (Palais de la Cite) is a beautiful complex composed of the Sainte-Chapelle, Conciergerie, and the Palace of Justice.
Visit the Pompidou Center
This artistic complex houses the most significant modern art museum in Europe (Musee National d'Art Modern). Just so you know, the exhibitions and artworks here are fantastic!
The design of the complex is a bit peculiar though. The Pompidou Center building has huge pipes running vertically on its facade as well as iron wires and staircases. It has a bit of an industrial feeling. It's really cool!
Cruise the Seine River
This four days in Paris itinerary had to have a Seine river cruise. Paris is exceptionally charming, and a river cruise allows you to see its beauty from a different perspective.
You can either take a simple cruise or a cruise + dinner at the Seine River. At Bateaux Parisiens, they serve a decent 3-course meal. If you choose the tour with the 8 pm dinner*, which lasts longer, there will be live music too.
We must be honest, it's a bit pricey, after all, this is Paris. The city is pricey. Still, hopefully, you can save some money with the Paris Pass.
If having dinner on the cruise will break the bank, stop by Fermier Gourmet. A barbecue restaurant with great options of vegetables too.
* A River Cruise without dinner is included in the Paris Pass.
4 Days in Paris Itinerary – Day 4
Take a Look at the Le Louxor Cinema
Le Louxor is a renovated 1921 cinema in the 10th arrondissement of Paris. This remarkable historical monument has three rooms beautifully decorated.
The first room, which is the larger one, is a masterpiece of Egyptomania. The facade also resembles Egyptian design. Well, if you have time, why not watch a movie here?
Explore Montmartre on Foot, the 18th Arrondissement
Montmartre is perhaps the most romantic area of the city. If you're wondering how to spend 4 days in Paris, know that you must spend some time wandering through the cobblestone streets of this neighborhood.
The area has excellent and cozy cafés where you will want to have a cup of coffee while doing some people watching.
A few windmills here and there, an artistic atmosphere, and even a vineyard compose the charming Montmartre. You won't wanna miss this lively neighborhood.
Check out this tour of Sacré-Cœur and Montmartre
Let the Basilica of Sacré-Cœur Impress You
Imposing and majestic, the white basilica watches over the city from the summit of Montmartre. Its Romano-Byzantine style contrasts with the other churches in town, such as the Gothic Notre Dame.
One interesting thing about the Sacré-Cœur is that the stone used on the exterior, Chateau-Landon, exudes calcite on contact with rain, making it white, like a shiny pearl on top of the hill.
This fact is especially interesting because many churches around Europe are turning black or dark gray due to pollution, but this Parisian lady remains neat and clean.
Anyway, a visit to this basilica is a must during your Paris 4-day itinerary, and maybe you're lucky enough to witness the choir of nuns. It's beautiful!
Remember: No filming or photographing is allowed inside the church. Moreover, the bell tower isn't open to visitors, but you can climb 300 steps to the dome for a small fee.
Pssst: There is a grassy hill in front of the Sacré-Cœur where you can picnic. Before that, stop by Boulangerie Raphaëlle, one of the best boulangeries in Paris, to grab some delicious sandwiches or croissants.
Admission: Free of charge
Opening hours: Every day 6 am-10.30 pm
Browse the Place du Tertre's Market
Trinkets, postcards, and artists selling portraits and illustrations. At Place du Tertre, you can find an exciting street market with lots of handmade souvenirs to bring back home.
Depending on the day, you might find a handful of fantastic artists. But if you're ordering a portrait, be sure to agree on a price for your portrait beforehand.
Further out, enjoy a glass of wine in one of the cafés around the square and do some people watching. This area is excellent for that.
Hunt Parisian Windmills
From the thirteen windmills in Montmartre, two of them remain standing: the Le Moulin Radet and Le Moulin de la Galette, the latter is atop a French restaurant.
These 16th-century windmills are located on private property. However, you can see both from the street level.
Fun fact: Moulin de la Galette produced flour for galettes centuries ago, but later it was converted into a dance hall which inspired Renoir's Dance at the Moulin de la Galette.
Montmartre Vineyard – Vignes du Clos
The last vineyard in Paris, Vignes du Clos is a charming garden among Parisian houses.
The vineyard is always closed to the public, but you can still see it from the street. Of course, how beautiful the garden is will depend on the season you visit Paris.
Regardless of the season, the streets around the vineyard are lovely, and this region is worth the stroll.
Sip French Beer at La Bière Comme à la Bière
Paris is all about wine, we know that. But what about some good beer? This beer café has an excellent selection of craft beers. (And some bites too!)
Order some bottles and finish your 4 days in Paris in style. After all, you deserve it.
Four Days in Paris Map
To help you find all attractions on this guide, we created a handy (and free!) map that you can use on your mobile. Click here to access the interactive map of Paris.
Summary What to Do in Paris in 4 Days
Be sure to bookmark this page so you can reference back to it while planning your vacation.
Day 1:
Day 2:
Day 3:
Buy a Book at Shakespeare and Company Bookstore
Explore the Ile de la Cite
Find Your Peace at the Notre-Dame of Paris
Learn About the French Revolution at the Conciergerie
Visit the Pompidou Center
Day 4:
Day Trips from Paris
Versailles
After 4 days in Paris, you could go on a day trip to the Palace of Versailles, a popular spot for those who want to see iconic French sites.
Some people spend 3 days in Paris and on the 4th day, they go on a day trip to Versailles, which is also a good option if you aren't staying for 5 full days in the region.
To get from Paris to Versailles, purchase a return ticket for the train. It costs around 7 euros.
Don't miss out! Book the skip-the-line ticket to Versailles.
We've also a whole article on the blog about the best and most exciting day trips from Paris. Be sure to let yourself be inspired by it.
Other Things To Do In Paris In Four Days (If It's Rainy)
Rain won't ruin your 4 days in Paris, we promise you that. Rainy days are awful when we're on vacation, that's true, but there are still many ways to enjoy those rainy days in Paris.
Become a history buff if you're not already one, and spend your day in the city's museums.
Enjoy a good cup of coffee (or tea) in the bohemian cafés throughout the city and watch the rain fall outside.
Explore the covered passages of Paris.
Go wine tasting at Les Caves du Louvre and learn about French wine in a historical cellar (included in the Paris Pass).
Wrapping Up on this Paris Itinerary
Paris is a massive city with lots of things to do, see, and eat. Still, if you plan your trip to Paris in advance, you have time to filter out the places you aren't really interested in seeing. And focus on what really matters to you.
Anyway, we hope you will enjoy your four days in Paris and have a mesmerizing vacation.
Do you have any questions re this Paris 4 day itinerary? If so, drop them in the comments. We'd love to hear from you.
Did you like this Paris 4 day itinerary? Then share it on your social media!
Don't Forget About Travel Insurance!
Before you leave for France, make sure you have a valid travel insurance policy because accidents happen on the road. We have been paying for Safety Wing travel insurance for a little over a year now, and we happily recommend them to our family and friends.
If you get sick, injured, or have your stuff stolen, you'll be happy to have the ability to pay for your medical bills or replace what was stolen.
Because, for just a couple of dollars a day (depending on how long your policy is for), you're going to get lots of things covered. Be smart and get travel insurance.