Wondering what to do on a rainy day in Paris? Here are 19 things we enjoy doing when it rains in Paris. Check it out!
Rainy days in Paris are not uncommon. In fact, that can happen in the fall, winter, spring, and even in the summer—literally every season!
In this post, you will find various indoor activities for a rainy day in Paris. From getting their famous hot chocolate to going into the underbelly of the city – you will find a detailed description of each adventure and how you can escape the rain in Paris.
Furthermore, we cover a wide variety of outdoor activities with cover, so there is a little something for everybody!
By the end of the post, you will have a bunch of ideas, so you can make the most of your time in Paris on a rainy day!
How Often Does It Rain In Paris?
It is not uncommon to be raining in Paris. The city has an average annual precipitation of 25.2 inches and experiences light rainfall distributed evenly throughout the year. However, the city is known for intermittent abrupt heavy showers.
What Is The Rainiest Month In Paris?
December is usually the wettest month in Paris, followed by January and May.
Despite being cold and rainy, December is the best time to visit Paris for those who want to visit museums and avoid crowds. August tends to be the driest, followed by February and March.
What To Do In Paris When It Rains: Rainy Day In Paris
There are many things to do in Paris on a dry day. Still, here are our favorite indoor activities for when the weather forecast announces rain in Paris.
1. Taste Some Delicious Parisian Wine
We usually picture a warm sunny day outside when we think of wine tasting.
However, thanks to the Paris Wine Museum, we can enjoy a wholesome wine-tasting experience indoors, surrounded by 15th-century wine cellars.
Sipping French wines out of the wind and cold makes for a perfect rainy experience!
Upon entering the wine museum, the museum expert will take you on a 1-hour sensorial experience. This ticket includes the wine-tasting option (which is highly recommended), which involves tasting wines paired with various kinds of cheese and pastries—a real treat.
Or another exciting option is wine tasting in the caves of the Louvre Museum. Can you imagine telling your friends about drinking French wine in the world's most famous museum?
The wine-tasting experience in the Louvre is included in the Paris Pass (which grants you access to a bunch of landmarks and museums because this Pass also grants you the Museum Pass, so 2-in-1.)
Click here to book your Paris Wine Museum Experience or buy the Paris Pass
2. Experience The Atelier des Lumières
A once-in-a-lifetime experience is visiting the Atelier des Lumières (translating to "the studio of light") in Paris.
Not only is this outing spectacular, but it is also perfect for a rainy day in Paris, given that it is entirely indoors and gives you a much-needed break from the cold.
The incredible Studio of Light comes with a fresh take on a museum experience. Famous works of art are projected onto the walls, floors, ceilings, etc.
However, these artworks are not only projected everywhere but also shift, change and merge into each other – while music echoes across the room.
This display will enthrall everyone – even someone who is not into art. Two prominent displays at the Atelier des Lumières have been Van Gogh and Gustav Klimt.
It's best to book in advance for an exhibition as tickets sell out fast and can be tricky to get on short notice!
3. Visit The Catacombs
For those not excited by the mundane, perhaps a visit to the Parisian Catacombs is for you. This exciting and spooky experience is a fun break from the bad weather in Paris.
You simply cannot escape the rain in Paris more than going underground into a completely new world!
Rainy days can be dull and gray, so why not spice it up with a bit of adventure? The catacombs have the remains of over 6 million people and were created in the 18th century to help reduce the overflowing cemeteries in Paris.
The two-mile-long ossuary is currently the largest in the world; therefore, if it is something that interests you, it is a must-see. Click here to get skip-the-line tickets.
Please note that being underground with a bunch of skeletons is not for everyone, so if you are someone who gets claustrophobic or spooked out by skeletons, then this is not the place for you!
Buy your skip-the-line tickets
4. Get A Classic Parisian Hot Chocolate
There is no better start to a rainy day in Paris than with a steaming hot cup of Chocolat Chaud! The instant warmth you will feel, and the slight sugar rush will give you the perfect start to a rainy day in Paris.
We are sure you have seen those decadent hot chocolate photos and videos floating around social media. Both tourists and locals flock to cafés around Paris to get a taste of that pudding-like hot chocolate.
The most famous Parisian café to get such a beverage is Angelina's. This café quickly went viral for its thick, rich hot chocolate that looks identical to melted chocolate.
Due to this restaurant's popularity, you will likely need to queue to get inside, so bear this in mind when planning your day!
If you do not feel like hanging around in a queue or going to a populated place, many other restaurants serve exquisite hot chocolate, such as Café de Flore, Jacques Genin, and Jean-Paul Hévin.
Read next: Paris is always a good idea
5. Make Your Own Perfume
Making perfume is a rather unusual thing to do in Paris on a rainy day, but we guarantee you will have lots of fun.
French perfume brands are among the most famous worldwide, and rightly so because they know how to make good perfume. So what about learning it, you too?
You can spend a rainy day in Paris learning about this art and creating your own fragrance at this workshop.
Besides, at the end of this 1.5-hour experience with an English-speaking instructor, you take home a small bottle of the perfume you just made.
This workshop is ideal for adults and families traveling together.
Book your perfume workshop here
6. Go To A Charming Parisian Cinema
When we think of a rainy day, we almost always think of snuggling up with a movie and popcorn.
Lucky for you, the city has some of the most charming and beautiful cinemas in the world for you to cozy up in that make for a top-choice activity on a rainy day in Paris.
Paris has many options for cinemas, but it is best to pick your movie theatre wisely. There are a few open-air cinemas which will definitely not suit a rainy day. However, there are many spectacular cinemas, such as La Géode, Le Grand Rex, and Le Champo!
It is important to note that many movies shown are dubbed over in French.
This can be irritating for some, so it is a good idea to call in and find out beforehand, as there are a select few movies that will have French subtitles instead and may be better suited to some.
Although, you may find something magical about emerging oneself into the culture and embracing the French-dubbed film!
7. Visit A Museum In Paris
Paris is not only a beautiful city with shops and cafés but also a city that is home to many spectacular art museums known worldwide.
It can get quite boring on a rainy day in Paris, but going to a museum of art can be a fun way to stimulate the brain while keeping you nice and dry!
(Still, we believe it's a shame Gustave Caillebotte's Paris Street; Rainy Day painting — French, Rue de Paris; temps de pluie — is not in the city but at the Art Institute of Chicago. It would be an ironic painting for a rainy day, wouldn't you agree?)
Anyway, the list of museums in Paris is endless, so we have taken the time to compile a table of museums and what you can find there!
Please note that the below museums are popular, so it is best to get tickets beforehand.
If you're planning on visiting a few museums, you might consider purchasing the Museum Pass to save money on entrance tickets. We wrote a review of the Paris Museum Pass, where we help you calculate if it is worth it or not.
Center Pompidou – modern and contemporary art and design
Musée des Arts et Métiers – Scientific Instruments and inventions
Musée d'Orsay – Impressionist Art
Louvre Museum – Wide variety of art
Musée de Cluny – Museum of the middle ages
Petit Palais – Museum of Fine Arts
Musée Marmottan Monet – Collection of paintings by Monet
Musée National Picasso-Paris – Exhibition of artwork by Picasso
Muséum national d'Histoire Naturelle – Natural history museum
8. Shopping In Paris
It is well known that going to Paris and shopping go hand in hand. However, we rarely want to waste a beautiful sunny day indoors with so many outside activities.
This is why a rainy day in Paris gives you a perfect chance to take advantage of the cold weather and go on a shopping spree!
Various iconic luxury department stores sprinkled around Paris give you a superb range of things to look at and buy!
The most famous department stores you should take the time to visit are Galeries Lafayette on Boulevard Haussmann, Le Printemps, Art Nouveau, Le Bon Marché, and La Grande Épicerie.
From clothes to food and everything in between, you will not be disappointed. Furthermore, the inside of these gorgeous department stores is warm and will provide a nice break from the cold!
9. Watch A Cabaret Show
If you're looking for something to do when it rains in Paris at night, we suggest going to one of the world's most well-known cabaret shows at the Moulin Rouge.
This show includes hundreds of artists and over a thousand costumes made by Corrado Collabucci.
Moulin Rouge was founded in 1889, and people couldn't get enough of this show ever since then. It is nothing less than the birthplace of the modern form of the can-can dance.
These dancers are known for performing famous acts and excellent visual work. Creating over a century of creativity in just 90 minutes will leave you astonished.
Buy your tickets to the once-in-a-lifetime show at Moulin Rouge
10. Churches, Churches, and more Churches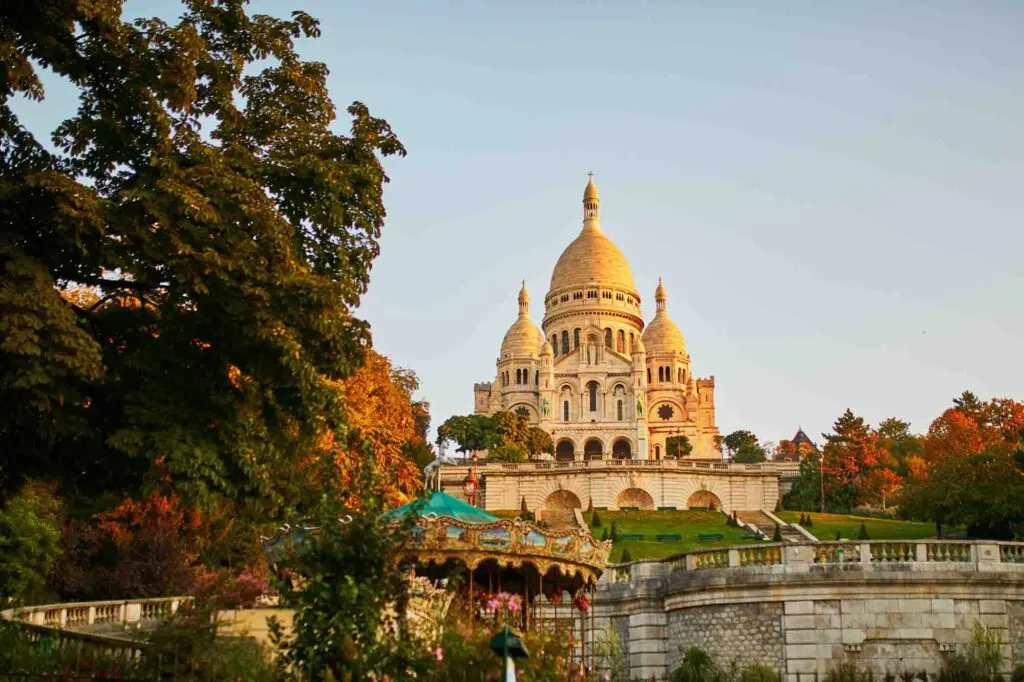 When you think of Europe, we bet you can't help but picture the beautiful churches in busy squares or tucked away in those cobbled-stoned side streets.
These breathtaking churches will give you a break from the bustling streets of Paris and the rain while allowing you to view some of the most beautiful churches in the world!
Since the Cathédrale Notre-Dame de Paris fire, guests cannot visit it just yet – however, it is set to open to the public in 2024.
The great news is that this isn't the only spectacular church in Paris – there are many more beautiful ones to see.
Here are a few churches to visit in Paris:
Eglise Saint-Sulpice
Basilique du Sacré-Coeur
Eglise Saint-Germain L'Auxerrois
Eglise Saint-Séverin
The inside of all these churches boasts an impressive display of stained-glass windows and a rich history of their creation.
11. Cruise The City In A Citroen 2CV Tour
Travel in style around Paris in the iconic Citroen 2CV! You can fully immerse yourself in the not-so-glamourous atmosphere of Paris on a rainy day in absolute comfort!
Stare in wonder at Paris' most popular attraction, the Eiffel Tower, and its glittering beauty as you are driven down Avenue des Champs Elysees!
The tour guide can pick you up at your location, whether at a hotel or out and about in the city.
These cars have a detachable roof for when it rains in Paris, so it's a perfect addition to your vacation! It's also wheelchair-friendly, and you can also arrange for extra features such as champagne.
12. Go Down Into The Sewers Of Paris
While not for everyone, a trip down into the city's underbelly can be a great way to spend a rainy day in Paris.
The Paris Sewer Museum is an activity that takes you out of the wind and cold and into the underground of Paris for a fascinating experience.
The Paris Sewer Museum is a strange but intriguing activity for tourists when it is raining in Paris.
This museum takes guests through a 45-minute tour of the Parisian sewer systems, explaining how they came to be and how they currently function.
Much of this tour resembles the well-known show "How It's Made" by going through and showing how such a system operates.
A great aspect of this tour is that no reservations are needed, so you can just show up and start your tour.
Furthermore, if you would like a guided tour, getting a guide is done at no additional cost – no need to try navigating the underground of Paris on your own!
13. Unwind In A Typical Parisian Café
We've all seen photos of those quaint little cafés on every street corner in Paris. These little French cafés are ideal for experiencing Paris on a rainy day.
The warmth of the café, the smell of fresh food, French chit-chatter echoing around, and a hot cup of coffee in hand – what could be better when it is raining?
Since there are hundreds of cafés around Paris, we will tell you about a few of the all-time favorites.
However, if all of the below are full, you can easily pop into the next street and guarantee you will find another cute café there.
1. Café de la Paix – This café which opened in 1862, has recently been declared a historic site and is thus one of the oldest cafés in Paris. This café gives off a museum vibe with its bold deco. If you are seeking a lively café, this is the one to go to!
2. Le Select – On the corner of a street in Montparnasse is an old café well known for its famous guests, such as Picasso and Hemingway. This café is precisely what one would picture when thinking of a Parisian café with its wicker chairs and corner placement.
3. Les Deux Magots – Another favorite of Hemingway and Picasso is the famous café Les Deux Magots. Known for its delicious hot chocolates and smooth café crème, this spot is a must-go on a cold rainy day in Paris!
14. Relax In A Spa
If you feel like treating yourself to a spa day – what better day to do it on than one when it is raining?
Paris is home to some amazing spas, regularly visited by tourists and locals.
Spas such as Spa Valmont at Le Meurice, La Reserve, CHI at Shangri-La, Sokha Royal Spa, and Spa Le Bristol all offer a unique spa experience, from facials and full body massages to saunas and jacuzzies.
You should know that going to a spa in Paris is no cheap experience. You should be willing to throw quite a bit of money at it if you want to experience an authentic Parisian spa.
However, if you're someone who enjoys a spa, then unwinding in a jacuzzi while the rain buckets down will be a cherry on top of your Paris experience.
15. Learn How To Make Macarons
What can you do in Paris with bad weather? Savor the most famous sweet snack you can buy in Paris, macarons.
If you're a foodie who doesn't feel like spending their rainy day staring at old paintings, then a cooking class on making macarons is ideal! Nothing speaks rainy day in Paris quite like a warm macaron freshly baked.
This 1.5-hour macaron cooking class is given by a French chef who is willing to share their top secrets and teach you how to make this traditional sweet of French food.
16. Catch A Performance At Paris Opera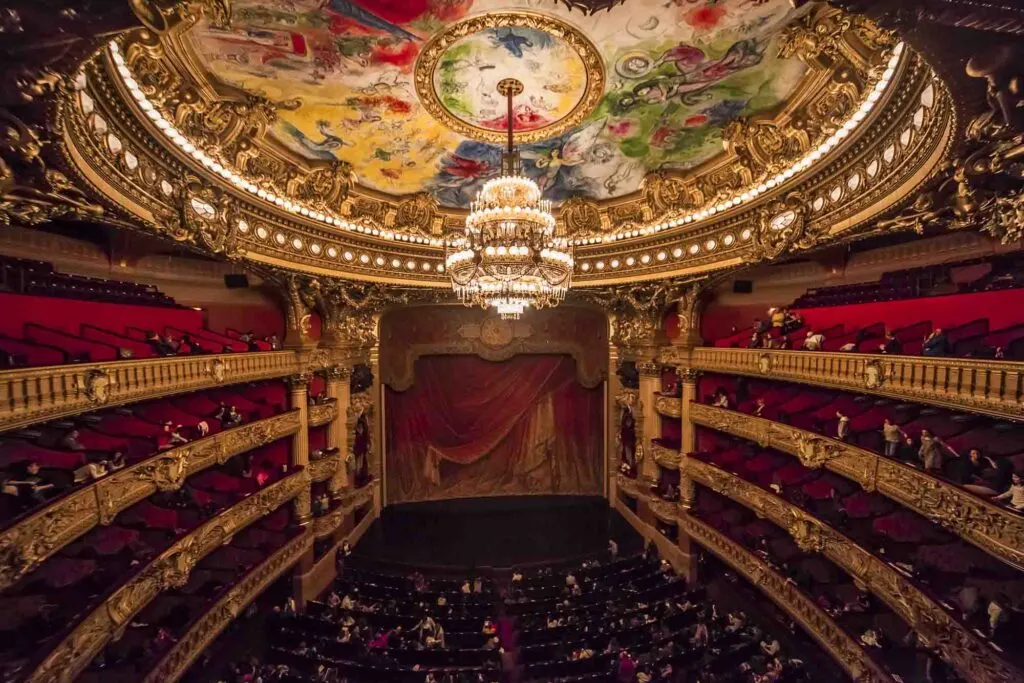 The Palais Garnier is a world-famous opera house in Paris. On a cold day, it is one of the most spectacular sights to explore as it is indoors, warm, and quite the sight!
Built in 1875 at Napoleon III's request, this spectacular building is an architectural masterpiece with an even more breathtaking interior. You can tour the Palais Garnier on your own or with a guide.
For parents, the Palais has an excellent multimedia guide for children – keeping them entertained for hours while you explore the majestic opera house.
If you're lucky enough to be there when there is a concert, we would suggest taking advantage of the rain and staying indoors for a once-in-a-lifetime experience.
Don't fret if you aren't an opera fan; other sorts of entertainment, such as dances, are performed there regularly!
17. Browse Some Bookstores
You can spend a rainy day in Paris bookstores without noticing the time flying by, even if you're not a bookworm.
We love French, but we can't avoid browsing one of the many English bookstores in Paris. At the end of the day, we often buy a book or two, usually a book about Paris, of course!
Either way, the city has many excellent English bookstores worth checking out, like the Red Wheelbarrow, Librairie Galignani, Abbey Bookshop, and the famous Shakespeare & co.
18. Discover The Covered Passages
For another place to hide from the rain in Paris, head to the covered passages.
The passages date back to the 18th and 19th centuries. They were built to act as beautiful shortcuts between the city's many buildings that could host all sorts of stores and events.
So eat, shop, and marvel at Paris's architectural beauty. If you have a bit of a bigger budget, try the Galerie Vivienne, which has luxury clothing stores galore!
19. Have Coffee In A Cat Café
Grab a drink, and hang out with adorable kitties on a rainy day in Paris.
It's no secret cats hate rain, so join them in a cozy cat café as the rain pours down outside. This indoor activity in Paris is perfect not only for those escaping bad weather but also for cat lovers.
Some cat cafés worth checking out are Le Café des Chats and Chat Mallows Café.
Final Thoughts On Visiting Paris On A Rainy Day
You're traveling to Paris! That's so exciting!
To help you plan this fantastic trip, we wrote a few handy itineraries to make your vacation even better.
Regardless of spending one day, 2 days, 3 days, 4 days, or 5 days in Paris, you will find a guide to help you find your way through the city.
Also, if you decide to go on a day trip from Paris, consider Versailles, Disneyland, or Normandy. These are incredible places worth visiting for different reasons.
Did you enjoy reading about things to do in Paris on a rainy day? Then share this post with your dear friends!
Don't Forget About Travel Insurance!
Before you leave for France, make sure you have a valid travel insurance policy because accidents happen on the road. We have been paying for Safety Wing travel insurance for a little over a year now, and we happily recommend them to our family and friends.
If you get sick, injured, or have your stuff stolen, you'll be happy to have the ability to pay for your medical bills or replace what was stolen.
Because, for just a couple of dollars a day (depending on how long your policy is for), you're going to get lots of things covered. Be smart and get travel insurance.