Paris is a comparably small city but is expanded to be wonderfully vast because of all the many attractions and events it offers throughout the year.
It is not possible to experience everything the city offers in a week, but you can still do and experience a lot in your 5 days in Paris.
This itinerary for your 5 days in Paris curates some of the best attractions and experiences this Parisian paradise offers.
Each day takes you to the center of the action directed with a different theme.
The itinerary connects structured activities to lead naturally into the next attraction and gives some advice to maximize your time and things to note during your stay.
Remember, it's not a job; you are vacationing in Paris to relax and have fun.
Sometimes peaceful intentions get lost in the myriad of beautiful things the city offers, but you don't need to do everything (but you can do a lot) in your 5 days in Paris.
This 5-day itinerary for Paris hopes to keep the heart of a visit in Paris without overwhelming the senses.
Where To Stay in Paris
If you're wondering where to stay in Paris, we have many guides to help you choose the best hotels for you and your family.
Namely, we have guides about luxury hotels, boutique hotels, and 5-star hotels.
Still, we have listed below two of our favorite hotels:
1. Best Western Au Trocadéro – This hotel in Paris is situated in the 16th arrondissement and is a five-minute walk from the Eiffel Tower. The Trocadero Metro Stations is a few steps away from the hotel, which gives you direct access to Champs Elysees.
If you plan on doing some city sightseeing on foot, then the Arc de Triomphe is only a fifteen-minute walk, and the Musee Chaillot is a five-minute walk from the hotel.
The hotel has a cocktail bar, but if you wish to sample some Parisian cuisine, you might find some restaurants within 547 yards of the hotel.
Each guestroom is air-conditioned and soundproofed with a private bathroom. A buffet breakfast is served for guests daily, and you can enjoy your breakfast while sitting on the hotel's patio. A mini-bar with tea and coffee facilities is also available in every room.
Other attractions close to the Best Western hotel include the Baccarat Crystal Museum, the Modern Art Museum, and Musee de l'Homme. The Louvre Museum is approximately 2.3 miles away, and Luxembourg Gardens is 2.5 miles away. Click here to book!
2. Pullman Paris Tour Eiffel – The hotel is situated at the foot of the Eiffel Tower. It is open all day and features a fitness room and a terrace where you can enjoy your dining at the restaurant.
Almost all rooms at this hotel feature a balcony where you can get stunning views of the Eiffel Tower and surrounding gardens. If you plan to sightsee around the Eiffel Tower, you can get there on foot, and it will take you five minutes to reach there.
The Parc des Princes Stadium is a ten-minute drive away. The Bir-Hakeim Metro Station is located 656 yards from the hotel, providing easy access to the Louvre Museum, Champs Elysees, and Arc de Triomphe. Click here to check availability!
As always, be sure to book your accommodation in advance because this has a major impact on availability and rates, especially in Paris.
When To Visit Paris
Every Parisian season offers its unique spice. An itinerary should not only consider filling its itinerary slots with attractions and activities, but it should structure in a way that aligns your very soul with the ebb and flow of the city.
Visiting Paris in summer is probably the most popular time. This sultry season gets crowded with internationals as locals recede out for a bit to give warm and buzzing streets over to curious feet. It is a beautiful time packed with outside festivals, events, and baking in the summer sun.
The summer swelter gives way to fall in Paris. The sometimes unbearably high summer temperatures relax a bit, and the hordes of tourists shrink as well.
Locals reassume into their beloved city, and the long queues to popular attractions become more manageable.
The temperature bows further as winter takes the stage. With fall's significant events like Paris Fashion Week in the rearview mirror, hotel rooms become available, and heavy rains shower the streets.
Stylish heavy coats adorn the cobbled streets, chilly winds blast for cozy cafés, and things are cheaper as it rains in Paris.
The city becomes more romantic as a more picturesque afternoon rain now frequents.
February's Paris Fashion Week is also done and dusted and leaves open hotel rooms, which can now be snatched for amazing discounts. The winds might still bite, but the blossoming flowers with a hot beverage warm up your hands.
5 Days in Paris Itinerary
Here's your guide on what to do in Paris in 5 days, followed by a summary of this itinerary and a map with all locations mentioned in this post. Enjoy!
Paris Itinerary – Day 1
On the first day of the itinerary, you get situated in the city's lay and get introduced to some of the city's most lovely landscapes. It is a short day meant to ease you into the action.
Orientate Yourself With A Walking Tour
The best way to land on your legs in the City of Light is to know where to place your itching feet.
There are several helpful tours to help you get familiar with the different neighborhoods and the location of some places that are in your 5-day itinerary for Paris.
This walking tour is a perfect tour to get your feet right into the action as a local expert guide walks you through an overview of some of the picturesque scenes that you'll be visiting during your stay.
This 3-hour walk truly orientates you to the positioning of landmarks, the architecture you came to see, and some overlooked local gems.
It's an insightful walk because it doesn't take away from the awe and surprise of exploring these places more in-depth later in your 5 days in Paris.
The tour is every day at 10:30 am and 2:30 pm, always meet the tour guide 5 minutes before the start time, just to make sure you're on time.
Click here to book your walking tour
Marvel At The Panthéon
This monument of a king's exaltation might seem an uninteresting monolith, but the intricate architecture and deeply buried history are beautiful.
The pun is fully intended because many famous bodies are laid to rest under the imposing façade.
The ticket isn't costly to enter the Panthéon, 5th arrondissement. But choosing the panoramic view option lets you buy a twin ticket which lets you experience all the wonders the memorial offers.
The attraction doesn't allow luggage, so it would be best to have with yourself light packing.
Stretch Your Legs At Luxembourg Gardens
Pack your picnic blanket or use one of the hundreds of free chairs to enjoy this world-famous serene garden – Luxembourg Gardens.
The gardens offer a quint introduction to what the city's museums have to offer with the temporary exhibits in the Musée du Luxembourg.
You can explore the entire garden for free, and if you plan your trip just right then, you can enjoy a guided tour by the gardeners on the first Wednesday of the month from April to October.
There's finger food to choose from and some restaurants on the French garden grounds.
Although enjoying the garden is free, the museum has paid entry, and the exhibits are a coveted experience with fast-selling tickets—Book in advance and stomach the crowd.
Visiting the garden over the weekend is a positive, soul-enriching experience.
You gander over the large pond as kids play with their remote-controlled boats and adults enjoy some water activities. However, weekday visits will be more of your stride if you want a quieter time.
Ruminate Underground In The Catacombs Of Paris
A historical site that began from public health concerns and ended up being a respected arrangement that satisfies morbid curiosity.
The Catacombs of Paris are oddly engaging and help some people rearrange their perception of mortality through the beauty that still and will long remain from the people that were.
The most effective strategy to avoid waiting in line for hours with hundreds of people who have the same timeslot as you are to make a reservation through skip-the-line tickets through their online booking service.
You can also try booking through some third-party tour groups, but you need to surf the internet a bit to find one that's both trusted and affordable.
If you can't manage to book a guided tour, then try to be super early for your slot and either go early in the morning or later in the afternoon before closing time. Wednesday through Friday after 5 pm is said to have minor queues.
Wash Your Cares Away With A Seine Cruise
There are several Seine river cruises, but Bateaux Parisiens has the top-rated service.
Little else is enthralling as snuggling into one of these cruises and having beautifully prepared food as the water reflects some of Paris's best architecture.
There is an option to sightsee on the cruise, but the dinner cruises happen every day and are worth it, too.
Booking is essential throughout the year, but it is especially crucial during peak season, which usually runs from the closing of spring to the beginning of fall.
You can book months in advance, so it's best to book a slot when planning your trip.
Click here to book your Seine cruise
Be Bedazzled With A Cabaret Show
There is honestly no better way to begin your 5 days in Paris than watching some of the city's brightest stars. There are shows for every taste, and each show has an enthralling theatre of its own.
Lido de Paris has spectacular shows with soaring voices and bodies every day. The Lido offers a dinner and a show or a 9 pm or 11 pm show by itself. Lido de Paris is about 3 miles from the Luxembourg garden, but other shows around the city, like the more risqué Crazy Horse Paris or the fabulous Moulin Rouge, are a mile or two further away.
It's best to look over what each show has to offer and whether or not you want a meal, along with having your socks rocked off.
Advance e-ticking bookings will help you avoid being stuck in the same-day ticket lines, which might not be available.
Some of the shows have dress codes and age restrictions; looking at the information that either comes with your e-ticket or on the show's website will help you avoid being shut out at the door.
Paris Itinerary – Day 2
On the second day, the itinerary teleports you into the city's history with a visit to a historical market and takes you through a history of art and architecture.
Start Your Day Off At The Enfants Rouges Market
This market is as historic as the orphanage facility it now occupies. The Marché des Enfants started in 1615 and is said to be the longest-running market in Paris.
The bustling passages have continued to expand with fresh produce and multicultural food stalls for all your foodie tastes.
The market is crowded all day long, but lunchtime is the busiest. So, hitting the market for breakfast is perfect to avoid the lively foot traffic. The market opens at 8:30 am every day.
Strut Your Stuff Down Le Marais
This Parisian neighborhood is brimming with multicultural food, art, fashion, and too much to describe. It is trendy and vibrant while offering an authentic Parisian affair.
The neighborhood might be loud in reputation, but it remains a closely cherished favorite for many residents in Paris. There's little preparation needing to be done to enjoy Le Marais fully.
The best advice is to find an excellent free guide or book a walking tour and relax into the lull of your closing day in your 5 days in Paris. This is a perfect time to do a little shopping and buy gifts for the home.
Some things to do at Les Marais:
Photograph the Hotel de Ville, Paris city hall
Visit the Victor Hugo Museum, his former home
Take in the elegant arcades at Place des Vosges
Continue Your Trip With A Visit To The Louvre
This glass pyramid stands as the world's largest museum and needs little introduction. The architecture appears both delicate and imposing.
There are eight departments with mesmerizing exhibits in each. Still, Leonardo Da Vinci's Mona Lisa is the cherry on the cake.
Everyone needs to purchase a ticket and book a timeslot. Unfortunately, going to the correct entrance and narrowing your visit can only do so much to save time, but the visit remains highly competitive and crowded.
Still, for an unhyphenated skip-the-line experience, it's best to buy yourself a 48-hour Paris Museum Pass that has a skip-the-line ticket. We wrote a detailed Paris Museum Pass here.
Good to know: the Museum Pass is included in the Paris Pass, which has more perks.
Don't miss out! The Louvre caves wine-tasting experience is included in the Paris Pass!
Marvel At The Arc De Triomphe
After the Musée du Louvre, stroll around the Tuileries Garden and Champs-Elysées towards the Arc de Triomphe, one of the most famous monuments in Paris.
Built by Napoléon, in his honor, the symbol of sheer strength is enough to send shivers down your spine. Located on Place Charles de Gaulle, the Arc de Triomphe is not only a popular attraction but also a major landmark in Paris.
In addition, you can have wonderful views of the Eiffel Tower, Champs-Elysées, Place de la Concorde (where Louis XVI and Marie-Antoinette were executed), and beyond from the top of the arch. The fee to climb it is included in the Paris Pass.
Also, note the crazy driving in the roundabout around the Arc de Triomphe!
Experience A Transcendent Night At The Palais Garnier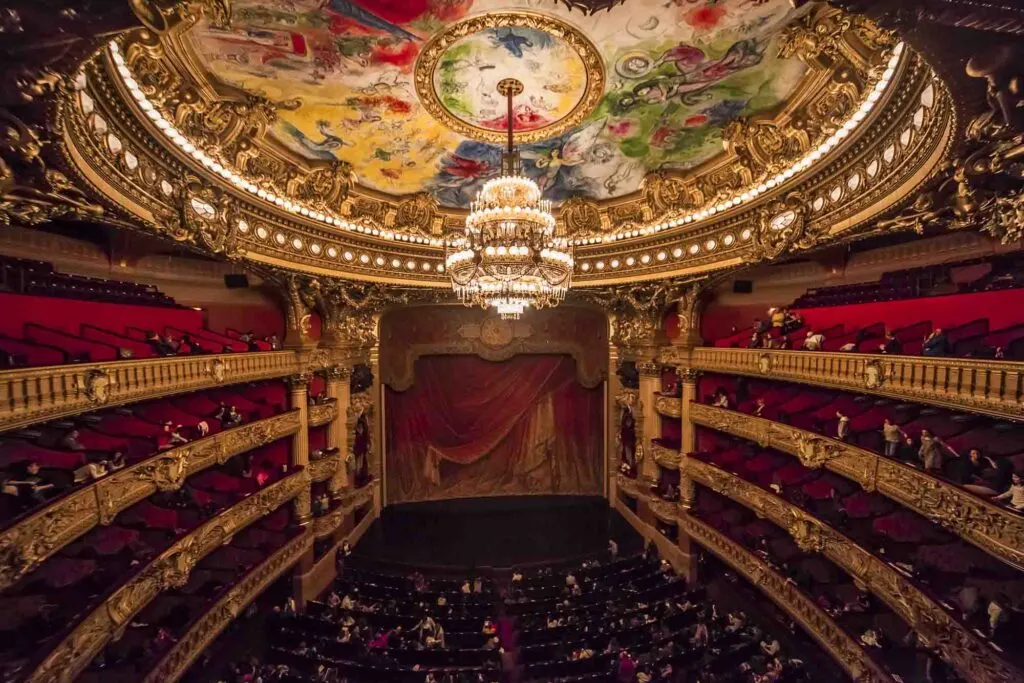 This Beaux-Arts architectural phenomenon houses some of the aristocratic world's best operas and ballets.
You can't go down the historical road of this beautiful city in your 5 days in Paris without dressing up and enjoying Paris Opera.
Most of the notable performances at the Palais Garnier require booking months in advance. Most of the shows showing at the beginning of Fall have their seats go on sale in early Summer.
Day visits are also allowed every day when there aren't any evening performances. Making advance ticket booking is the best strategy to avoid queuing outside.
The visits are between 10 am to 5 pm, with the last entrance 45 minutes before closure. It's located in the 9th arrondissement.
Later-day visits help you avoid some of the crowd during peak season. The building has its annual closure on the 1st of January and the 1st of May.
If you are thirsty for more than a visit but the Palais Garnier doesn't have any programs during your visit, give modern Opera Bastille a look-see.
They have performances earlier in the year, and some shows allow bookings a week or two out of the performance date.
End The Day At Le Perchoir Rooftop Bar
With a fantastic city skyline to complement your drinks, you cannot go wrong with Le Perchoir, a lovely rooftop bar.
The view will blow you away, and the ambiance is immaculate. Open until 02h00; you can fully kick back and relax until you are ready to head home.
On your way home, don't forget to stop for a bowl of French onion soup – a staple after a late night out.
Paris Itinerary – Day 3
Culture is the day's theme as you get whisked off to the beautiful land of culturally significant eateries and some must-see exhibits.
Perk Up With A Some Cream Puffs And Café Au Lait At Odette
A confectionary bite that melts on your tongue and some warm beverage to rekindle your core. This Paris café will make you feel like any other Parisian starting off their day.
The atmosphere in the shop is quaint and homely, with views of Notre Dame and a minute walk to a historic bookstore.
There's ample space inside plus much sitting outside. You don't need much to enjoy this slice of Parisian paradise. Be courteous and patient when interacting with the staff and tip your helper generously.
Ogle At The Frontage Beauty Of Notre-Dame
You don't need to be inside to spectate this classic architecture.
You can stroll around this cultural cornerstone and be able to glean some of the wonderment you would be receiving from being able to tour the inside of the closed cathedral.
You can still visit this iconic cathedral's square for free and be able to see the crypt and entrance to the cathedral.
Taking a guided walk around the cathedral can still help you glean some of the history and intention behind the exterior architecture.
Be Engulfed In The Grandeur Of The Sainte-Chapelle
This historical site is packed with architectural grandeur and stands as an ideal that most Gothic architecture is compared against. The church has influence that extends far beyond its beautifully adorned walls.
The fifteen 13th-century stained glass windows depict a multitude of religious scenes, like baptisms and resurrections.
Visiting the site early can help you avoid being overwhelmed by the foot traffic. Also, late evening visits are a bit quieter. Advance book your tickets and try to book skip-the-line tickets to help avoid the long queues.
You can also visit the Conciergerie, royal palace rooms turned into prison cells, which nest feet away from Sainte-Chapelle and is a must-see.
Take A Breather In Foyer de la Madeleine
This restaurant lies tunneled inside the Madeleine Church and offers delicious and authentic French cuisine.
You don't need to wrap to understand the concept of it being run by volunteers to understand the significance of the homemade French dishes that they serve.
This unique dining experience doesn't require a reservation but requires an entrance fee to help it keep operating as a charitable organization.
It has seasons that it doesn't operate in, and you should check the website to make sure that it is open during your stay.
Travel Through French Culture At The Musée d'Orsay
This art museum housed in a former train station has some big-name art pieces that leave you in awe.
It has an extensive collection of French art from the late 19th Century to the early 20th Century. It is a grand building housing a tangible testament to the human condition.
The museum extracts millions of intrepid visitors each year and is almost guaranteed to be buzzing regardless of year.
There are multiple wings at the museum, and narrowing your objective to one or two wings will help you better use your time.
A few other strategies will help you from being overwhelmed by the sheer volume of people, and visiting between early morning to lunchtime could help you enjoy the exhibits with slightly fewer crowds. Weekday visits and visits later on in the day also help.
Make sure to choose the right line to queue in and purchase a skip-the-line ticket.
Buy your tickets beforehand and use entrance C through the Rue de Lille side. Or use the Seine river entrance B if you are part of a pre-booked group.
The Seine riverside entrance A is reserved for people that don't have tickets and should generally be avoided by planning. The last entrance, D, is used by school groups.
Unwind With Shakespeare And Company
A legendary bookstore is a literary institution that doesn't falter under the pressure of the influential works it houses. It opened in 1951 and has been home to both writers and readers.
Visiting the store as the last destination on your day's itinerary will help you avoid the snaking lines that often stall your entrance.
Shakespeare and Company close at 10 pm during the week and 8 pm on weekends. Weekday visits are less congested, but it is still a popular destination.
Paris Itinerary – Day 4
A day of romance and connection, the 4th day will have you walking and attending some of the most romantic streets and attractions the City of Light has on offer.
Start Your Day With A Bite At Boulangerie Alexine
Situated in the 18th arrondissement on 40 rue Lepic, you will find this quaint and charming bakery – the perfect place to kick off your day 4 in Paris.
Rated one of the best bakeries in Paris and with the 4th best baguette, this little shop in the Montmartre district is one you wouldn't want to miss! Even better yet, it's right around the corner from the Sacré-Cœur.
Try out some of their delicious baked goods for breakfast and start your day the French way (unless you're a real Parisian who prefers just a coffee and cigarette).
Our recommendation would be a pain au chocolat (chocolate croissant), but if you are into something more savory, you can't go wrong with a quiche or a baguette.
Celebrate The Morning With A Montmartre Stroll
The famous 18th Montmartre street is littered with eclectic architecture and is wealthy with Parisian history.
The area has excellent and cozy cafés where you will want to have a cup of coffee while doing some people-watching.
A few windmills here and there, an artistic atmosphere, and even a vineyard compose the charming Montmartre. You won't wanna miss this lively neighborhood.
We recommend checking out the Wall of Love and the Montmartre Cemetery.
Click here to book a walking tour in Montmartre
Rest At Sacré-Cœur Basilica
The Sacred Heart of Paris lies at the top of Butte Montmartre, and the grandeur structure is steeped with religious significance.
Climbing the 300 steps of the Basilica's Dome floods your vision with sweeping views of Paris.
There are no guided tours available or allowed in the Basilica to maintain a meditative nature. Some guidebooks and books dedicated to the Basilica are available in their bookshop.
Dome access is outside to the left of the Basilica and charges an entrance fee, unlike entrance into the church's interior.
The operating times of the dome sometimes change, and you can buy tickets at the office on site. There steps and areas around the Basilica are hunting grounds for scammers and pickpockets.
Keep all your belongings in front of you, and don't engage with anyone claiming to give things for free or is selling things. Some "rudeness" here is acceptable because the thieves can be forceful.
Elevate Your Itinerary At The Eiffel Tower
No 5-day itinerary for Paris is complete without visiting the Eiffel Tower. Little motivation needs to be made for this romantic attraction, which pleasantly looms over central Paris.
Finally, it is time to see the Eiffel Tower. Enjoy a long walk along the Seine River on your way, and don't overlook the many bridges – each one of them has its charm!
Gustave Eiffel had no idea how famous his last name would become when he designed and built the most recognizable tower in the world. Over 6 MILLION people ascend this structure every year to see Paris from another angle.
Inspired by the design of the Latting Observatory in New York City, the Eiffel Tower in Champ de Mars was built to celebrate the 100th anniversary of the French Revolution.
That's why there is no better way to start your Paris itinerary than on Eiffel Tower. The 1063-foot-tall tower has three levels that you can reach by stairs and elevator, except the last one. We will explain:
The first level has a glass floor, and you can ascend to it by either a staircase or elevator. On the second floor, you can find a pricey 5-star Michelin restaurant (also reached either by stairs or elevator).
To achieve the summit, you must take the elevator. While on the top floor, you will have one of the most breathtaking views over Paris. Try to spot the Louvre, Tuileries Garden, and the Sacré-Cœur Basilica.
Fun fact: The Eiffel Tower is the most-visited paid monument in the world.
Admission: The ticket price to ascend this iconic attraction varies on how you go up in the tower:

Staircase to the 2nd floor plus the elevator to reach the third-floor costs around €20
Lift to the summit costs €27 – if you can, choose the earliest time slot to avoid the crowds at the Eiffel Tower
Don't miss out! Book your skip-the-line tickets plus a guided tour.
It's important to note that you can stop at intermediate floors, regardless of the ticket you buy.
Opening hours:

Lift: 9.30 am-10.45 pm | Stairs: 9.30 am-10.45 pm.
After you have ascended the tower, stroll around the Champ de Mars and Trocadero Gardens to take some good pictures of the tower. The view of the Eiffel Tower from across the river is astonishing. The walk to Rue Cler is also very pretty.
Many will agree that it may be worth it to return to the Eiffel Tower at night since the skyline of Paris at night changes entirely (not to mention the tower itself). However, going to and fro the Eiffel Tower does take a big chunk of your time, so in the end, you should decide.
Good to know: access to the Eiffel Tower summit is included in the Paris Pass.
Wine And Dine In Style In Montparnasse Restaurant
The Montparnasse Tower offers more breathtaking panoramic scenery and is a visible milestone for the intellectual architecture of the city.
The restaurant offers the same history and status as some of the finest cuisines in the city.
You have to book for entrance and still buy your meals from the Paris Sky restaurant. There are other restaurants and cafés at the tower. The 360 café is the tallest panoramic bar in all of Europe.
Paris Itinerary – Day 5
Today is the day for art – and lots of it. You will take the metro out of Paris city center and head out to the Palace of Versailles. Here's how to get from Paris to Versailles. Luckily, Versailles is a lovely town near Paris.
Head To The Stray Bean For Coffee
A coffee shop with an excellent reputation in Versailles, this place would suit your needs after the short morning train ride to Versailles. It is close to the palace, and they serve excellent food. What more could you ask?
Tour Through The Palace Of Versailles
Versailles is an imposing 17th-century jewel of French architecture. The palace was built as a hunting lodge for King Louis XIII and saw major improvements during the reign of Louis XIV.
Today you can visit the impressive apartments and beautiful gardens on this short day trip from Paris.
Take your time to explore it as much as you like – we can almost guarantee you will not regret it.
Many generations constructed parts of the palace over different decades and eras, but much has changed since the Revolution. It has a rich history, and we recommend reading up a bit on it since it would undoubtedly make the experience more enjoyable.
One of our favorite places, the Petit Trianon, was Marie Antoinette's estate, and it is beautiful.
The entrance fee to Versailles is included in the Paris Pass.
Have a Late Lunch At Le Sept On Montreuil
Described as a family-priced restaurant with Michelin quality food and ambiance, you can't go wrong with lunch at Le Sept.
The perfect way to round off your Versailles trip before returning to the city center. You will likely see many more local French here than other tourists, making it a very authentic experience.
Back to Paris: Walk Around The Hidden Passages
Paris is home to many secret passages and galleries, which are beautiful indoor streets housing all sorts of luxury boutiques and little restaurants.
The Galerie Vivienne is right around the corner from the Louvre Museum, making it the perfect option to explore these covered French passages.
Quench Your Thirst At Le Galibot
Both a bar and restaurant, Le Galibot presents a thoroughly French experience.
With food inspired by Northern French cuisine and a classic bar aesthetic, Le Galibot is the perfect spot for you to finish your last day and hang out with the locals.
Sip A Final Drink At Jacques' Bar
Located at the top of the Hoxton Hotel is a classy yet cozy little cocktail bar.
With an extensive and creative drinks menu, you can reminisce about your last day in Paris with a lovely drink and intimate company. If Jacques' Bar isn't quite your vibe, then visit any of the other pleasant cocktail parlors nearby.
Summary of What to Do in Paris in 5 Days
Here's a handy summary of your Paris itinerary. Be sure to bookmark this page so you can easily check it out while planning your trip.
Day 1
Day 2
Start Your Day Off At The Enfants Rouges Market
Strut Your Stuff Down Le Marais
Continue Your Trip With A Visit To The Louvre
Marvel At The Arc De Triomphe
Experience A Transcendent Night At The Palais Garnier
End The Day At Le Perchoir Rooftop Bar
Day 3
Perk Up With A Some Cream Puffs And Café Au Lait At Odette
Ogle At The Frontage Beauty Of Notre-Dame
Be Engulfed In The Grandeur Of The Sainte-Chapelle Monument
Take A Breather In Foyer de la Madeleine
Travel Through French Culture At The Musée d'Orsay
Unwind With Shakespeare And Company
Day 4
Day 5
Map of Paris in 5 Days
Click here for our interactive and free map of Paris with all locations mentioned in this post. Happy travels!
More Days in Paris?
You might consider visiting these places, too:
Père Lachaise Cemetery – Jim Morrison, Honoré de Balzac, Gertrude Stein, Oscar Wilde, Camille Pissarro, and more are buried here.
Jardin des Plantes – a beautiful botanical garden!
Don't Forget About Travel Insurance!
Before you leave for France, make sure you have a valid travel insurance policy because accidents happen on the road. We have been paying for Safety Wing travel insurance for a little over a year now, and we happily recommend them to our family and friends.
If you get sick, injured, or have your stuff stolen, you'll be happy to have the ability to pay for your medical bills or replace what was stolen.
Because, for just a couple of dollars a day (depending on how long your policy is for), you're going to get lots of things covered. Be smart and get travel insurance.